Ready to Start Your Project?
You'll be redirected to Trex.com, our composite decking website.
DIY Patio Table Building Guide
Much like adding furniture to a room, adding an outdoor table to your deck can make a big impact. During warmer months, a well-placed table can make it much easier for friends and family to gather and enjoy the outdoors. Deciding to build your own patio table isn't just a good way to save money, it's also an opportunity to customize a table that works best with the dimensions and style of your deck.
From coffee tables to dining tables, there are a variety of patio tables you can make yourself -- each suitable to slightly different circumstances. All it takes is a little preparation and even a beginner can learn how to build an outdoor table that looks great on his or her deck.
DIY Outdoor Dining Table
Furniture doesn't need elegant accents or intricate carvings to look professionally made, which is why learning how to build an outdoor dining table is much easier than you might imagine at first. This simple design seats six people and looks perfectly at home outdoors. This table can also easily accommodate umbrellas, lanterns, or candles to make enjoying your deck more accessible throughout the year.
Required Materials
You'll need:
Three 2"x4"x8' boards
Seven 2"x6"x8' boards
2-1/2" pocket hole screws
Four dining table legs or 29″x 3-1⁄2" substitute
The lumber you choose is up to you. In addition to aesthetic considerations, different types of wood have their own strengths and weaknesses. While hardwoods are among the best materials for outdoor furniture, cedar is an excellent and cost-effective alternative.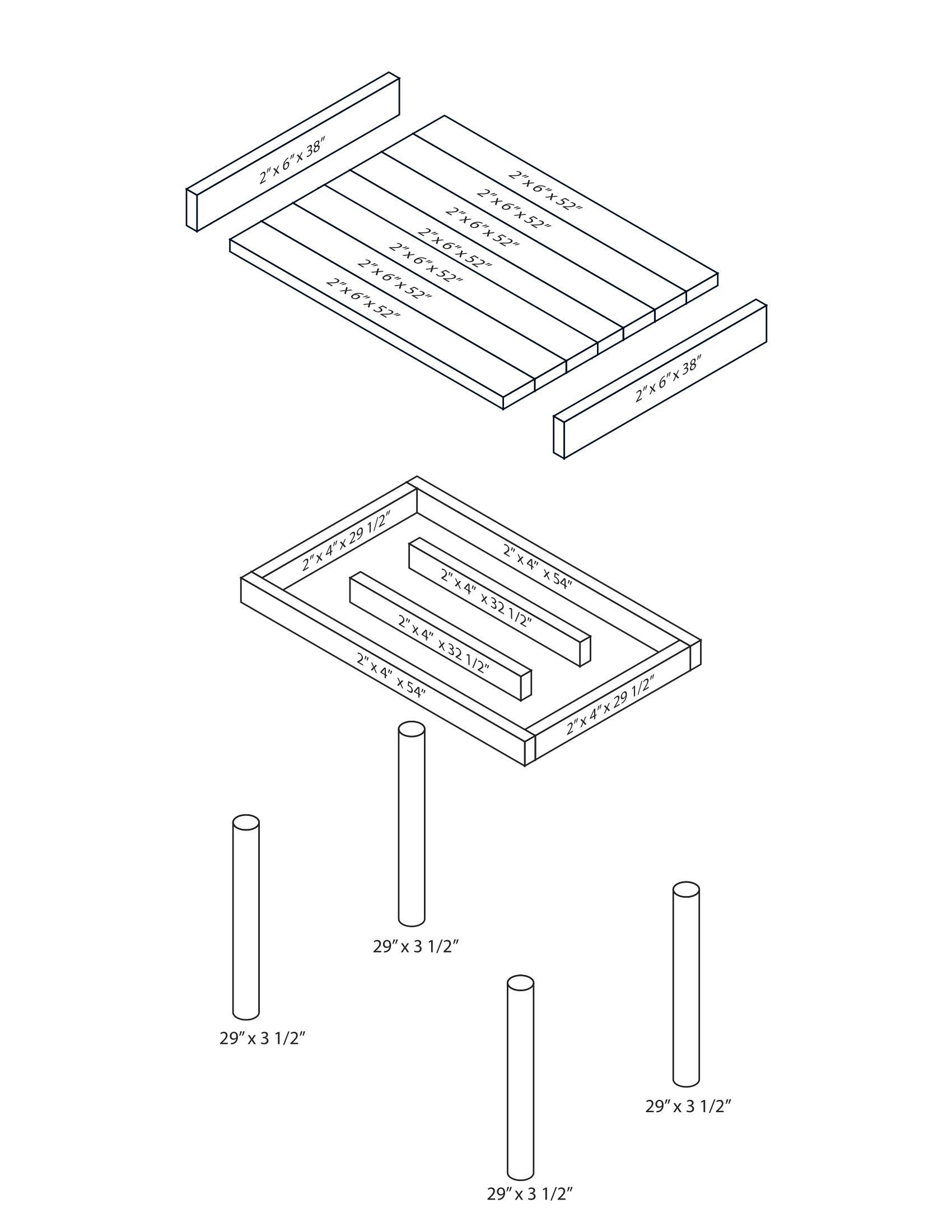 How to Build Outdoor Dining Table
Step 1: Make Your Cuts
Using your 2"x6"x8' boards, cut seven 52" sections and two 38-1/2" sections for your tabletop. From your 2"x4"x8', cut a pair of 54" sections for the length of the frame, a pair of 32-1/2" sections to brace the middle of the frame, and a pair of 29-1/2" sections for the width of the frame.
Step 2: Form the Base
Assemble the frame. Drill pocket holes in each corner to allow for attachment of the legs. Attach the legs with pocket hole screws, then drill pocket holes into the top of the frame to allow for the attachment of the tabletop.
Step 3: Assemble the Top
Place your seven 2"x6"x52" cuts parallel to each other and bookend them with your 2"x6"x38-1/2" cuts. Drill pocket holes to allow for each section to connect. Clamp together the joints of each board before assembling with pocket hole screws.
Step 4: Assemble Table
Using the pocket holes that you've already drilled, attach the tabletop and base. Sand down rough spots, wipe away the wood residue with a moist cloth and allow the table to dry. Stain or paint your new table to preserve your work, or to make it better match your deck.
DIY Deck Coffee Table
A great coffee table can offer much more than a place to put your drink. This graceful x-leg design provides ample opportunities to share a space with a friend or to accent your deck's décor. Modifying a small DIY deck coffee table like this from a square-top to a round-top is also quite simple with the help of a miter saw.
Required Materials
Wood glue
2" Wood screws
1-1/4" and 2" brad nails
One 1"x4"x8' board
One 2"x4"x8' board
Three 5/4"x6"x8' decking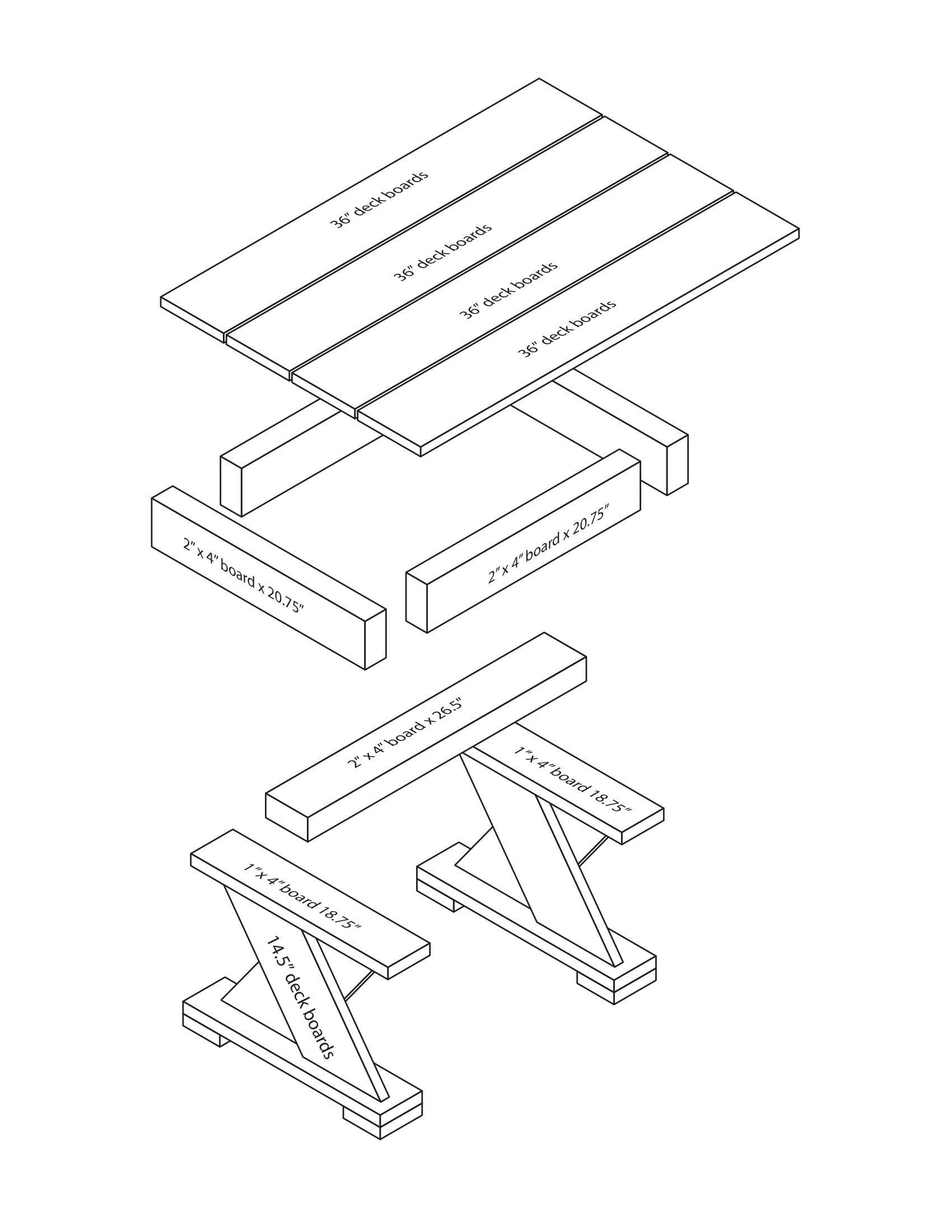 How To Build A Deck Coffee Table
Step 1: Make Your Cuts
Use your decking boards to cut four 36" sections for the tabletop, then four 14-1/2" sections with sides at a 36° angle for the legs. Use your 1"x4"x8' board to cut four sections measuring 18-3/4" to serve as bracing for the top and bottom of the legs. Then, cut four more at 3-1/2" for the feet. Use your remaining boards to cut four sections at 20-3/4" for the tabletop and 26-1/2" for the center beam.
Step 2: Assemble Sides
Cross a pair of your 14-1/2" cuts to form a pair of x-legs. Place your 18-3/4" cut on the top and bottom of the legs, positioned 3/4" from the edge and 1-3/4" from the side. Pre-drill holes into the top and bottom, then assemble with 2" wood screws. Attach the feet using wood glue and brad nails.
Step 3: Build the Base
Connect the sides with the center beam. Pre-drill the beam prior to attaching it with 3" wood screws. Positioned on the opposite side of the central beam, use wood blue and brad nails to attach 2"x4"x1" ends on the opposite side of the beam.
Step 4: Assemble Top
Position your tabletop boards parallel to each other with ¼" spacing. Place your 20-3/4" boards perpendicular to them, each offset 1" from the edge. Pre-drill each board to allow for assembly, then connect, then clamp the joints together and assemble with wood screws.
Step 5: Connect the Top and Base
Pre-drill the top of the base to allow for connection with the top, then attach the base to the top with wood screws. Sand away adhesive or rough spots with a moist cloth. Allow the wood to dry before staining or painting at your pleasure.
More DIY Patio Table Plans
Even a beginner's DIY patio table can look professionally made with a few small embellishments. Combining the traditional style of indoor dining tables with the spacious design of outdoor tables, this modified outdoor dining table combines the best of both worlds -- and Ana White has a step by step guide to help you get started.
Looking for something a little less formal? A round trestle dining table has a modern but familiar style that makes it easy to dine or decorate on your deck. This highly adjustable design can be modified into a small coffee table or extended to seat six. Constructing your own is simple with this detailed guide from Rogue Engineer.
For people who are trying to figure out how to make a cheap patio table on a budget, the right treatment can do some amazing things to otherwise unimpressive wood. Even coarse, inexpensive wood pallets can be transformed into a gorgeous outdoor table. This straightforward design from A Worthy Read also boasts a very low material cost, making it an excellent DIY patio table project for beginners.
---
Explore Articles by Topic
Explore Articles by Topic