Ready to Start Your Project?
You'll be redirected to Trex.com, our composite decking website.
How to Build a Pergola
Pergolas have become a popular backyard fixture in recent years. These stately structures add character to an outdoor area, and can also provide shade, as well as enhance the curb appeal of your home. Building a pergola can be an easy project for even novice DIY-ers who want to add a stately, yet inviting element to their backyard.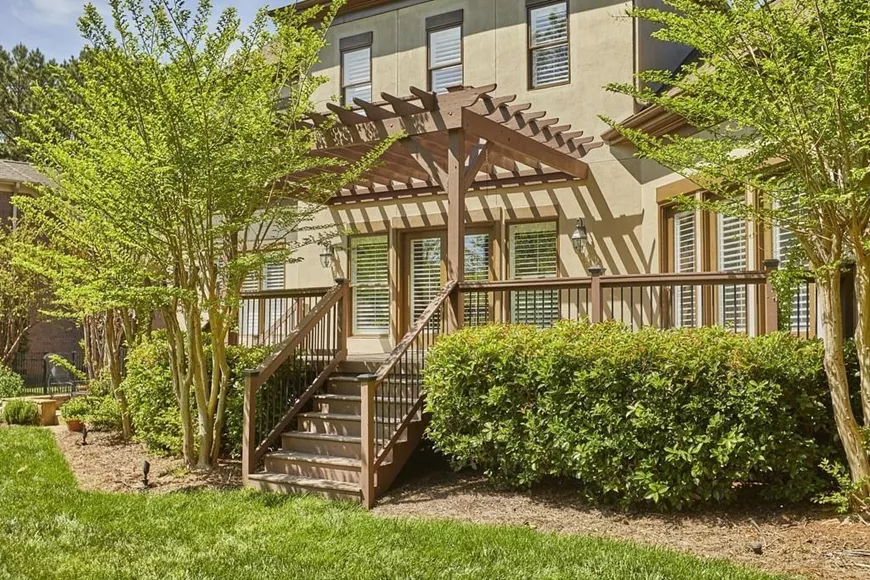 What is a Pergola?
A pergola is a tall outdoor structure with several beams supporting a decorative roof. The roof can be used to hold screening, fabric, tarp, plant-life or similar coverings. The purpose is to serve as a decorative focal point in a backyard, but they can also provide functional shade.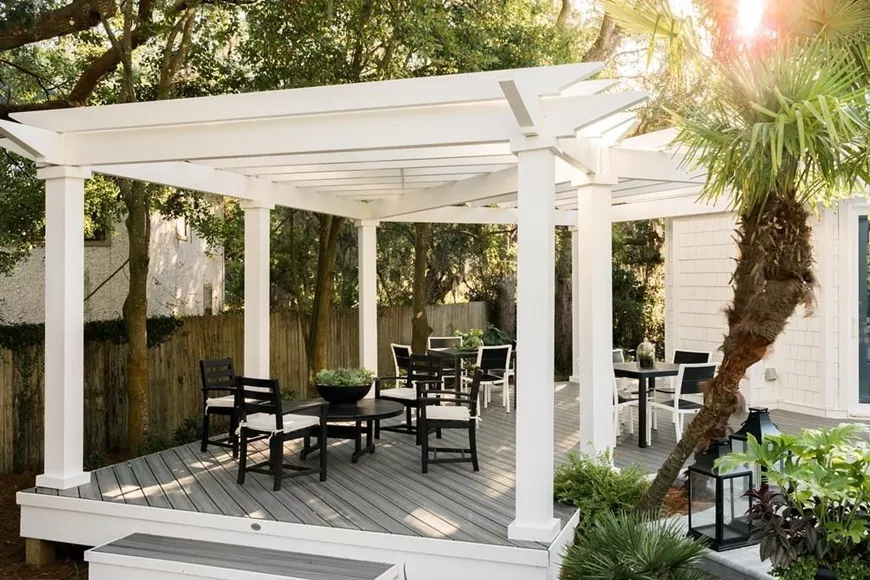 Helping to shape an outdoor space, a pergola can generate a distinctive environment which simultaneously gives the feel of the indoors meeting the outdoors. With many different possible designs, pergolas can be used to define a passageway, add a focal point, cover a walkway, provide shade, or otherwise enhance an area. It takes some preparation to build your own DIY pergola, but it's nothing that an amateur can't handle.
Tools for Building a Pergola
Learning how to make a pergola isn't difficult. To get started building a pergola, you'll need several tools and materials, including:
Caulk gun
Gravel
Hammer
Square & straight edge
Putty knife
Safety glasses
Shovel & Auger
Stepladder
Jigsaw
Level
Tape measure
Cordless drill
Hole saw kit
Circular saw
3" lag bolts
1 ½" galvanized nails
3" galvanized screws
4" x 4" posts
2" x 10" boards
2" x 6" boards
2" x 4" boards
Precisely how much lumber you'll need will depend on the space you want to fill. As for the type, pressure-treated lumber is a cost-effective choice for building a pergola, but there are many alternatives that make sense, such as composite. Browse through our collection of pergola ideas and designs for inspiration!
Building A Pergola: Step-By-Step
The first thing you'll need to do is determine the placement of the pergola. Learning how to build a pergola attached to the house or on your deck is a little different from learning how to build a pergola that sits on the ground in your backyard. However, you would only need minor modifications to alter it to better suit your unique circumstances.
In this instance, we'll cover the easier DIY project of building an unattached pergola that can be built around a concrete patio or as a freestanding structure in your backyard.
Step 1 – Installing the Posts
The easiest way to build a freestanding pergola is to start with post holes. Use an auger to dig two post holes per row, each hole 8' apart. The depth of the holes should match regional building codes pertaining to the frost line. In most cases, that means 24" holes with a width of 9".
Add 2" of gravel to the bottom of each hole to allow for drainage. Then place your posts. Ensure each post is level before attaching a 2" x 4" brace to keep them in position. Mix and pour cement, then allow it to dry.
For those interested in how to build a pergola on a concrete patio, it's possible to skip this step, and instead use post anchors drilled into concrete or decking with lag bolts and decking screws.
Step 2 - Attaching the Support Beams & Crossbeams
Place the top beams on the posts you've installed. Screw them into position for a temporary hold, and then secure them with a pair of lag bolts once each board has been properly aligned.
Use your 2" x 10" boards to create joist beams for the top of your pergola. Space them evenly on the top of your pergola, each with a 10" overhang. Secure the rafters with 4x4 blocks between each support beam, and clamp the joist beams into position. Pre-drill the beams for attachment, and then connect with 3" lag bolts.
Step 3- Place Decorative Pieces
Cut stringers from your 2" x 6" boards to overhang on the joist beams. Use a jigsaw to cut a curved or straight lattice structure to place atop the pergola. Create a lattice structure with overlapping beams that have even, perpendicular spacing. Connect each beam at an angle using toenailing. Once your lattice is ready, screw it into position against the support beams on each side of the pergola.
It's also possible to skip this step by purchasing prebuilt architectural lattice or other prebuilt elements. For example, people who want to mix DIY with professional design can save a great deal of time with Trex Pergola Kits.
---
Explore Articles by Topic
Explore Articles by Topic