Ready to Start Your Project?
You'll be redirected to Trex.com, our composite decking website.
How To Build a Gazebo
A gazebo is a freestanding, often octagonal-roofed structure. Gazebos can be installed to the top of a deck or set on a concrete slab. You can purchase gazebo kits of various sizes and styles with preassembled wall and roof panels for easy installation. The only real drawback to purchasing a gazebo kit is that they are very expensive and can be damaged when they are delivered.

We recommend using continuous 6x6 posts to support the deck and roof structure. In order to do this, you will need to notch out the posts to accept the deck beam and roof header. This will involve notching an angle to allow the splices in the beams to bear over the post.

After the deck floor is framed, you can move on to installing the header beams between the posts to support the roof rafters. We recommend using 2-2x10. The next step is to build a hub out of 2x4 pieces to form the center of the gazebo roof.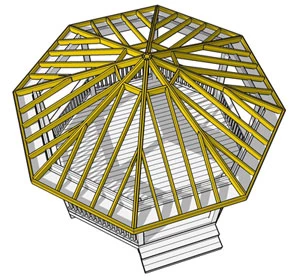 Once you have constructed the hub component, you can temporarily elevate it into position at the center of the octagon. From here you can begin installing the ridge rafters from the corners of the header beam to each flat surface of the hub. The ridge rafter will be composed of 2-2x6s and form a birdsmouth connection over the header beam. It will also use a couple of fairly complex miter cuts across the top surface to allow your roofing to lay flat on top of a pitched octagon.
With all of the ridge rafters connected to the hub, you can complete the roof frame by adding common rafters which also attach via birdsmouth over the header beam. The ends of the rafter tails can then be tied together using a 2x6 fascia cap.
The final step involves laying sheathing over the roof frame and finishing the roof with felt paper, a drip cap and shingles. The intersections between roof sections must be covered by a ridge cap.
Gazebos can be finished using a variety of trim, screens, interior ceiling materials and a decorative cupola to cap the roof.
---
Explore Articles by Topic
Explore Articles by Topic