Ready to Start Your Project?
You'll be redirected to Trex.com, our composite decking website.
When is the Best Time to Build a Deck or Patio?
Deciding precisely when to build a new deck or patio can be more complicated than you'd think. Because timing can have a substantial impact on a variety of factors -- from the cost of the project to the quality of your results. As such, determining the best time of year to install a patio and the best time to build a deck will actually take some thoughtful consideration. But what should you consider in order to make an informed decision?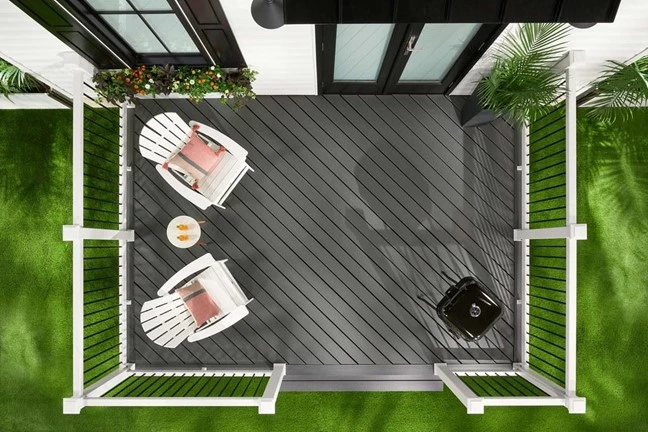 5 Reasons Why You Should Build Your Deck in Fall or Winter
It's not hard to imagine a few advantages of building a deck during summer months, which is why so many people choose that time of year to begin construction. However, the fact that so many people do it during peak-season is a large part of the reason why the best time to build a deck may actually be in the fall or winter months. Yet, that depends on the following factors:
Beat the Rush
Planning and preparation can pay off. The best deck and patio projects are typically planned and scheduled at least several weeks ahead of time - if not several months. The process of getting permits alone can take weeks, but you typically won't encounter major delays during the off-season.
Permits aside, building a deck in winter means you might have an easier time sourcing materials. While common deck framing lumber is a basic commodity in a lumberyard, there can be supply chain issues. Additionally, demand for contractors is high, so finding a qualified contractor will likely take a little bit of planning and preparation. A good way to start is to become familiar with what kind of questions you should ask a deck contractor.
Save Money
Building a deck in off-peak season has a lot of savings potential; some of this is merely supply and demand. Winter can sometimes be a slower season for contractors, who may offer pre-season incentives. However, high-quality contractors can be booked out as far as 6-9 or even 12+ months. They don't have to lower prices because the demand for their services is so high. Seasonality also can impact the cost of both common and uncommon building materials with prices spiking during peak season.
As a result, the cheapest time of year to build a deck is typically during the winter. The cost-savings can largely depend on the size of the project, but you can use our cost to build a deck calculator to help get some accurate estimates for pricing.
Reduce Impact on Landscaping
If you invest time in the spring to beautify your lawn, then the best time of year to build a deck is likely the end of the season. Even if your design doesn't incorporate landscaping, just about any new building project can come with its own messes and hazards. Waiting for a time when the beauty of your yard isn't a high priority can make a lot of sense.
You might also want to incorporate landscaping into your deck or patio design. For instance, planting beds, flower pots, or similar elements can enhance the look and feel of your deck. With that in mind, starting your project during the fall or winter means you'll be ready for the coming season. Starting during summer may be too late for planting.
Take Advantage of Good Conditions for Building a Deck
While it might seem counterintuitive, the colder months often provide the best conditions for building a deck. During spring, most areas of the U.S. experience more rainfall. The topsoil layer can become more saturated and any clay subsoils might be easier to dig as the water will have softened the clay.
Many areas of the U.S. have relatively mild weather in winter months. The South, Southeast, some areas of the Southwest, and much of the West Coast can have decent weather that allows deck builders to make progress on most days. But other parts of the country can have brutally cold weather for months at a time. The only way to have success in these regions is to get all of the foundational elements of the deck in the soil before the ground freezes and snow begins to accumulate.
Some materials benefit more than others from seasonality. For example, when is the best time to build a wood deck? Wood is easy to work with in just about any weather. The biggest challenge you might face is staining or finishing the deck if you decide to build in winter. Carefully read the labels of any liquid products you intend to apply to the wood. Be sure the temperature will not drop below the stated limits. With some research looking at deck stain labels and instructions, you'll likely discover the ideal temperature for applying most stains is between 50-90°F.
You Won't Have To Wait To Enjoy Your New Deck
There's no hard rule as to the time frame it takes to build and finish a new deck. It's really a matter of size and complexity. It also depends on the skill level of the deck builder and the size of the crew. A professional deck-building company ca often build a standard 12x16-foot rectangular deck with a small set of steps from start to finish in one week! Larger, multi-level decks with multiple sets of steps, curves, and integrated features like planter boxes or sitting benches might take up to a month to complete.
If you start building mid-to-late summer, you may have to wait until the following season to get full use and enjoyment from your new deck. By contrast, a deck constructed during the fall or winter means you'll have an entire outdoor living season ahead of you.
That's not to say you can't enjoy a deck during colder months. There are a number of ways to appreciate your deck during the winter. Lighting, seating, enclosures, heating elements, and other simple additions can go a long way towards extending your outdoor living season and enjoyment of your outdoor space. However, most of them require some preparation, which is why it's worth considering all of your options for ideas to use your deck in the winter.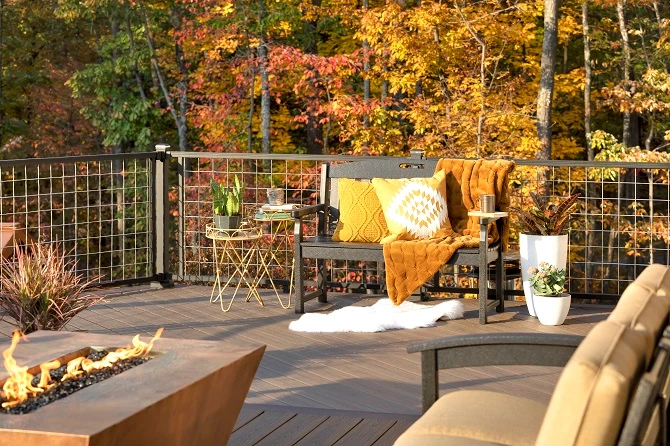 What to Consider When Building a Deck in Winter or Fall
Building a deck in fall or winter calls for a few special considerations, but it mostly comes down to two factors:
Potential Delays Due to Weather – If you start early in the season, you can typically avoid snow and ice. However, if inclement weather is unavoidable, it can delay construction.
Impact of Cold Weather and Temperatures on Materials – Composites, lumber, and other materials have their own relationship with extreme temperatures. You may need to make special accommodations, depending on the material.
For example, can you install composite decking in cold weather? In short, yes. However, you'll need to let the boards acclimatize before placing them, as well as adjust their placement based on the ambient temperature.
In short, it helps to have a qualified builder. And if you're ready to get your own project off the ground, your next step is to use the find a builder tool to locate a qualified craftsman in your area.
---
Explore Articles by Topic
Explore Articles by Topic