Designing Your New Deck
The best decks start with a well-thought design that takes into consideration the placement of your deck in relation to your home and the landscape of your backyard, as well as aesthetic and practical touches that will inform how you care for your deck in the years to come.
When planning a new deck, it's important to seek out inspiration to get ideas of what may work for the unique features of your home and backyard, and to see what you like and don't like. Doing your homework beforehand on the merits of different types of materials, colors, and deck plans can help you better budget for your new deck, as well as ideas to approach a contractor with if you don't plan to go the DIY route.
Here are a few different steps and resources to help you begin planning your new deck:
Calculating the Cost of Your Deck
The size, shape, style, and any customized features of your deck will ultimately determine the cost of materials to build your deck. However, the average cost of decking materials for a DIY deck can range between $15 and $35 per square foot. As a result, materials for a simple, 350 square foot wooden deck may cost $6,125, while composite decking materials for a deck of the same size may cost roughly $9,625.
If you're planning on building a more intricate deck with features such as stairs or multiple levels, decking calculators can help you more accurately calculate the materials to create your deck and the costs associated. Simply plug in your desired dimensions and use them to get estimates.
Use this calculator to determine the rise and run of your stairs, dimensions, the angle of your staircase, length of stringers (the boards on either side of a staircase where treads and steps are attached) and more.
Decking Floor Estimator & Calculator
Not sure how many deck boards you'll need or how many screws and hidden fasteners? This calculator can help you find out how much material you'll need to build your deck.
Cost of Building a Deck Calculator
The cost to build a deck hinges on many factors, including square footage, how elaborate your design is, and materials you plan to use. Plug in your dimensions to get an estimate on the cost of materials to build your deck.
Deck Permits, Building Codes & Requirements
Once you have a deck plan or design, you'll need to be sure it complies with local building codes and regulations, as well as obtain the proper permits to build your deck. Working with local inspectors can help you be sure you have a beautiful deck that meets proper standards and requirements.
Deck Permits
Obtaining a deck permit is not a complicated process, but a necessary one. Applying for a permit can help you verify if there are any property easements to be aware of and confirm that your deck design is aligned with residential pounds per square foot (PSF) requirements.
You will also want to be sure your deck meets local homeowners association (HOA) standards. In many subdivisions, HOA approval is needed before obtaining permits from your local Building Inspections Department. An HOA will need to approve the color, size, and products you use in your deck for consistency across properties within the association. Most municipalities will not accept an application for a building permit unless their HOA approval is attached.
In addition to local regulations, you'll also need to be sure that your plans are compliant with International Residential Code (IRC) requirements. These rules govern residential construction and have been adopted by almost all US states.
When you visit your local Building Inspections Department, you'll need to submit two copies of deck plans and drawings along with your permit application. Fortunately, all Decks.com deck plans include scale drawings of framing plans, as well as front and side view elevation drawings required to apply for deck permits, making it easy to get the permit process started.
Deck Codes & Requirements
Depending on the shape, style, and height of your deck, it may require railings, or adhere to strict codes concerning building stairs, and use of stringers and footings.
Learn more about the various requirements to be sure your deck plans meet those requirements before applying for a permit and breaking ground:
Deck Codes & Requirements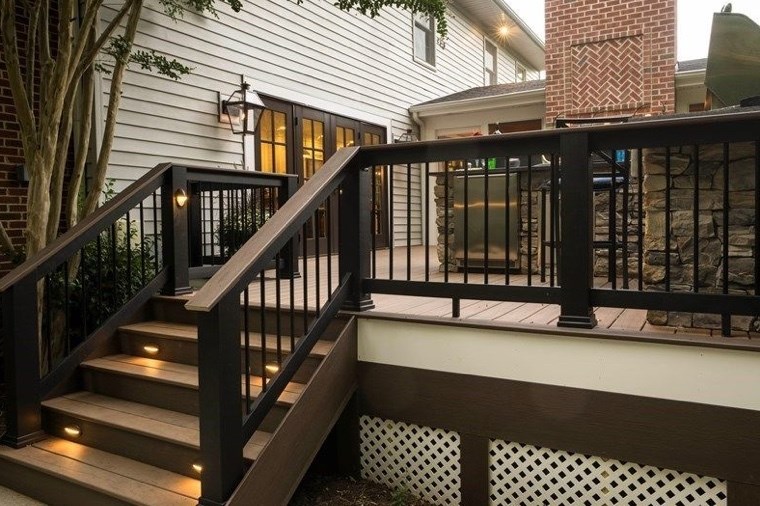 More Chapters In This Guide
Start your deck-building process with Decks.com