Ready to Start Your Project?
You'll be redirected to Trex.com, our composite decking website.
Vinyl Deck Railing Reviews, Comparisons, & Costs
Vinyl deck railings have only existed in the market for some years, however, the ease of installation, low maintenance requirements, and cost-effective nature of vinyl has helped them rapidly gain in popularity.
As with any material, there are pros and cons to vinyl deck railings. That's why taking a moment to learn a few things about vinyl deck railing materials can help you determine whether or not they're right for your project.
Vinyl Deck Railing Pros and Cons
Pros
Vinyl is a resilient material that can retain its original appearance for decades with very little maintenance. It's typically invulnerable to most of the weathering damage that wears down wood. Additionally, vinyl deck and porch railings are UV-resistant, water-resistant, and scratch-resistant.
The cost of vinyl deck railing is extremely efficient, given its limited maintenance. Besides, it's easy to install and can be DIYed with some skill and effort. These advantages make it an ideal choice for busy homeowners who don't have the time or money to invest in other options.
What are the Benefits of Vinyl Railing?
The benefits of vinyl railings are: 
Durability: Vinyl railings are built to last. Unlike wood, they are not susceptible to rot, insect damage, or water damage.
Easy to clean: In contrast to other types of railing, vinyl deck railing is significantly simpler to clean. Just a power washer will do. Using a power washer on other types of railing, such as wood, could destroy the natural coating.
Affordability: it is one of the most cost-effective railing materials on the market.
Low maintenance: unlike wood, vinyl railings don't require regular painting.
Resistance to elements: it can withstand harsh weather conditions and is UV-resistant.
How Long Does Vinyl Railing Last?
Vinyl railing is made to last and most companies offer some type of warranty. You can expect your vinyl railing to last for decades without a lot of issues. 
Cons
The cons of vinyl railing are: 
As with the patina of leather, watching the natural aging of a material can be a beautiful thing. However, vinyl may not have as pleasing an aesthetic over time. Vinyl railings don't hold paint well. This means your color options are limited to those that the manufacturer produces. Moreover, this material has an inescapably modern aesthetic that may look out of place in an environment with an otherwise vintage style.
It can sag if not properly supported
Vinyl railings can also warp in high-temperature areas and are susceptible to breakage from a hard hit such as hail or a rock from a lawn mower.
Vinyl Railing Material Comparison
Vinyl vs Wood Deck Railing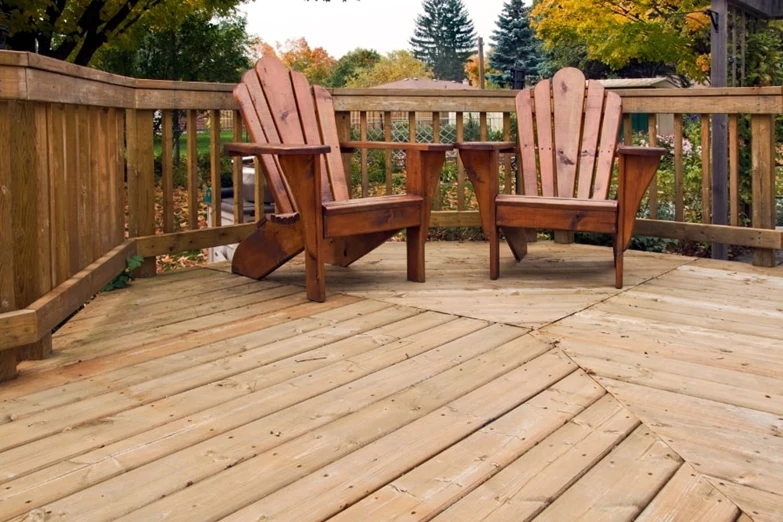 Cost
The price of wood railing ranges between $20 and $50 per linear foot, depending on its quality and design elements. Vinyl can range in price from $23-45 per linear foot. The maintenance for wood begins to accumulate over time and must be considered when choosing railing for your deck.
Maintenance
In terms of maintenance requirements, comparing vinyl vs wood deck railing unanimously favors vinyl. Because wood is biodegradable, it requires the regular reapplication of stain or paint. Even with diligent maintenance, it can remain vulnerable to rot, infestation, warping, and cracking.
Vinyl shares almost none of the same requirements. Some of the only things you'll ever need to maintain a vinyl deck are a hose, a rag, some mild detergents, and the occasional use of a low-power pressure washer.
Lifespan
Provided that wood railings are regularly maintained, you can expect them to last for about two decades before repairs may be necessary. You can find many vinyl railing products with warranties lasting at least two decades. However, environments with extreme weather conditions may accelerate the aging of vinyl, making it prone to cracking or peeling.
Style
It's often said that beauty is in the eye of the beholder, but when comparing wood vs vinyl deck railing, there's no denying that wood provides more style options. Because paint does not readily adhere to vinyl, your color choices are limited by those offered by a given manufacturer. Conversely, wood can be painted any color. It can also be stained to retain a natural beauty that vinyl can never fully replicate. On the other hand, vinyl tends to have an easier time retaining its good looks as the years pass.
Vinyl vs Composite Deck Railing
Cost
In addition to differences in the quality of the material, some colors and style options cost more than others. You can find composite railing, like Trex railing at around $30-50 per linear foot. Vinyl tends to be less expensive, with an average that's closer to $23-45 per linear foot.
Maintenance
Aside from occasionally spraying down your deck railing to keep it clear of debris, very little routine maintenance is necessary for maintaining vinyl. Composites provide an equally low-maintenance alternative.
Lifespan
Vinyl deck railing has an average life expectancy that rests between two or three decades. Composite railing has an expected lifespan in the same general ballpark - around 25-30 years. It's worth noting that some composites are more resilient than others, and vinyl, in particular, can age more rapidly if used in an environment that exposes it to extreme temperature fluctuations.
Style
Choosing between vinyl vs composite deck railing often comes down to style considerations, and composites typically provide a wider range of color options. There are also many customization options available that approximate the natural appearance of wood. In addition to typically having fewer color options, vinyl has a shiny, slick appearance that looks more artificial compared to natural wood or composite. 
Vinyl vs Aluminum Deck Railing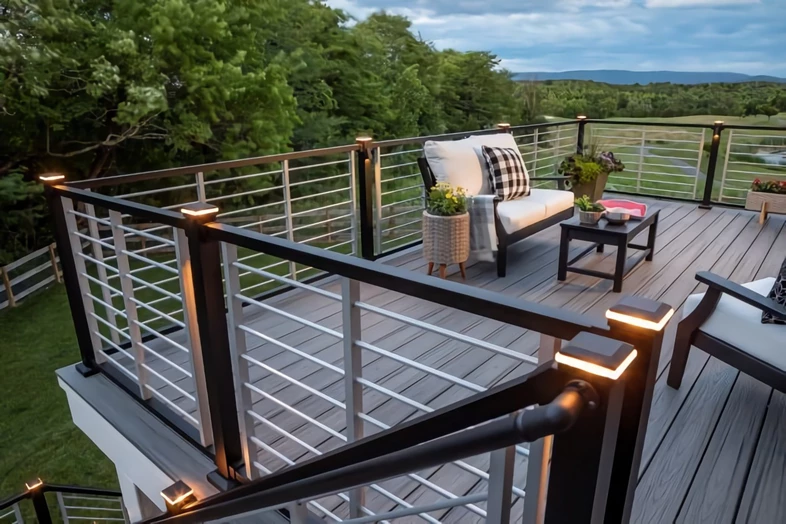 Cost
As always, costs will partially depend on the quality of the material. However, you can find composite railing available around an average of $30 to $50 per linear foot, and aluminum is $50 per linear foot and above. Vinyl railing costs are comparably lower at $23 to $45 per linear foot.
Maintenance
The maintenance required for both vinyl railing and aluminum deck railing is minimal. Both materials will benefit from occasional power-washing and intermittent rinsing to remove dust and debris but otherwise won't require special care.
Lifespan
Likewise, in practice, the lifespan of vinyl and aluminum deck railings is quite similar. The average lifespan of vinyl railing is around 20-30 years. As a much harder material, the aluminum railing has an average lifespan of at least 25 years but can last even longer with minimal maintenance.
Style
Aluminum can be fairly adaptable, helping it to match nearly any environment. By contrast, the appearance of vinyl is inescapably modern in a way that can look out of place when surrounded by an otherwise vintage aesthetic. However, if you want to access more than a small handful of colors, it's often necessary to special order aluminum railing. Vinyl also often comes in a variety of colors, but if you're looking for something particular that you cannot find, you may also want to consider placing a special order.
Deck Railing Review
When shopping for a vinyl deck railing, weigh your options. Look for a product that is known for quality, longevity, and durability. You'll also want to consider cost and style options as you're making your choice. Ultimately, careful research can help you find the best railing for your needs and give you years of enjoyment.
If you're looking for composite deck railing reviews, you have a few different choices. You can go with a traditional composite rail, or you can opt for a composite cable rail. There are also composite glass railings and composite fencing. Weigh the pros and cons of each type of composite railing, and decide which is the best option for you.
Get Started With Your Vinyl Deck Railing Project Today
No matter what type of vinyl deck railing you choose, Decks.com can help you get started on your project today. The cost to install vinyl railings is buyer-friendly. We have all the resources you need, including cost calculators and product reviews. We also have helpful how-to articles and videos to walk you through every step of the process. Don't wait any longer to get started on your dream deck. Find a contractor today near you.
---
Explore Articles by Topic
Explore Articles by Topic