Ready to Start Your Project?
You'll be redirected to Trex.com, our composite decking website.
Parts of a Deck Railing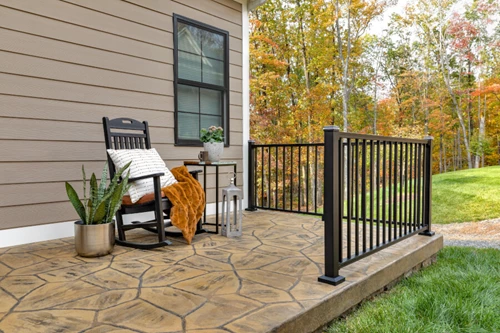 A deck railing system adds an element of safety to your outdoor slice of paradise. Railing is an important part of a deck as it's an excellent safety feature and required for decks of a certain height. Horizontal parts of a railing must be 4" or less apart from each other to be up to code.
Whether you have wood or composite deck railing, this system includes vital deck parts. Names you'll become familiar with include balusters, caps, posts, and guardrails. You can also refer to a deck railing parts diagram to see how all of these items will fit together.
Take a look at the essential parts of a composite deck railing system.
Deck Guardrails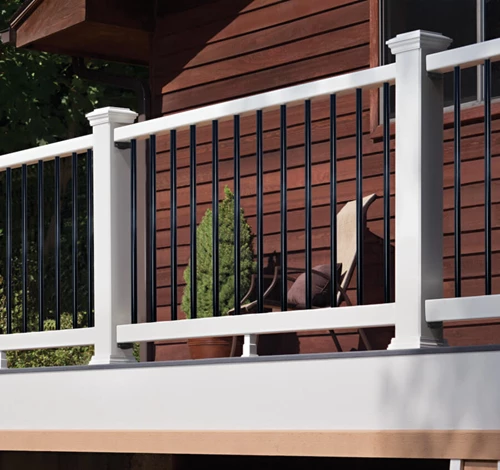 Guardrails are composed of an assembly of parts. There are different methods for building guardrails with a variety of materials for decks, but most rails built from wood share a common set of components. Rails will run horizontally along the entire length of a section of your deck. They go in between two sturdy posts and support the balusters. Balusters run vertically, help support the rails, and are spaced in such a way to protect from any falls from the deck. Deck guardrails are the most visually apparent parts of the railing system.
Deck Posts
Usually, 4x4 wood posts are attached to the deck frame to provide the support for the rail. Some composite railing systems require you to install a wood post that will be covered by a hollow sleeve. The 4x4s must be long enough to project the railing at least 36" above the decking or finished surface, and must extend below the deck surface for attachment to the frame as a means of support.
Some companies also offer aluminum deck posts. Aluminum is sturdy, rust-proof (unlike steel), and lasts a lifetime. Metal deck posts fasten securely to the surface of your deck with the right kind of hardware. The best part of metal deck posts is that you can slide a composite sleeve over them for a cohesive look, just like you can paint or wallpaper over the drywall in your home. Metal deck posts are useful for homeowners who don't already have 4x4 wood posts on their existing deck substructure.
Most rail systems use horizontal members running between the posts as top and bottom rails to create the frame for the infill. With wood decks, 2x4s are often used for this purpose.
Deck Rail: Top Rail & Bottom Rail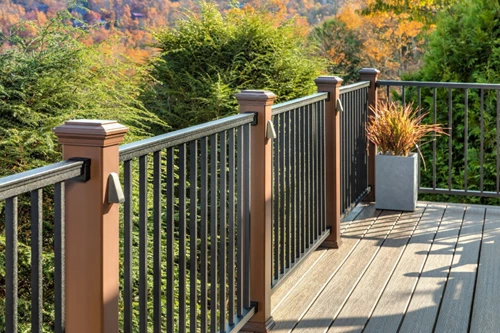 The top rail must be set so the top of the guardrail is at least 36" above the floor. Likewise, the bottom rail is usually raised above the surface to allow a sweep space for snow and leaves, but it may not extend beyond 4" from the floor. Subsequent rails in between must be spaced no more than 4" apart from one another based on international building codes. However, your local code may be different.
Top Cap
Cocktail rails can be a useful choice for any deck railing system we offer. They provide a level surface for drinks, planters, small bird feeders, and other outdoor ornaments that spruce up your space. 1x6 or 2x4 boards can be used as cocktail railing to complete the perfect entertaining outdoor space.
Deck Balusters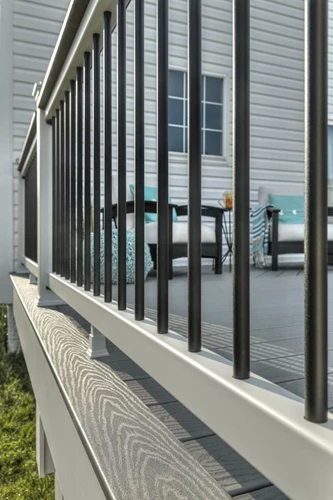 The infill section of rails is usually constructed of the repeated use of pickets or balusters. These can come in a number of materials, shapes and sizes. You can cap each baluster with a flourish or stylized design, like a rounded edge or a fleur-de-lis shape. 
Deck Post Caps
Post caps are decorative tops that can be attached to the top of rail posts to add a customized look. Some deck builders bevel the tops of the rail posts themselves to soften the sharp corners for a stylized finish. You can choose from hundreds of pre-manufactured post caps made from wood, metal, composite, glass and ceramics. Some are very detailed and interesting, while others are playful (we're talking squirrels and cherubs).  
Post caps are not for everyone. However, they can offer a nice option for deck projects that seem to be missing something. Some rail systems don't even allow you to use them. Even wood rails require you to install taller rail posts. Some builders fasten a 4x4 block to the top of post caps to allow for a continuous rail cap.    
Post caps can be attached in a number of ways. Some post caps can be delicately nailed in place. Glue works well for others. Remember, post caps will probably be touched by any and all passing people. Over time, the post cap is bound to loosen up. 
Get Started Calculating Your Deck Railing System Today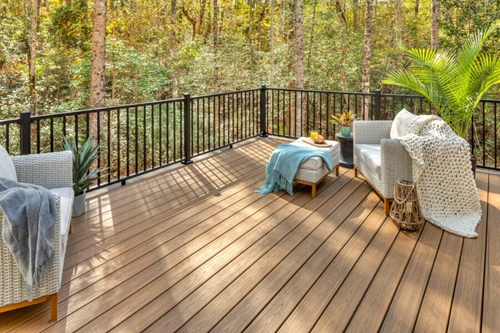 Now that we've got you thinking about the parts of a deck railing system, take a look at a deck railing calculator to figure out how much you need for your design. Then, see the composite and aluminum deck railing kits and systems available from Decks.com. Happy deck designing!
---
Explore Articles by Topic
Explore Articles by Topic