Ready to Start Your Project?
You'll be redirected to Trex.com, our composite decking website.
Composite Decking Over Concrete: How to Install & DIY Tips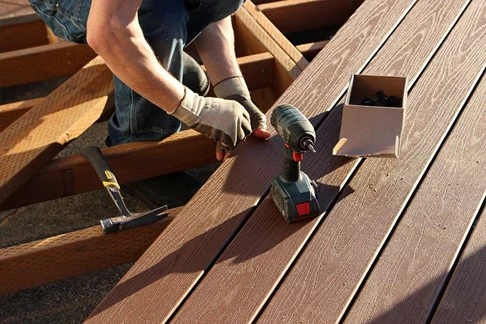 A concrete stoop with steps can be a formidable obstacle when trying to build a deck. A massive concrete stoop will be difficult to remove. Most of the time you will need to break the concrete apart using a sledgehammer or jackhammer and haul the debris away. Many people choose to build over the stoop instead.
If your project includes steps that lead up into a house or to a platform or landing that will not be covered with composite decking, you should stop reading now. The finished step will be approximately 3 inches higher than it was before you started. This will create a severe building-code violation as well as a life-safety hazard. The building code normally states that the risers above and below a step must not vary by just a fraction of an inch.
What's more, before you contemplate this project, read the installation instructions of the composite decking product. Pay close attention to the minimum air space that's required under the decking. You may discover you need one or more feet of free-flowing airspace under the decking.
Can You Lay Composite Decking Over Concrete?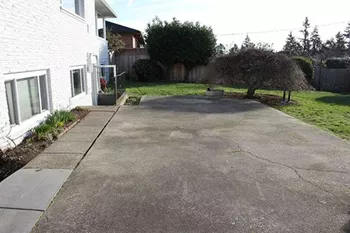 Can composite decking (such as Trex) be installed over concrete? Yes. In most cases you can lay composite decking over concrete (keeping in mind you'll have to build a substructure that allows airflow and drainage). In fact, concrete surfaces can provide a dry, durable, and stable area that's essentially ideal for composite decking. Available in a wide range of colors and patterns, covering a concrete area with composite can be a quick and simple way to revitalize an area – particularly when placing Trex decking over a concrete patio.
However, determining if you can lay composite decking over a concrete patio does involve a closer look at other considerations. In some instances, you may have better options for materials that go over a concrete, and some installations may involve more work than others.
Will this Project Work on Your Patio?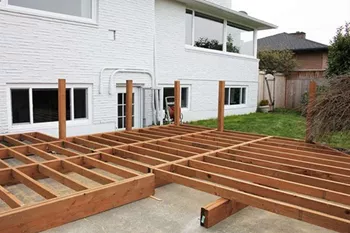 Building a deck on top of concrete is often a straightforward project. However, in some instances, concrete can take several years to finish settling. Doorways can also make installations more complicated.
Beware of a Sinking Patio
Most of the time, you don't have to worry about a concrete patio being in terrible shape prior to installing a new surface. However, installing composite decking over a concrete patio may not be a good idea if your concrete is still settling. As stated earlier, concrete can take several years to settle. If you decide to build a new surface on your patio during that time, then the new surface will continue to sink along with its foundation.
You can take precise measurements over a year to see if the concrete patio may be sinking. Make a crisp thin horizontal line on the house foundation closest to the patio. Make a similar mark using a permanent marker on the patio. A small X on the patio will suffice. Use a level and a helper to measure the vertical distance from the mark to the patio. Record the measurement and take periodic measurements every other month to see if there is movement.
Make Sure You're Not Blocking any Adjoining Doors
Laying composite decking over a concrete porch will raise its surface by a minimum of 2-3". If there's a door leading to the patio, it's important to ensure your new surface won't block that door or create a tripping hazard coming out of the door. Build a 3x5-foot temporary platform at the height of the new surface. Place this in front of the door and test it to see if anyone has an issue walking out of the door and down to the new surface.
If your door may become blocked by adding a new surface, that doesn't necessarily mean that you can't install composite decking over a concrete porch -- however, it will complicate your project and require you to either arrive at a creative solution, or enlist the aid of an experienced professional to devise a sound and safe solution for you.
Connected Stairs can Complicate a Project
Stairs attached to a porch or patio can also make a project more complicated. In order to keep the height of each step equal and consistent, it will be necessary to increase the height of the treads to match the new height of the patio. When possible, placing composite decking over concrete steps is a particularly simple way of solving this problem, again ensuring you are allowing the manufacturer-required air flow and water drainage.
Consult with a local contractor or decking professional to see if it's safe to install composite decking over concrete. They'll assess the project and help you make the best decision.
How to Build a Composite Deck Over a Concrete Patio
Time and Cost
The time it may take to put composite decking over a concrete front porch will depend on the size of the area. A smaller project can be knocked out in a weekend, but a larger project could take several weeks or weekends depending on your skill level and the amount of help you can muster. Apart from the size of the area, the amount of time required will depend on how much shimming is necessary for sleepers to form a level surface, the time-consuming process of installing the sleepers, and the installation of the actual decking which takes time to do correctly.
The average price range to have composite decking installed on concrete is around $30-$50 per square foot, depending on the composite chosen, specific site factors and design. If you do the labor yourself, you cut these numbers in half (or perhaps even more). Labor and non-decking materials typically make up 2/3rds of the total project cost.
Required Tools

Required Materials

Level
Miter/Circular Saw
Hammer Drill
Cordless Drill
Straight Edge
Chalk Line Reel (Optional)

Replacement Decking
Self-leveling Compound
Plastic Shims
Flashing Tape
Concrete Screws
PT Wood (generally 2x4 for sleeper framing)
* Extra drill bits may be necessary. Expect as many as one bit per 50 holes.
1) Leveling & Layout
A weathered patio surface (or a surface that isn't perfectly even) will need to be fixed before laying your sleepers. Install a thin concrete overlay on any low spots or uneven areas to solve this problem. You also have the option of giving the overlay a slight slope, allowing you to direct water to run away from your house.
Once the space is prepared, you can start to plan the layout. Most importantly, your layout should include the location of sleepers and how each surface element will exist in relation to each other. Optionally, you can use strips of 1-inch wide painters' tape to create a visual layout of your sleepers to help guide your installation.
2) Placing & Installing Sleepers
Sleepers are slender 1.5-inch wide pieces of ground-contact-rated treated lumber. You may be able to use 2x2s, but you may have to rip 2x4s if the quality of the 2x2s is poor.
Sleepers can be placed directly on the concrete, or they can be set apart with ½" PVC spacers. Sleepers can also be level or sloped, as long as their surface forms a single flat plane. Starting from the highest point in your patio, place your first sleeper in position, using plastic shims to raise low spots if necessary.
Use a hammer drill to pre-drill into the spacers, sleepers, and concrete. Secure with concrete screws, penetrating no less than 1" into the concrete. Place additional sleepers in the same manner, using a straight-edge to ensure each is consistent with the last. Finally, use joist deck tape to cover the topside of each sleeper. This tape prevents water from entering cracks that typically form from the screw penetration holes through the sleepers.
3) Installing Composite Decking on the Concrete Slab
Placing decking boards on sleepers is nearly identical to building them on a regular deck. It's important to follow manufacturer's instructions for installing decking. In general, starting from the outside of the deck and moving inward, screwing accent boards into place first. Starting with accent boards can help guide the addition of field boards.
4) Installing Composite Decking Over Concrete Steps
Once again, it's important to realize you can't install composite decking over concrete steps if the top riser height is more than a fraction of an inch in difference from the other risers in the completed stair set.
The first step to building over a concrete stoop is to install a ledger board on both sides of the stoop. You will essentially box frame around the stoop by installing double joists on either side of the stoop and placing a double header beam in front of the stoop in between the double joists.
You can fill in the area above the stoop by installing a 2x6 ledger board with 2x6 joists running out to the header. The 2x6 joists should not come in contact with the concrete stoop. You may need to rip down the joists to provide clearance for frost heaving.
It can be a fairly simple process to install composite decking over concrete. However, it's also important to keep considerations in mind to be sure your installation goes smoothly, yields a safe structure, and stands the test of time.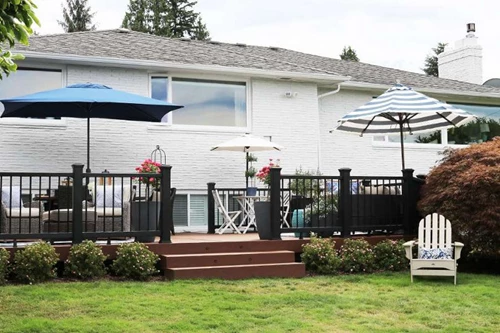 Tips for Installing Composite Decking Over Concrete
A standard deck isn't as daunting a task as you may think and can take as few as four working days to finish. Before you get started, take a look at these tips for installing composite decking over a concrete patio:
Attach Posts Properly
Posts should be anchored to the existing concrete to help stabilize the framing. Simpson Strong-Tie makes code-approved post-to-concrete metal connectors. Consult with your local building code official on the best methods for attachment.
Ensure Proper Gapping Between Decking Boards
Proper gapping is necessary for water drainage, expansion and contraction, and allows for shrinkage associated with wood joist systems. Consider using hidden fasteners, which create proper gapping when used with our grooved-edge boards.
Pre-Drill Holes
Pre-drill surface screw holes to avoid damaging the end of your composite boards or splitting them.
Understand Local Laws and Building Codes
In most cases, building permits are required before you start construction. Ensure your deck plan meets local building codes and safety standards before starting your project. Some states even require stamped construction drawings from engineers when applying for a permit.
Having all the proper considerations in mind before you start your deck build will not only make the process smoother from start to finish, but will save you time, money and energy in the long run. Shop the supplies you need, or find a local contractor near you to get started.
---
Explore Articles by Topic
Explore Articles by Topic