| | |
| --- | --- |
| Article Category: | |
How to Install Composite Decking Over Concrete
A concrete stoop with steps can be a formidable obstacle when trying to build a deck. A massive concrete stoop will be difficult to remove. Most of the time you will need to break the concrete apart using a sledgehammer or jackhammer and haul the debris away. Many people choose to build over the stoop instead.
Can You Put Composite Decking Over Concrete?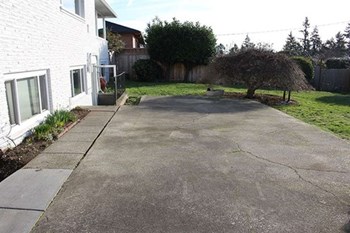 Can composite decking (such as Trex) be installed over concrete? Yes. In most cases you can lay composite decking over concrete (keeping in mind you'll have to build a substructure that allows airflow and drainage). In fact, concrete surfaces can provide a dry, durable, and stable area that's essentially ideal for composite decking. Available in a wide range of colors and patterns, covering a concrete area with composite can be a quick and simple way to revitalize an area – particularly when placing Trex decking over a concrete patio.
However, determining if you can lay composite decking over concrete does involve a closer look at other considerations. In some instances, you may have better options for materials that go over a concrete patio, and some installations may involve more work than others.
Will this Project Work for Your Home?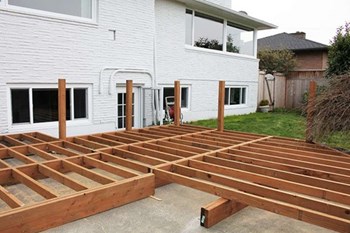 Installing composite decking over a concrete patio is often a straightforward project. However, in some instances, concrete can take several years to finish settling. Doorways can also make installations more complicated.
Beware of a Sinking Patio
Most of the time, you don't have to worry about a concrete patio being in terrible shape prior to installing a new surface. However, installing composite decking over a concrete patio may not be a good idea if your concrete is still settling. When a concrete foundation begins to sink, it can take 5+ years to stop. And if you decide to build a new surface on your patio during that time, then the new surface will continue to sink along with its foundation.
Make Sure You're Not Blocking any Adjoining Doors
Placing composite decking over a concrete porch will raise its surface by a minimum of 2-3". If there's a door leading to the patio, it's important to ensure your new surface won't block that door. If your door may become blocked by adding a new surface, that doesn't necessarily mean that you can't install composite decking over a concrete porch -- however, it will complicate your project and require you to either arrive at a creative solution, or enlist the aid of an experienced professional to devise a sound and safe solution for you. 
Connected Stairs can Complicate a Project
Stairs attached to a porch or patio can also make a project more complicated. In order to keep the height of each step equal and consistent, it will be necessary to increase the height of the treads to match the new height of the patio. When possible, placing composite decking over concrete steps is a particularly simple way of solving this problem, again ensuring you are allowing the manufacturer-required air flow and water drainage.
How to Install Composite Decking Over a Concrete Porch or Patio
Time and Cost
Learning how to install composite decking on a concrete slab is fairly simple. But the time it may take to put composite decking over a concrete front porch will depend on the size of the area. A smaller project can be knocked out in a weekend, but a larger project could take upwards of five days. Apart from the size of the area, the amount of time required will mostly depend on how much shimming is necessary for sleepers to form a level surface.
The average price range to have composite decking installed on concrete is around $30-$50 per square foot, depending on the composite chosen, specific site factors and design. If you do the labor yourself, you cut these numbers in half (or perhaps even more). Labor and non-decking materials typically make up 2/3rds of the total project cost.
Required Tools

Required Materials

Level
Miter/Circular Saw
Hammer Drill
Cordless Drill
Straight Edge
Chalk Line Reel (Optional)

Replacement Decking
Self-leveling Compound
Plastic Shims
Flashing Tape
Concrete Screws
PT Wood (generally 2x4 for sleeper framing)
* Extra drill bits may be necessary. Expect as many as one bit per 50 holes.
1) Leveling & Layout
A weathered patio surface (or a surface that isn't perfectly even) will need to be fixed before laying your sleepers. Pour on a thin coat of self-leveling compound on uneven areas to solve this problem. You also have the option of giving the coat a slight slope, allowing you to direct water to run away from your house.
Once the space is prepared, you can start to plan the layout. Most importantly, your layout should include the location of sleepers and how each surface element will exist in relation to each other. Optionally, you can use a chalk line reel to create a visual layout of your plan to help guide your installation.
2) Placing & Installing Sleepers
Sleepers can be placed directly on the concrete, or they can be set apart with ½" PVC spacers. Sleepers can also be level or sloped, as long as their surface forms a single flat plane. Starting from the highest point in your patio, place your first sleeper in position, using plastic shims to raise low spots if necessary.
Use a hammer drill to pre-drill into the spacers, sleepers, and concrete. Secure with concrete screws, penetrating no less than 1" into the concrete. Place additional sleepers in the same manner, using a straight-edge to ensure each is consistent with the last. Finally, use flashing tape to cover the topside of each sleeper.
3) Installing Composite Decking on the Concrete Slab
Placing decking boards on sleepers is nearly identical to building them on a regular deck. It's important to follow manufacturer's instructions for installing decking. In general, starting from the outside of the deck and moving inward, screwing accent boards into place first. Starting with accent boards can help guide the addition of field boards.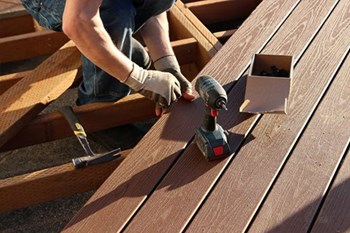 4) Installing Composite Decking Over Concrete Steps
The first step to building over a concrete stoop is to install a ledger board on both sides of the stoop. You will essentially box frame around the stoop by installing double joists on either side of the stoop and placing a double header beam in front of the stoop in between the double joists.
You can fill in the area above the stoop by installing a 2x6 ledger board with 2x6 joists running out to the header. The 2x6 joists should not come in contact with the concrete stoop. You may need to rip down the joists to provide clearance for frost heaving.
It can be a fairly simple process to install composite decking over concrete. However, it's also important to keep considerations in mind to be sure your installation goes smoothly, yields a safe structure, and stands the test of time.