Ready to Start Your Project?
You'll be redirected to Trex.com, our composite decking website.
Deck Stair Lighting
Believe it or not, IRC code requires that you provide lighting for your deck stairs. It is rare that stair lighting is ever inspected because deck inspections take place during the day. In most cases, your exterior light beside your patio door will be sufficient. However, there are a number of easy lighting solutions that can add a unique design element.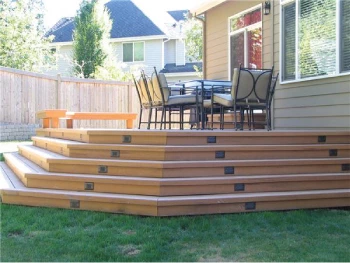 Low-voltage lights can be attached to the riser boards on the stairs or installed to the rail posts to provide enough light to see the treads and prevent a fall. Most builders use a low-voltage cable and attach it to a transformer that plugs into an outlet similar to landscape lights. You will need to make sure that you have the proper sized transformer to provide enough power to all the lights. You may need to adjust the positions of the stair stringers to accommodate the light unit, especially on cascading stairs. A variety of styles are available. Some light posts are powered by solar cells that do not require any external power source and eliminate the hassle of hiding the wires.
---
Explore Articles by Topic
Explore Articles by Topic