Ready to Start Your Project?
You'll be redirected to Trex.com, our composite decking website.
Building Cascading or Wrap Around Stairs
Cascading stairs are a popular style of staircase that wraps around the corner of a low deck. This is an attractive and extremely functional approach to deck design and stair construction. However, tall cascading steps can begin to look awkward and present a tripping hazard. If the drop requires more than about five steps, you may want to use a conventional staircase.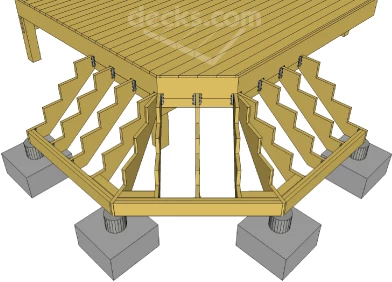 Remember that cascading or wrap around stairs are designed to flare out and increase in size towards the ground. Each situation is somewhat unique so make sure you fully think through the details before building. Do the angles present a situation that will allow this style of stairs?
Cascading stairs will require using a large number of short stair stringers spaced at 16" on center. Blocking is usually necessary to support the decking below angled corners. Make sure the ground is level along the entire base of the stairs at grade. If your deck is one or two steps off the ground, you may be able to build two boxes or platforms to form into a stair system to attach to the side of the deck.
---
Explore Articles by Topic
Explore Articles by Topic