Ready to Start Your Project?
You'll be redirected to Trex.com, our composite decking website.
How to Build Box Steps for Your Deck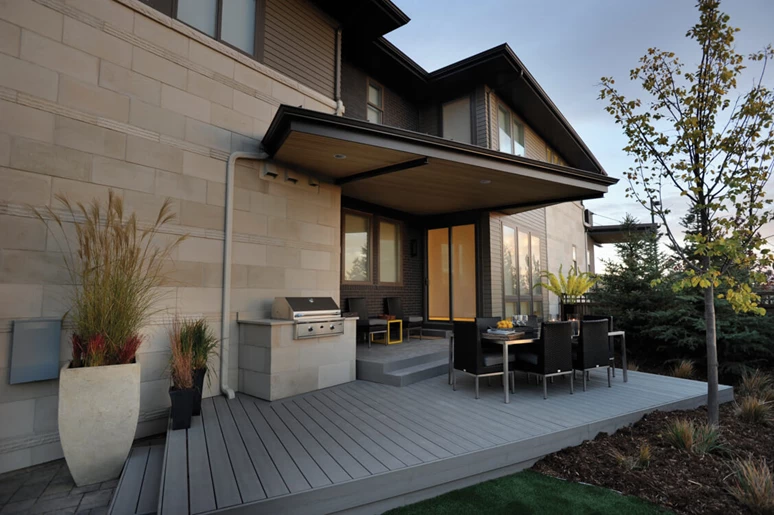 Box style stairs are popular for very low decks and transitions between levels of tiered decks. Many deck builders use this technique to build a wide set of stairs across the front or side of the deck. Box stairs are 3 sided stairs that do not use cut out stair stringers like traditional stairs. Essentially, boxed steps are a series of pressure-treated wood platforms that are stacked on top of each other to create a short run of stairs. This method is easier to build and sturdier for stairs with up to three steps.
Why Build Deck Steps Without Stringers?
The height of your deck will determine if you can use box stairs for your deck. Building box steps is also a good idea for decks that have wide stairs. Box steps don't require cuttings or notchings and are a little easier to build. Box steps are simply a series of boxes (or rectangles) that are stacked on top of each other.
Stairs with more than 3 steps should be built with stringers and you can learn how here. Stairs with strangers require some more experience and require more steps. Consider hiring a professional if you don't feel you have enough experience.
Are Building Box Steps a Project that You Can DIY?
If you're considering building box steps for your deck, you might be wondering if you can do-it-yourself or hire a contractor. Maybe you're a fan of building projects, or looking to save a little money.
Building box steps is not the most challenging home improvement project out there. However, it's also not the easiest. If you're confident in your DIY skills and have a bit of experience with carpentry, you should be able to handle this project without any problem. Just be sure to take your time and measure twice before cutting once.
If you're new to home improvement or don't have much experience with woodworking, then building box steps might be a bit too ambitious. In this case, it might be better to hire a professional or at least enlist the help of a friend or family member who knows their way around a deck.
Building Boxed Steps for Your Deck or Patio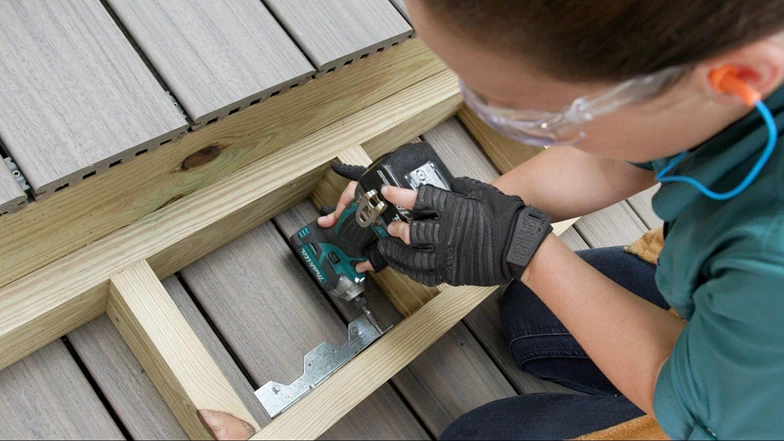 Step 1: Measure the Height of Your Deck
The first step is to measure the height of the deck to determine the number of stairs you need to build. The maximum riser height is 7 ¾" and the minimum tread depth is 10". Make sure to always check with your local municipality's building code department to know what's allowed in your area. Most deck builders use 2x6 or 2x8 pressure treated framing lumber to frame the stair boxes and use (2) 5-1/2" deck boards for each tread with a 3/4" - 1-1/4" overhang over the riser board.
Step 2: Cut the Sides and Fill the Interior
Cut the sides of the boxes and fill in the interior with blocking every 16" on center for wood decks and 12" on center for composite decks. Always check the composite deck manufacturer's installation guide to verify allowable spans.
Step 3: Secure the Boxes and Install the Decking
Use strap ties to connect the individual stair box frames together, and secure the stairs to the deck frame using bolts. Finish the stair boxes by installing the decking to create the treads.
Additional Considerations When Installing Box Stairs
It's common practice to install frost footings for box stairs that will land on the ground. Set a 4x4 post on top of the footing and attach it into the inside front corners of the box stairs. These posts can extend past the stair as a rail post. This will prevent the stairs from moving and shifting due to frost heave.
Cost
Building box stairs for your deck can be a great way to add some extra flair and personality to your outdoor space. However, before you start building, it's important to determine the cost of the project. You can use our deck stairs calculator to get more of an understanding of how much your materials will be to build your stairs.
Here are some of the materials that you may need to factor in your costs;
Decking material such as wood, composite, or pvc
Lumber for framing and railings
Brackets
Railing Post Anchors and deck ties
Rated carriage bolts, nuts, and washers
Deck screws
Deck hardware nails
Concrete anchors
Materials
Your box step materials you choose can impact your design and should match the deck. If you have a traditional wooden deck, then wooden box steps would be a natural choice. But if you have a more modern composite deck, then you will definitely want to use composite materials for your box steps as well. The important thing is to choose box step materials that will complement your deck and help create a unified design.
Color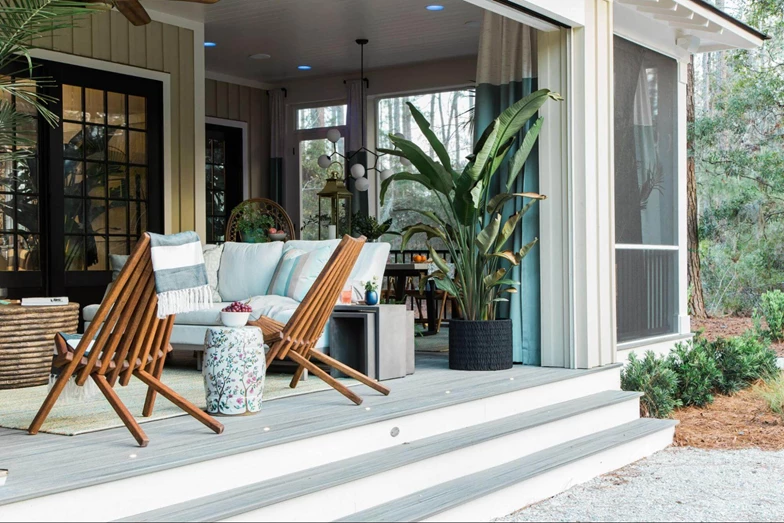 When it comes to choosing a box step color, there are a few things to keep in mind. First, the treads should match the decking. This will create a cohesive look and make it easier to walk up and down the stairs. The risers can be a different color and oftentimes, match the deck railing. This could also be a great opportunity to add some contrast or play with complementary colors. 
For example, if your deck is a light wood, you could paint the risers a dark color, such as black or charcoal. Or, if your deck is a bold color, you could choose a white or cream riser to balance it out. Whatever you choose, just make sure the colors work well together and create an overall look that you love.
Get Started Planning Your Deck Today
Now you have a step-by-step guide on how to build box steps for a deck. With a few simple tools, supplies, basic carpentry skills, and this helpful guide, you can build a beautiful deck, with sturdy steps that will last for years to come.
Need help designing your deck? Use our free helpful Deck Designer tool to design your dream deck virtually.
If you are looking for more resources to get started, check out the Find a Retailer and Find a Contractor tool.
---
Explore Articles by Topic
Explore Articles by Topic