Ready to Start Your Project?
You'll be redirected to Trex.com, our composite decking website.
How to Build Deck Planter Boxes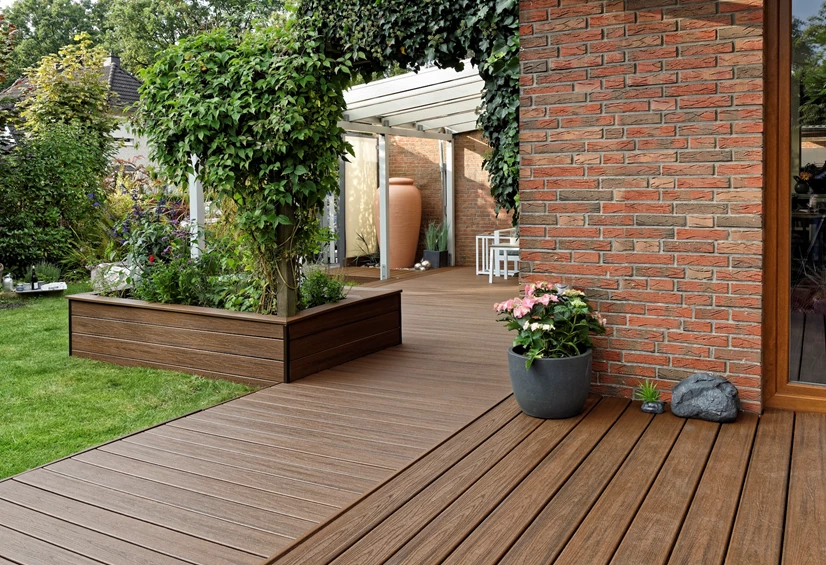 You enjoy your deck to the fullest for entertaining, spending time with family, relaxing with loved ones, or just enjoying the view from your backyard. Your little slice of heaven is perfect! Decks with planter boxes can save you space on your deck.
Planter boxes for a deck are easy to install in just an afternoon, can come in any shape or size, and provide an easy way to add natural colors to your deck. Think about making composite decking planter boxes because they can last longer and have very few maintenance issues. Planter boxes made from composite decking can be particularly resilient to moisture, prevent rot, and keep termites from eating the wood.
Well, what are you waiting for? Take a look at our guide on how to outfit your deck with planter boxes.
What Is a Deck Planter Box?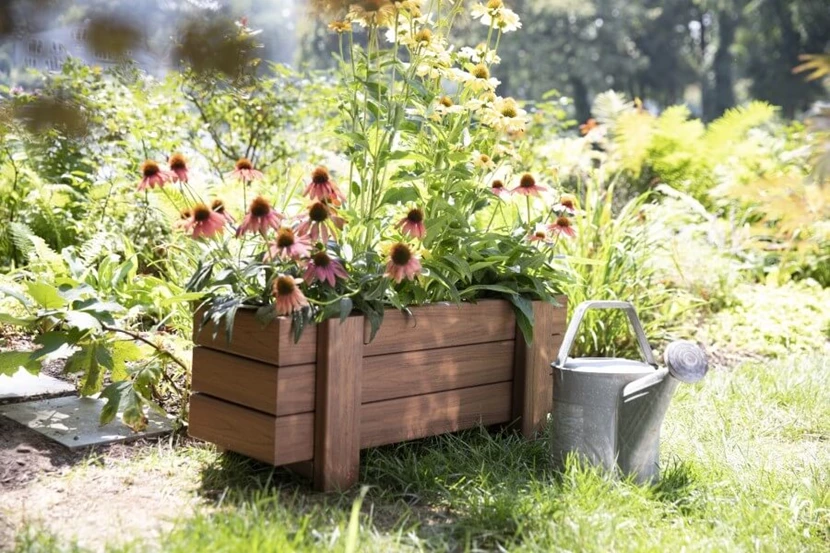 While deck planter boxes can come in many shapes and sizes, planters are decorative boxes built to display potted plants that can either be built-into a deck or added on top. 
Planters are usually built out of 2x4s and 2x6s with a shelf or false bottom set about 12"-16" below the top to support the plants. This is so plants can be exchanged as necessary while providing the illusion that they are growing directly out of the planters. The visible surfaces of the planters are covered in decking or fascia material for appearance. If you are planning on filling the planters with soil outside of a pot, you should line the interior of the planter with poly sheeting to protect the wood. Planters are often used in combination with benches to present a coordinated design.
Deck Planter Box vs. Raised Garden Bed
Decking planters generally sit on your deck, but you can build them for a porch, patio, sidewalk, or landscaping as you see fit. Plus, a planter box for a deck typically holds one large plant or a few small plants at a time. Decking planters provide a cohesive or contrasting look with your existing deck, depending on your aesthetic tastes. Like any potted indoor plants, your decking planter must have a way for the soil to aerate and allow water to drain so your plants can grow properly. The purpose of a planter box on a deck is to beautify your space, keep bugs away with the right kinds of flowers or plants, or grow herbs for your kitchen. 
Meanwhile, raised garden beds usually lie in your yard. They can hold many plants in long rows and are much bigger than decking planters. Rather than a small, square box sitting on a deck, raised garden beds look like long rectangles made out of plywood or a couple of 2x6s stacked next to each other. Raised garden beds offer the same soil drainage as deck planters. The added benefit of a raised garden bed is that it can prevent moles and rabbits from gnawing on your plants. You can also grow larger plants in raised garden beds, including vegetables and shrub starters.
What to Consider Before Building a Deck Planter Box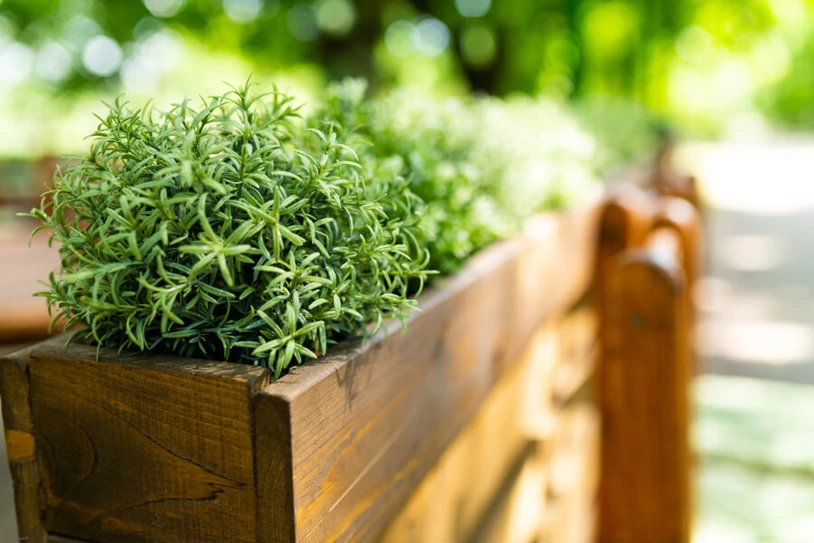 You have several things to think about before you build a planter box for a deck. First is your space requirements, which will determine how big your planters are and how many you want. Second is water drainage. Decking planters must drain water from them, and you must ensure the deck underneath is protected from water damage. Think about the material you want because making composite decking planters will help reduce the effects of water on the planter itself. 
Another factor is the type of plant you want to grow. Is your deck in full sun for a good part of the day? Or does it have partial shade? Planter deck boxes also have finite spaces for roots to grow, which will limit the sizes of your plants. How big do you want your plants to get? Do you want to transfer your plants to the yard at some point?
Materials: Composite vs. Wood
A wood frame of your planter box for a deck should last for years. If you have a bench next to it, you might need to replace the bench every five or so years if it's made of wood. Built-in deck planters made of wood offer natural beauty, but wood requires more maintenance and may not last as long as composite decking planter boxes. You might build a planter box for your deck out of cedar and paint or stain it for a longer life with less warping and do the same for the bench next to it.
Composite decking for planter boxes is virtually maintenance-free, comes in many colors, and is easy to build it the way you want. When you want better color steadfastness, less warping, and better overall results, composite decking planter boxes work better than wood. They save you money in the long run because you don't have to replace them as often. Composite decking planter boxes also don't rot, don't succumb to termites, and clean up easily with simple soap and water or a light power washing.
Types of Plants
What can I plant in a deck planter box? Glad you asked. It depends on the light requirements of your plants and the size they will eventually grow to. Does your deck get full sun on hot summer afternoons? Or do the trees in your yard provide ample shade?
Herbs, such as parsley, mint, basil, and fennel, are fantastic for decks with planters. Smaller fruits or vegetables also work, including strawberries, radishes, beets, scallions and even green beans or tomatoes (if you have a lattice structure for the beans or tomatoes to climb). Small flowers like marigolds, geraniums, mums, and evergreens also work well.
Drainage
The one thing you have to monitor closely on your deck with planter boxes is rot coming from the water for your plants. How do I keep planters from rotting my deck? Drainage is the key.
Drill at least three drainage holes in the bottom of each built-in deck planter. Then, you'll want to make sure the deck planks underneath don't rot over time if they're made of wood. We suggest checking underneath each planter at least monthly to examine the wood. Composite decking and composite decking planter boxes won't have a problem with rot, but you still need to have proper water drainage for the plants.
Cost to Build a Deck Planter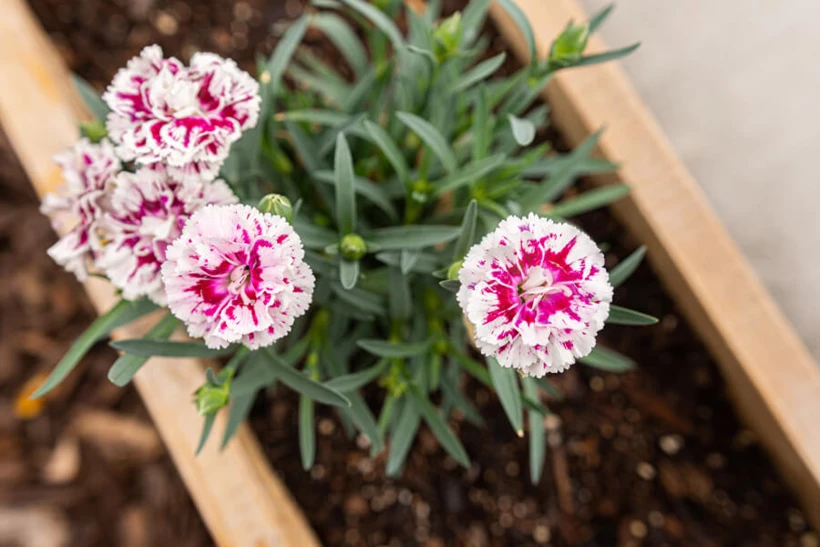 Your costs to build a deck planter box depend on the size and materials. Pressure-treated wood represents the least expensive option, but it is not recommended for growing vegetables. Cedar and mahogany are relevant choices, but these woods cost more. Composite decking for planter boxes has higher upfront costs compared to pressure-treated wood, but it lasts longer and resists rot and pests that could cause you to replace the deck planter boxes more often (making wood more costly over the long run).
Tools & Materials Needed to Build a Deck Planter Box
Take a look at the following items you need to build a planter box for your deck.
Tools:
Tape measure
Pencil
Circular or miter saw
Clamps
Power drill with drill bits and screwdriver attachments
Stapler
Safety glasses
Utility knife
Materials:
4x4 pressure treated (8 feet long) wood
2x8 pressure treated (two 10' and two 6') wood for benches
OR Trex composite decking, 5-6 planks
Lag screws, 3/8's 6" hex head (Zinc) 30-40
DeckPlus Gray 2 1/2" screws (for Trex)
Landscape fabric
Garden staples
How to Build a Planter Box for a Deck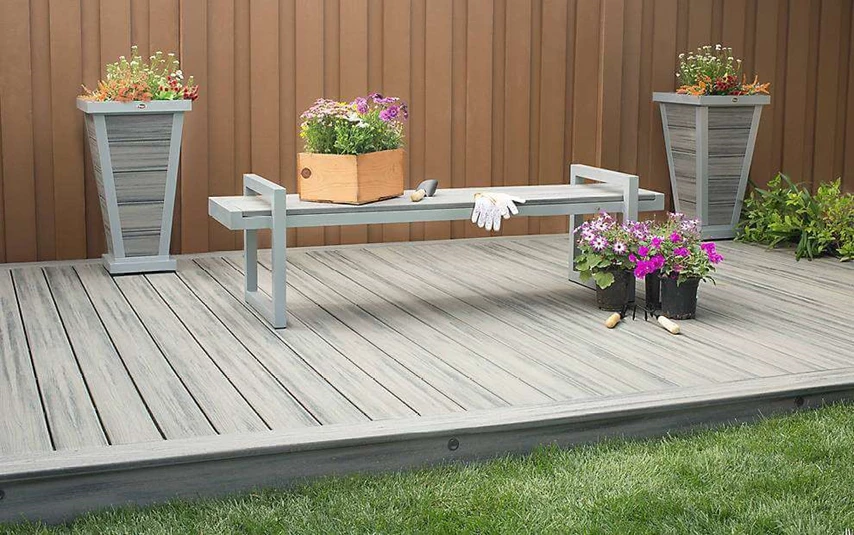 You can build a DIY deck planter in an afternoon with the right tools and materials as a beginner. Your exact steps will vary depending on the size of the deck planter you construct.
Step 1: Calculate the Frame Size
Before you purchase your materials or tools, calculate the size of the frame you want for your planters by making a deck planter box plan. Measure the space you have and determine how many planks you'll need to cut. We suggest using planks anywhere from 5 to 10 inches wide to ensure the plants have room to grow while also allowing you to snugly fit a pot or the dirt itself into the planter box. Your potted plants should fit snugly in the deck planter box while leaving enough room for water drainage.
Step 2: Cut the Framing Material
Use your pencil to mark the boards of your DIY deck planter box. Then use your circular saw to cut the boards. With composite decking, make sure you cut the board where the holes are for fasteners for the best results.
Step 3: Build the Frame
Drill pilot holes for the fasteners or screws around 3/4 of an inch from each edge. Your deck planter box should be secure and stable. Start with the bottom boards by fastening them together.
Step 4: Box the Frame
Work your way up to the top of the deck planter box, making sure the boards fit together as you expect. This will be the inner part of your deck planter box that snugly holds your potted plant. 
Step 5: Cut the Outside Cladding Material
Now, it's time to construct the outer portion of your deck planter box because you just made the inner part that holds the plant. The outer part, called cladding, can be made of wood or composite decking. Measure and cut the boards that will make the outer portion. Then fit them around the frame to make sure it looks right.
Step 6: Attach the Trim and Cladding
Using fasteners, attach the trim and cladding to the inner frame along the edges. Make sure the fasteners for your deck planter box go into the planks without interfering with the pot or the screws you already put in when you assembled the inner and outer frames separately. 
Step 7: Cut & Add the Lining
Get some landscape fabric and cut it with a utility knife. You might have two or three layers folded over. Then staple the fabric to the sides of the inner frame.
Step 8: Add Drainage
The last step is to add four drainage holes in the bottom of your deck planter box, two in one plank and two in the other, evenly spaced.
Get Started With Your Deck Planter Box Project Today
We hope you've enjoyed our guide on how to build a DIY deck planter box in an afternoon! Deck planter boxes can beautify your area and add splashes of color while even keeping bugs away. For materials, take a look at the cost comparison of wood vs composite decking materials to see what's right for you. 
---
Explore Articles by Topic
Explore Articles by Topic