Ready to Start Your Project?
You'll be redirected to Trex.com, our composite decking website.
How to Build a DIY Deck Railing Planter Box
Few things transform a deck faster and more beautifully than a few DIY deck railing flower boxes. Planter boxes can save you space when designing your deck. While taking up minimal space, rail planters allow you to add natural beauty to your deck in the form of colorful blooms, herbs, and other ornamental plants. Learning to build deck rail planters is a suitable project for beginners and you can generally complete the job in less than four hours.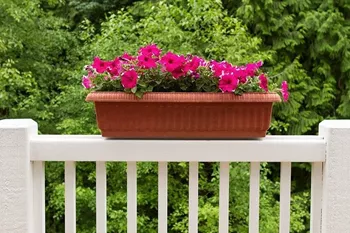 Requried Materials for a DIY Railing Planter
Prior to selecting materials, you'll want to determine the size of the planter boxes you'd like to make. Building a pair of matching 48" planters will require:
One 1"x 6"x8' board
Two 1"x8"x8' boards
Three 1"x2"x8' boards
96" of nylon or vinyl liner
Woodworking adhesive
80/150 grit sandpaper
1-¼" Wood screws
2" Galvanized nails
Stain or paint (Note: Stain or paint is not needed if you are using composite to build your planter.)
If you use wood material, like cedar, the cost to build each planter may amount to around $30. Similarly, building your planters with composite would cost about the same as cedar [source], but may require less-upkeep. However, pressure-treated lumber is a less expensive alternative that can work equally well.
Required Tools for a DIY Railing Planter
Worktable
Hammer
Clamps
Carpenter's square
Power drill with a flat bit
Table saw
Tape measure
Circular saw
How to Build Deck Rail Planters
You can modify the design of your planters to better fit its intended space. For instance, if your deck was designed with a shorter rail, you could easily make these 48" planters a little shorter to fit. You just have to follow a few simple steps.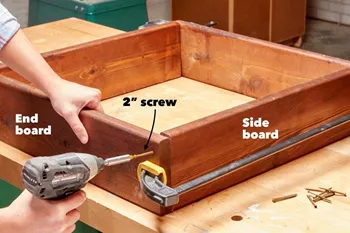 Step 1 – Cut Boards and Assemble the Box
Cut the 1"x8" boards to the desired length of your sides, and then cut a matching length of your 1"x2" boards for the trim. Cut two pieces at 1″x8″x5-1/2" for the ends. Form a box shape from these cuts. Apply woodworking adhesive along with each point where two boards meet. Once the glue has dried, you'll add screws to more securely hold the boards in place. Drilling the screws into the intersection of the two boards. Measure the inside dimensions of your box, then cut and assemble the bottom of your planter.
Step 2 – Transform the Box into a Planter
Using a flat ½" drill bit, create several drainage holes along the base of the planter. This will help to ensure your plants are not overwatered and that water does not pool at the base of your planter.
Step 3 – Finishing Touches
Sand down rough spots and adhesive residue that may have seeped out, then use a moist cloth to wipe away residue. While the planter is drying off, use your bottom board measurement to cut a nylon or vinyl liner for the base of the box. Allow the planter to finish drying before applying stain or paint. If you use composite to build your planters, paint or stain will not be necessary. However, if you do paint or stain your planters, allow them to dry again before adding soil.
How to Secure Railing Planters?
How do you attach planters to handrails? You have several options, but the simplest and most secure choice, if you have a wooden railing, is screwing them into your railing. Using a single woodscrew on each end of the planter is typically sufficient for holding them in place.
However, some people are understandably hesitant to drill into their deck's railing. Another option for securing your deck railing planter is to purchase an attachment bracket for a hardware store. Brackets may be easier on your railing and can allow you to lift and move your planters as needed.
Building your own railing planters are an easy and inexpensive DIY project that can add more life, greenery, and color to your deck -- all while saving precious space.
---
Explore Articles by Topic
Explore Articles by Topic