How to Build a DIY Deck Railing Planter Box
Few things transform a deck faster and more beautifully than a few DIY deck railing flower boxes. Planter boxes can save you space when designing your deck. While taking up minimal space, rail planters allow you to add natural beauty to your deck in the form of colorful blooms, herbs, and other ornamental plants. Learning to build deck rail planters is a suitable project for beginners and you can generally complete the job in less than four hours.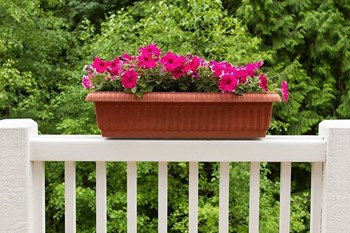 Required Materials
Prior to selecting materials, you'll want to determine the size of the planter boxes you'd like to make. Building a pair of matching 48" planters will require:
One 1"x 6"x8' board
Two 1"x8"x8' boards
Three 1"x2"x8' boards
96" of nylon or vinyl liner
Woodworking adhesive
80/150 grit sandpaper
1-¼" Wood screws
2" Galvanized nails
Stain or paint (Note: Stain or paint is not needed if you are using composite to build your planter.)
If you use wood material, like cedar, the cost to build each planter may amount to around $30. Similarly, building your planters with composite would cost about the same as cedar [source], but may require less-upkeep. However, pressure-treated lumber is a less expensive alternative that can work equally well.
Step 1 – Cut Boards and Assemble the Box
Cut the 1"x8" boards to the desired length of your sides, and then cut a matching length of your 1"x2" boards for the trim. Cut two pieces at 1″x8″x5-1/2" for the ends. Form a box shape from these cuts. Apply woodworking adhesive along with each point where two boards meet. Once the glue has dried, you'll add screws to more securely hold the boards in place. Drilling the screws into the intersection of the two boards. Measure the inside dimensions of your box, then cut and assemble the bottom of your planter.