Ready to Start Your Project?
You'll be redirected to Trex.com, our composite decking website.
Cocktail Railing Considerations & Ideas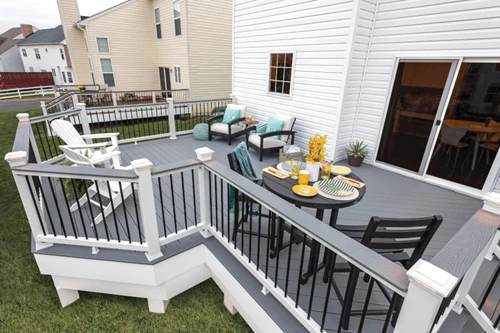 Some of the great joys of a deck is eating al fresco, hanging with friends outside, and enjoying family life with open doors to the backyard. A deck railing with a drink rail can be helpful for all of these scenarios!
Adding a cocktail railing to your deck can be a great way to enhance its functionality and style. This type of railing not only adds a decorative touch to your deck but it can also be used for practical purposes. For example, you can use it to place drinks and snacks during a party, or to hold your coffee cup while you enjoy the morning view. In addition, you can use it to store items temporarily, such as pool items or gardening tools. With a cocktail railing, you can create a space that is both beautiful and functional, perfect for relaxing and entertaining.
What is a Cocktail Rail?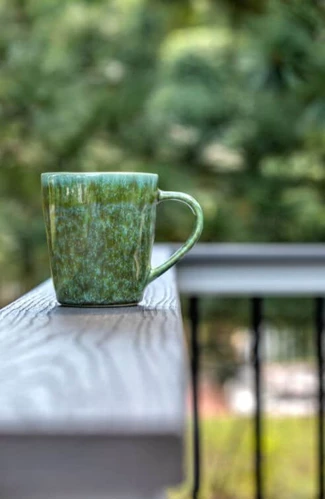 A cocktail rail is a functional, flat surface installed on your deck railing. It's both a practical feature and an opportunity to add a little extra style to your deck. If you have railing installed on your deck, you should consider a cocktail rail. Adding a cocktail rail is a minimal additional cost when looking at the total project total for a new deck. 
When looking at an average deck with 60 linear feet of railing, a homeowner will likely pay somewhere between $250 and $500 to add a drink rail.
Cocktail rails can also really finish a deck design. If you're using opposing colors for your deck and railings, or if your railings are made of metal, then a deck drink rail in the same style as most of your deck boards can bring everything together.
What Does a Cocktail Rail Do?
A cocktail railing is simple to add to a deck. But what does a cocktail rail do?  
It creates a shelf or bar area you can use for whatever you want. You can use a drink rail to hold drinks, plates, or anything else that needs to be set down. A cocktail railing can also be a great place for plants, outdoor lights, candles, and other pieces of outdoor decor.
Benefits of a Cocktail Rail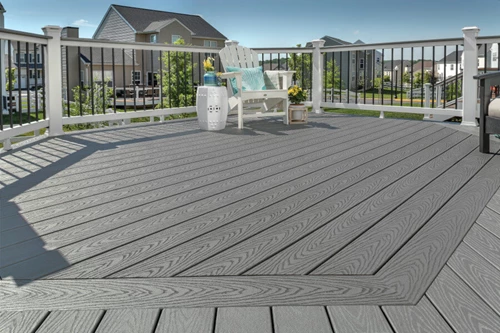 We know what a drink rail is and what it does. But what are the benefits of cocktail railing on a deck?
Here are just a few of them:
Tying together the look of a deck 
A great addition for those who like to entertain 
Makes eating and drinking outdoors with your family more convenient
Dealing with clutter that could be annoying or even dangerous on the deck 
Useful for additional deck styling, from holding small plants to setting down candles for a romantic evening out on the deck
Whatever type of decking you have, adding a cocktail railing is easy. A composite drink rail is incredibly easy to install, and so is a wooden drink rail.
Tips for Adding a Cocktail Deck Railing
Cocktail deck railings can be a DIY project or you can hire a professional. Adding cocktail railing takes just a few extra steps when installing your railing. To install cocktail railing to your deck rail purchase the necessary railing components, such as the top and bottom rails, balusters, and mounting brackets.
Then install the mounting brackets onto the deck rail first, making sure they are level and secure. Then, attach the top and bottom rails to the brackets, and insert the balusters into the pre-drilled holes in the rails. Make sure the balusters are evenly spaced and secure. Finally, add any finishing touches, such as caps for the top of the posts.
Tips for adding a cocktail railing:
Color-match to some element of your deck – this could be your picture frame boards or your main deck boards.
Cap any posts that are part of your railings. This will mean the posts stand a few inches higher than the cocktail rail. 
Post caps are also aesthetically pleasing. Choose caps to match your railings or compliment the color of your deck boards.
If you aren't installing railing caps because you want a modern-looking continuous cocktail railing, you should still consider caps when the level of your railing changes. This avoids the raw edge of your cocktail railing boards ruining that sleek look you were after.
Deck Drink Rail Ideas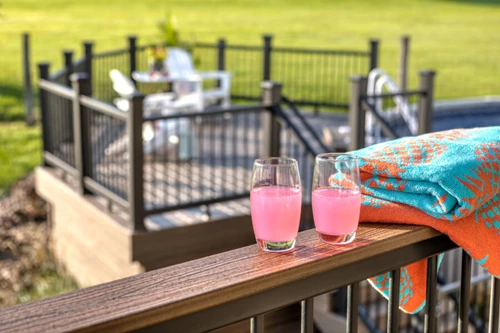 A cocktail railing is a stylish and functional addition to any deck. Not only does it add a decorative touch to your outdoor space, but it can also serve practical purposes, such as holding drinks and snacks during a party or providing a spot to store items temporarily. With a cocktail railing, you can take your deck to the next level and create a space that's both beautiful and useful.
Here are a few deck rail drink ideas to get you started. You'll surely come up with your own soon enough:
Use a cocktail deck railing to make spending time with friends on your deck even better. You can host larger gatherings, or avoid being tied to your deck furniture, as everyone can rest their drinks and nibbles on the railing and circulate more freely.
Have fun with family on the deck without worrying about space. From the kids' snacks to all those mysterious family debris that end up outside, you can use a deck drink rail as a place to set things down for a moment in a safe place.
Get grilling! A typical BBQ leaves at least one person standing at the grill. With a cocktail railing, getting up and hanging out with the chef, setting down plates and drinks while you chat, and generally spending a good long time outside with no one feeling left out is far easier.
Enjoy a drink out on your deck – morning or evening. Of course, no one's suggesting morning wine! But whether it's coffee and bird watching or a white wine spritz with the sunset, a cocktail railing makes a versatile temporary table for your beverage as you enjoy the backyard you've worked so hard on.
Maximize outdoor décor with a drink railing that's all jazzed up. Many people use cocktail railing to rest plants, lights, and other décor. Make sure anything out there permanently is properly secured. You can also use cocktail railing for temporary dressing for parties and gatherings or seasonal decorations. 
Get Started with Your Cocktail Railing Today!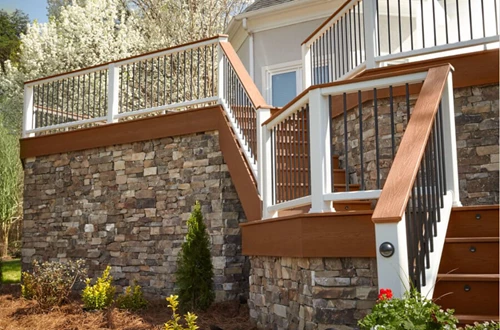 A cocktail railing is a simple way to add class and practicality to any deck. Why not get started on yours ASAP? If you've been inspired, check out these articles on drink rails for decks, outdoor drinking and dining options, and the best railings to fit your deck: 
---
Explore Articles by Topic
Explore Articles by Topic