Ready to Start Your Project?
You'll be redirected to Trex.com, our composite decking website.
Deck Handrail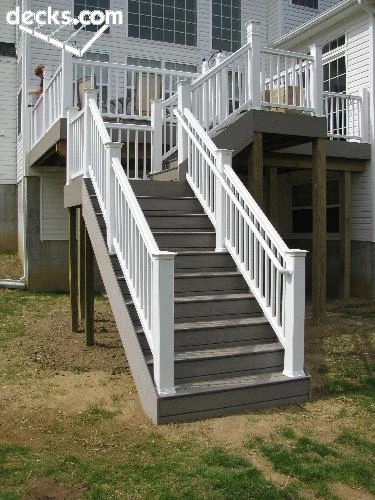 Handrails are required on at least one side of all deck stairs. Many deck inspections fail because of a missing handrail or an improperly installed handrail. Follow these instructions and contact your local building department for more information. The top of the handrail must be placed between 34" to 38" above the nosing of the stair treads. The handgrip must have a smooth surface with no sharp corners and must be continuous the full length of the stairs and returned to the newel post or wall at the ends. The handgrip portion of the handrail shall not be less than 1-1/4" or more than 2-1/4" and shall provide a graspable surface. There are many styles that meet the minimum requirement.

Some deck builders router out a 2x4 to create handrail. The wood must be pressure treated or naturally resistant to decay such as Cedar or Redwood. Metal handrails with adjustable joints and mounting hardware are available for most manufactured rail systems.
---
Explore Articles by Topic
Explore Articles by Topic