9 Covered Deck & Patio Ideas to Elevate your Backyard
December 09, 2022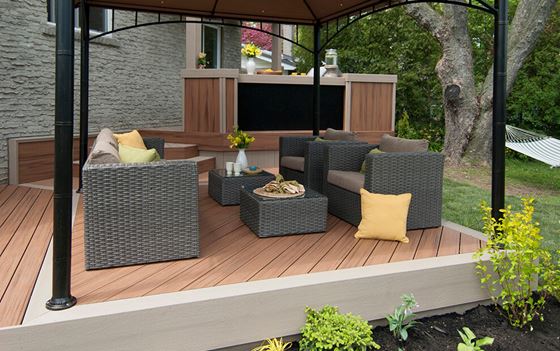 Decks and patios are fantastic places to spend time when the weather is nice, but what happens when it takes a turn for the worse? When an unexpected storm hits or the sun gets just too hot, it's great to have a sheltered spot to keep the party going.
There are plenty of ways to cover your deck or patio, depending on your personal sense of style. 
If you have a smaller deck or patio, you may wish to cover the entire area with a deck roof for a consistent and uniform look. A fully covered deck or patio can add value to your home and is particularly appealing if you want to add extra living space to your property.
On the flip side, you can simply choose to cover that and keep the rest of your deck open to the elements. Covering a smaller area is less expensive and still gives you shade and protection from harsh sun or a sudden downpour.
It's up to you– and works best for your backyard and budget! To help you get started, we've assembled a wealth of information and ideas.
What is the Difference Between a Covered Deck and a Porch?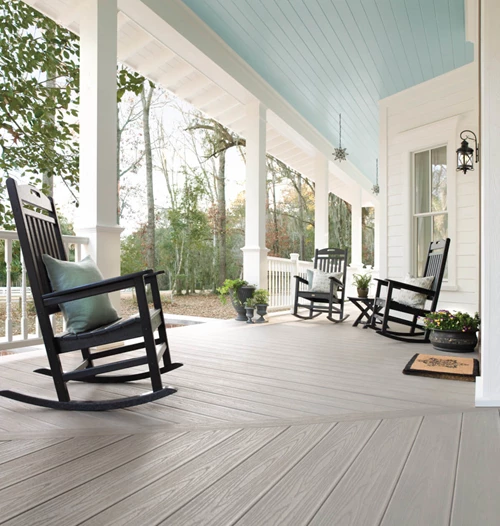 Covered decks and porches are similar in many ways, but differ in a few key areas. A porch is usually constructed as part of your home's structure. It is always covered and helps to protect guests as they enter and exit your home. Decks, on the other hand, are simply attached to the exterior of your home, and aren't always covered. Covered decks can accommodate lots of functions. They can act as a dining area, an extra living space, or just as a spot to relax. 
Here are 9 covered deck and patio ideas for you to consider.
1. Go for a Gazebo!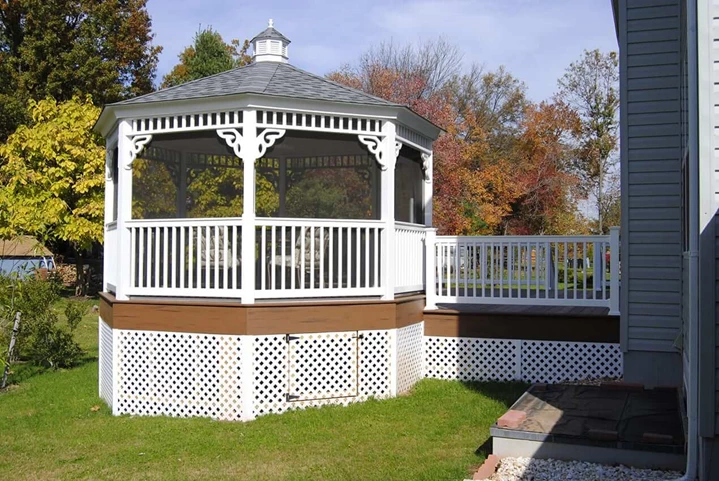 Wood or composite decking are ideal for installing a gazebo on your deck. Choose from pre-made kits or enlist the aid of a contractor to design and install something more bespoke. A gazebo doesn't just look beautiful, but can offer a space-within-your-outdoor-space that provides you with shelter from the sun and a relaxing nook tucked away from the action on your deck.
2. Use a Shade Sail for a Cool and Inexpensive Design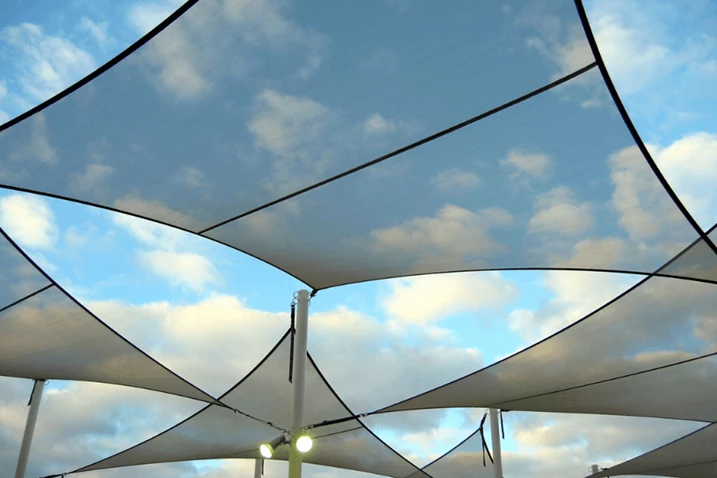 Shade sails are a great option if you're looking for an inexpensive way to cover your patio or deck, not to mention the fact that they look cool and are pretty easy to DIY. They come in many shapes and sizes and are moveable. This means you can install it when you need it (i.e. for a party, when you're expecting bad weather) and take it down when you're done.
3. Enjoy Your Deck in Any Weather with a Retractable Awning
It's a beautiful summer day and you're enjoying your deck with a group of friends when suddenly, dark clouds roll in. It's one of those unexpected summer thunderstorms! Don't let weather surprises put a damper on your fun. A retractable awning can be extended to create shade when it's too sunny or can protect you from rain.
4. Simple and Striking Pergolas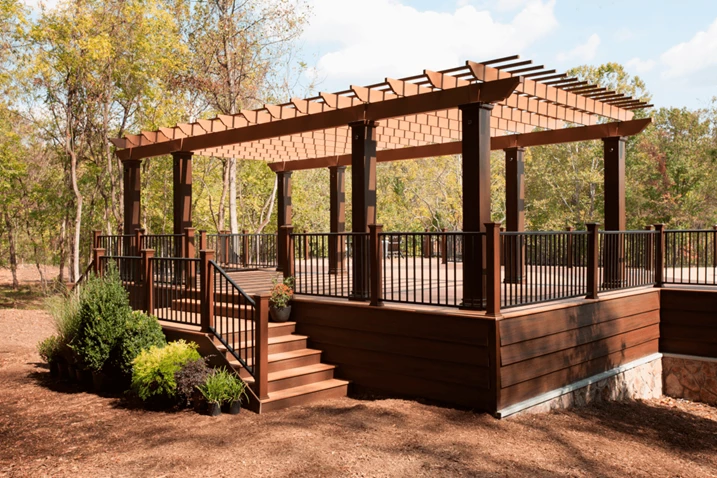 A pergola is a structure supported by columns and has a roof made from rafters or beams. Pergolas can be flat or slanted and can be connected to your house or freestanding. Pergolas cast just enough shade to cool things off on a hot afternoon and are extremely versatile. You can hang string lights from the beams, install a ceiling fan, or even grow climbing plants up the columns. 
If you decide to install a pergola, you can choose to cover the entire structure with a canvas or canopy for extra protection and shade. You can enjoy all the beauty of a pergola with the added functionality of a roof over your head. Retractable canopies are also available for those who want more options.
Another decorative and functional pergola idea is to hang curtains between the columns. Curtains add a touch of elegance when hanging from your pergola. Keep them open during pleasant weather or use them to help block the sun and wind. They can also help to keep out those pesky bugs, too. 
Trex offers a wide range of prefabricated pergola options which can make adding a pergola to your deck easy.
5. Choose Stylish Umbrellas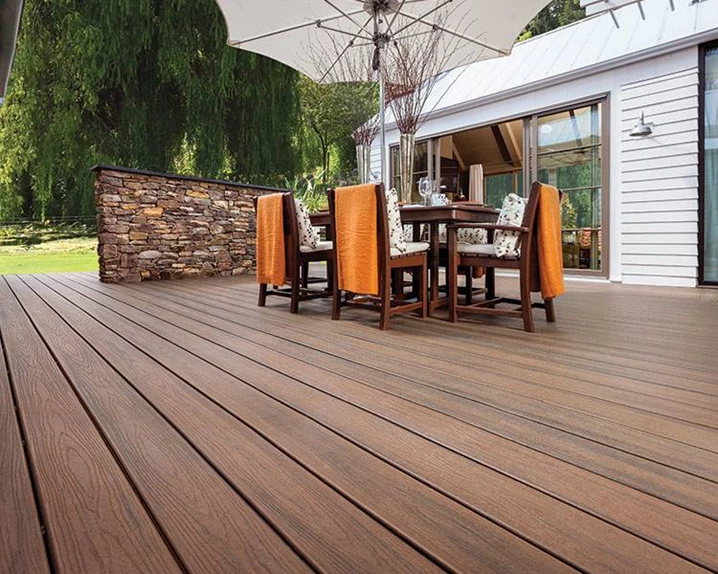 Umbrellas are great ways to cover select areas of your patio or deck, and they come in many different colors and designs. Umbrellas aren't just for carrying with you on rainy days. You can get a patio umbrella on a stand that can cover up to 150 square feet of space.
6. Add a Ceiling with Skylights
Adding a ceiling with skylights to your patio is a great way to protect and cover this area while still letting in plenty of light. With a skylight, you can enjoy the warmth of the sun without having to worry about getting a serious sunburn.
7. Cozy and Colorful Canopies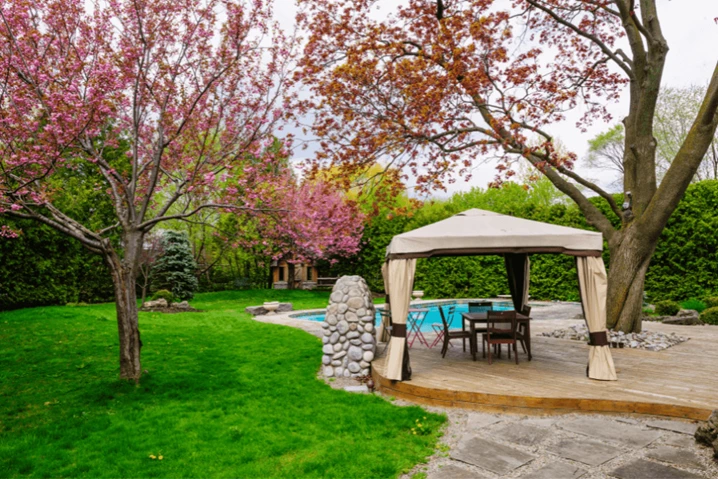 Adding a colorful fabric canopy overhead, made from weatherproof materials can allow you to switch up your look from season to season. For an even cozier effect, drape coordinating or contrasting colored fabric so that it cascades down like curtains. Pull them closed for privacy, or open them up to enjoy some sun on your deck!
8. Glass Enclosures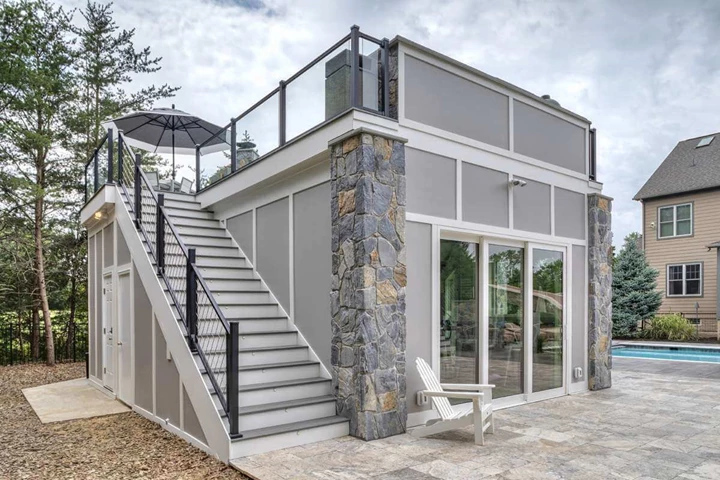 If you live in an area with unpredictable weather conditions, or simply want to be protected from the elements, you can fully enclose your patio or an area of your deck. You can combine some of the other ideas on this list with a fully enclosed deck or patio – skylights to let in the sun are a particularly great idea. You can even use glass walls to essentially create a sunroom.
9. Add Screening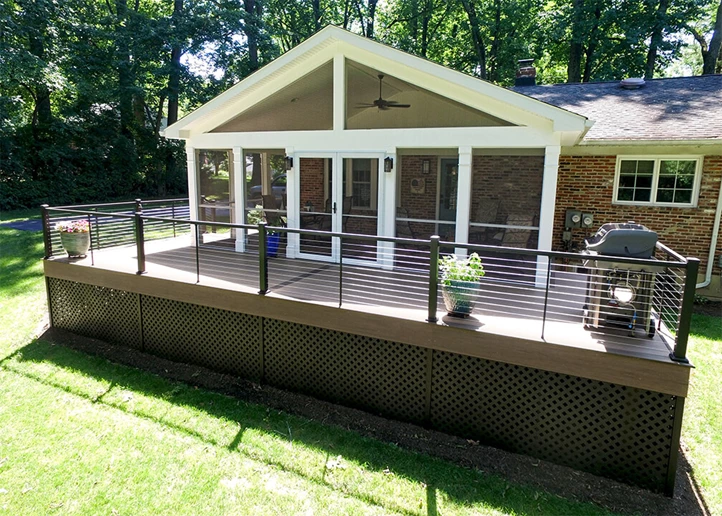 A glass enclosure around your deck can be a striking option, but screening in your deck may be a less-expensive way to offer protection from insects and the elements. Better yet, screening can keep out winged pests while still allowing you to feel a cool breeze from your deck or patio.
How much does it cost to build a covered deck?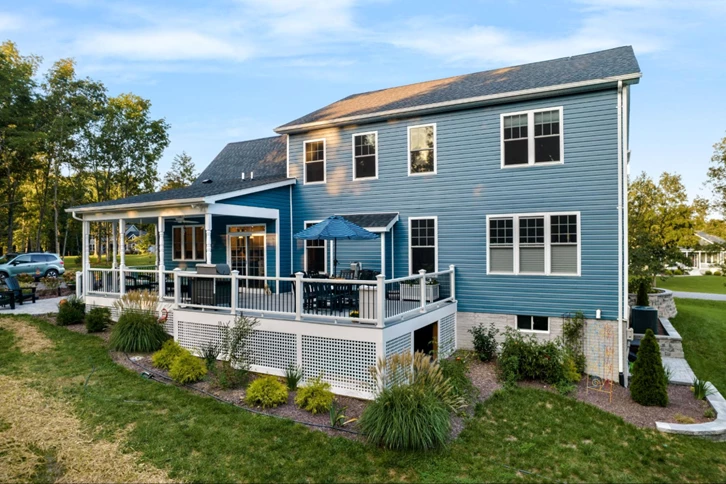 Covered decks and patios can vary in price, depending on what kind of covering you want to install. Options like shade sails and umbrellas are cheap and will cost a few hundred dollars at most. You can buy the materials and install them yourself. 
But if you want a true ceiling installed, or if you want to enclose your entire patio or deck, you'll most likely need to call in the pros, and of course this will be more expensive. For a professional deck roof installation, you'll probably be looking at a $5000+ project.
Does a Covered Deck Add Value to a Home?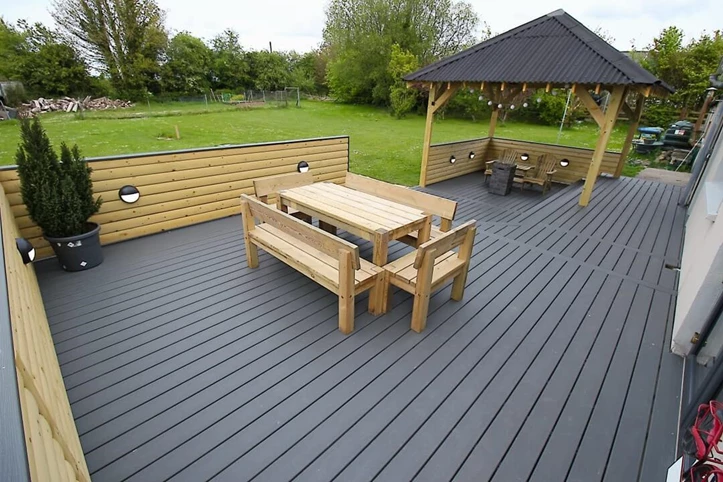 While it may seem like an expensive undertaking, adding a covered deck or patio definitely adds value to your home. It's important to remember that the materials you use impact the final price you pay and paying for the most high-end materials may not always be worth it. When adding a cover to your patio or deck, always keep the ROI in mind. Even a simple addition of a covered deck can enhance the curb appeal and value of your property should you ever decide to resell.
Find a Builder to Help Transform Your Backyard
If you're looking for more inspiration to make your deck and patio dreams a reality, Decks.com can help! Find a contractor near you that can make your vision come to life.