Ready to Start Your Project?
You'll be redirected to Trex.com, our composite decking website.
How To Build A Roof Cricket or Saddle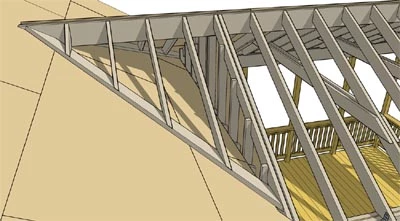 In some situations while building a porch roof, you may need to tie the house roof and porch roof together. This will require cutting the house roof back to the bearing wall. You will need to install a gable wall on top of the house wall to support the weight of the ridge beam. Line the gable studs on top of the house studs and leave room for a sheathing layer. Once the ridge beam is solidly supported, it can continue to where it intersects on the house roof surface. This beam will provide the backbone for the cricket or saddle. 2x8 sleepers should be nailed to the roof surface to pick up the ends of the rafters. You will need to use compound miter cuts for the cricket rafters. The cricket or saddle basically rests on top of the house roof to visually extend the porch roof gracefully into the house roof. Be sure to waterproof the intersection of the roofs using valleys and flashing.
---
Explore Articles by Topic
Explore Articles by Topic