Ready to Start Your Project?
You'll be redirected to Trex.com, our composite decking website.
How to Install & Build a Porch Roof
A porch roof is essentially composed of layers of specialized materials that are designed to last for many years of natural exposure. Above the structural trusses or rafters, your roof will be covered in 3/8" or 1/2" tongue and groove plywood. The plywood for the roof comes in 4'x8' sheets and will hold the roof members together much like decking secures the deck frame. The next layer will be a minimum #15 roofing felt, which can be stapled in place over the plywood to create a water tight barrier for the shingles to cover. Install drip edge flashing to the lower edge of the roof and step flashing at the house wall.
| | | |
| --- | --- | --- |
| 1.Siding | 2.Kickout Flashing | 3.Step Flashing |
| 4.House Sheathing | 5.Gutter | 6.Roof Sheathing |
| 7.Drip Edge Cap | 8.Asphalt Shingles | 9.Roof Felt |
Most builders use 3-tab asphalt shingles that match the house shingles for porches.

Snap a vertical chalk line down the center of the roof and start at the bottom. You want to trim the tabs off the shingles to create a starter course. Fasten the shingles so they overhang the drip edge by 1/2". Snap horizontal lines every 5" and vertical lines every 6" with a chalk line all the way across the roof as a guide. Use the lines to continue installing the shingles to the top edge of the horizontal lines in order to achieve the 6" desired offset. Use 4 nails per shingle for installation. A roofing nail gun can speed up this job dramatically. Trim the shingles at the edge of the roof. Cut 12"x12" ridge cap shingles from standard shingles and center them over the ridge and attach with 2 nails.

If you want to try something different, you may look into installing a metal roof.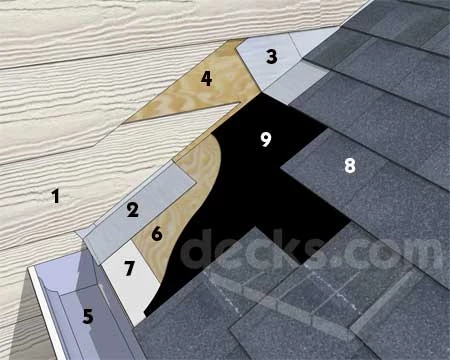 ---
Explore Articles by Topic
Explore Articles by Topic