Ready to Start Your Project?
You'll be redirected to Trex.com, our composite decking website.
Dos & Don'ts for Homeowners to Consider When Building a Deck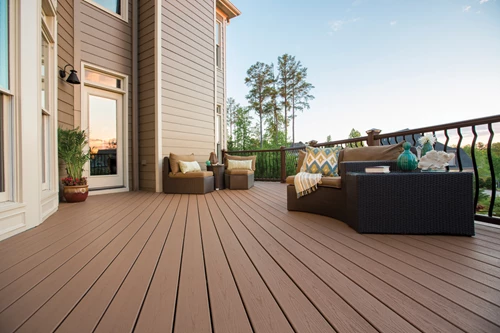 Your dream deck can take whatever shape you like. The trick is making it fit your budget and site conditions. While the deck doesn't have to be built as a rectangle, there could be good reasons for doing just that. Or not. Every project is different. Here are seven tips for "dos" and "don'ts" to help you square your dream deck with reality.
Do: Consider the Purpose & Function of the Deck
Decks are versatile, multipurpose spaces. One night you use it to entertain friends and the next to enjoy a quiet sunset alone. To get the most out of your new deck, aim for a design that reflects your interests and activities. Do you want sun or shade? A grand view or privacy? If you'll be eating meals there regularly, plan for that by making it easy to move between the deck's dining area and the kitchen. Or build an outdoor kitchen and add a bump-out to accommodate a table and chairs.
Don't: Choose the Cheapest Decking & Materials
Beware of sacrificing long-term satisfaction for an upfront discount on decking materials.
If you look only at the purchase price, pressure-treated softwood is the least expensive decking material. Over the long term, however, composite decking can be a better value than wood. Not only does it last much longer, but it needs little maintenance, just an occasional soap-and-water cleaning.
If you opt for composite decking, stick with the major manufacturers. Many divide their product lines by price point—good, better, best—and offer warranties on them all. Name-brand suppliers also offer color-matched and hidden fasteners for a seamless look, as well as color-matched trim that's often not available from suppliers of cut-rate materials.
Use composite decking stocked by a local distributor, lumberyard, or other retail outlet. That makes returns and future purchases more convenient.
Do: Consider the Location, Size and Design of your Deck
Site conditions have a big influence on the deck's design and placement. A sloping yard suggests either a raised deck with stairs or a multi-level deck. If the lot has mature trees, are they an obstacle to your plans or could they become central to your design?
Think about the deck's relationship to the house. Should it connect at the back or the side? If the deck will serve as the front porch, include design features that complement the façade. If the deck will lead to a swimming pool, plan for an area where you can dry off and catch some sun.
Scale is also important. A deck for a vacation house with acreage will likely be much different from a deck you build in the backyard of a city house. Rooftop decks have no yard, so you might want to leave room for growing container plants or hanging laundry.
Look online for design ideas and play around with software that will help you design a deck in 3D.
Don't: Overestimate your DIY Skills
Building a deck is a big project, even for experienced DIYers. If you're not especially handy, resist using your deck project as a DIY training opportunity. At best, your amateur efforts will delay completion. More likely, your fun project will become a source frustration as you discover that your building skills aren't up to the task. Worse yet is making a serious mistake that renders the deck unsafe.
Do: Choose a Trustworthy Contractor
Start by getting references from friends, family, and neighbors. Ask how their projects started, evolved, and finished. What would they do differently? Online reviews are less trustworthy, but they can offer insight into problems that commonly arise. Look for contractors who are familiar with local building requirements and who will answer your questions. You might need to be flexible about timing. The best builders stay busy and they probably have several jobs ahead of yours.
Don't: Ignore Code & Permit Requirements
If you hire a reputable contractor, you shouldn't have to worry about building permits. If you're a DIYer, getting a construction permit is not just a legal requirement, but an opportunity to improve your design by consulting with building authorities. Many are happy to offer basic advice, address FAQs, and provide drawings of important construction details.
Follow the law and building code. You'll reduce the risk of project delays/stoppages, and you won't need to make expensive corrections.
Do: Make the Space your Own with Deck Lighting, Furniture & Storage
Lighting makes your deck safer and more inviting. Low-voltage lighting is popular because it's compact and easy to install, but there are many other options. For a clean, professional look, install the modular lighting offered by decking suppliers. It integrates seamlessly into posts, railings, deck boards, and stairs.
Deck furniture should be comfortable, good looking, and weather resistant. That can get expensive. Before spending big money, experiment with the furniture you already have or buy inexpensive pieces that you can replace once you get a better feel for how you use the space.
For storage, consider installing box benches with hinged seats. If you have a raised deck, there might be enough room below to store tools, water toys, or seasonal equipment.
To find local retailers of composite decking and accessories, use the Decks.com Find a Retailer tool. To search for professional help in your area, use the Decks.com Find a Builder tool.
---
Explore Articles by Topic
Explore Articles by Topic