Ready to Start Your Project?
You'll be redirected to Trex.com, our composite decking website.
What is the Average Cost to Build a Front Porch?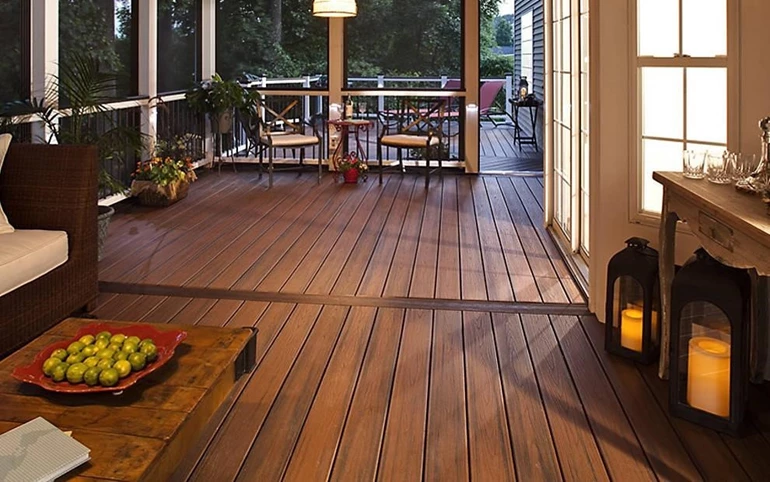 Adding a front porch to your home adds value to your property and gives you a beautiful place to create memories. There's just something completely idyllic and relaxing about summer nights spent in a rocking chair on the porch. And while the thought of a beautiful, welcoming porch may bring a smile to your face, you're probably wondering more about the practical aspects of building one -- namely, how much it will cost to build a front porch.
While you can get a quote for building a front porch from a local contractor, you may want to do some research on your own to learn what is a fair expectation for pricing the front porch of your dreams. Here are some l tips to help you better determine the cost to build a front porch, and to start planning and budgeting.
How Much Does It Cost to Build a Porch?
The average cost to build a porch can range between $4,600 - $22,000 for a 200 square foot porch. That is a wide range of costs and depends on what is necessary to build your porch and what's "nice to have" to make a porch more aesthetically pleasing.
The costs of building a front porch vary based on design elements, and material and labor costs. Every porch has a foundation, flooring, roof, and maybe even screens, windows, or walls. Raised porches will require steps and railings in order to be compliant with safety regulations and to ensure family and visiting friends are able to safely access your home and porch.
Additionally, one of the biggest variables in determining porch building costs is the type of materials you use and the complexity of your design, which will affect labor costs. For instance, an enclosed front porch or a front porch with a roof will cost much more than a simple slab foundation porch. Further, the cost of a porch with a slab foundation can increase exponentially if you want to add decorative elements, such as stone columns or other features.
All things considered, there are a variety of ways to build a front porch on a budget without compromising quality. Some ways to keep costs low can involve your building material choices and maybe even considering a prefab porch instead of hiring a contractor to build a custom porch.
Foundation
A good foundation provides structural integrity to your porch. The type of foundation your porch needs will depend on the type of porch you want. Contractors may recommend pier-style foundations that use beams to hold the weight of your porch or slab foundations made from concrete. When figuring your porch cost, consider that a pier-style foundation can often run between $5-$8 per square foot. Conversely, a slab foundation may cost between $3-$5 per sq
Next, the porch floor is built on top of the foundation. Your porch decking will be a big part of your front porch cost. Wood or composite are common porch flooring materials, but in some cases, you may see concrete, stone, or brick flooring on low porches. Flooring costs can differ drastically depending upon the material. For example, wooden planks start at $5 per square foot, while composite planks start at $5-$13 per square foot. Bricks can be $6-10 per square foot.
Roof
When considering the cost to build a porch, one of the considerations is its overall design, which may include a porch roof. A porch roof can be a traditional gable roof, a hip roof, or a shed-type roof. Each has their merits and your choice may be a personal preference or one that complements the existing architectural style of your home. For example, a gable roof works with many house styles, while a shed roof can work for narrow porches. The hip roof is the most complicated to build, as its unique structure has no gables or vertical sides and just slopes down toward the porch itself. As a result, a hip roof is the most expensive option for a porch roof.
Walls, Railings, or Screens
Some front porches have low walls or railings. Others are entirely screened in. These features add to your cost for a front porch, but can make it more convenient and usable for your family. For instance, porch screening can protect your family from glare or insects while enjoying your porch. Similarly, railings add an element of safety, as well as a more decorative element.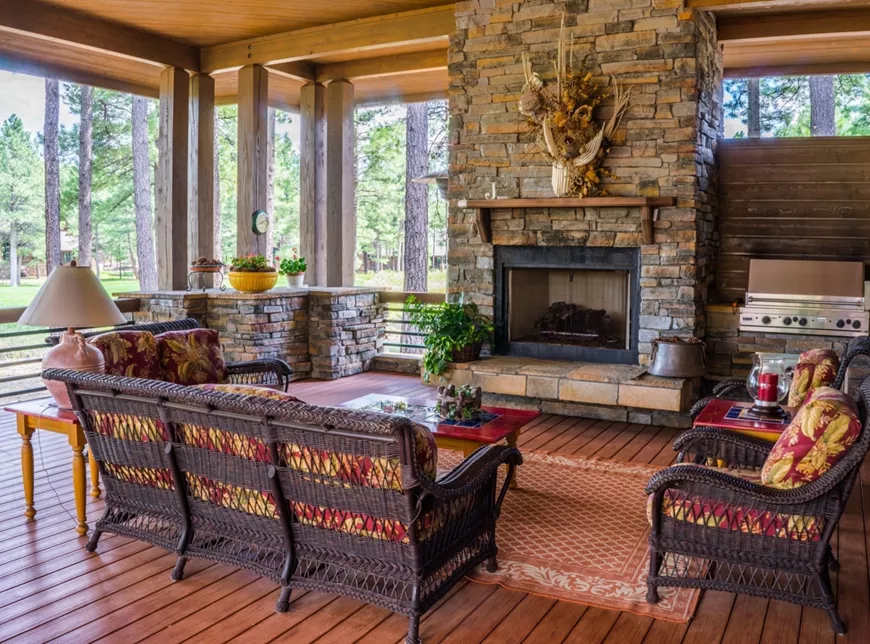 Accessories
Do you want a ceiling fan? What about porch lighting? Paint or stain? If you want to dress your porch up with paint and electricity, that will make it more comfortable and add to the cost of building your porch. For instance, adding a ceiling fan can cost between $100-$500 dollars. You'll also need an electrician to install it, which tacks on an additional $65-$95/hour in labor. Then there are other furnishings, like a porch swing which can start at $200.
When considering the cost of adding a porch to your home, consider the type, size, materials, installation, and furnishings you'll want to include in your ultimate vision.
As an example, a 200-square foot porch can run between $4600 to $22,000 depending on materials, design, and labor. Here is a brief breakout of cost ranges for materials, as well as the cost of labor involved in building a front porch.
| Porch Elements | Materials | With Installation |
| --- | --- | --- |
| Flooring | $400-$8,400 | $800-$10,800 |
| Roof | $2,800-$4,400 | $3,200-$6,000 |
| Posts | $105-$2,300 | $175-$2,800 |
| Railings | $100-$700 | $400-$1,200 |
| Steps | $70-$1,500 | $300-$1,900 |
| Permits | $100-$500 | $100-$500 |
| Total | $3,575-$17,800 | $4,575-$22,000 |
Cost to Build Different Types of Porches
There are many different types of porches. From screened in "rooms" to a simple covered front porch, the type of porch you choose will affect the cost due to their materials and complexity in building. Here's a look at some common porch types and typical costs associated with each.
How Much Does it Cost to Build a Covered Porch?
The costs to add a covered porch to your house will depend on the size, materials, and design. On the low end, you may be able to add a simple front porch with a roof for around $5,000. If you want to build a large wrap-around porch with plenty of architectural elements, then it will cost you between $40,000 or $50,000.
How Much Does it Cost to Build a Screened-In Porch?
If you do not have an existing porch to screen in, adding a screened-in porch to your home can cost between $30,000 to $55,000 or more, depending on the type of materials you use and any integrated features. However, if you already have a porch, adding screening can cost between $2,000 to $3,000, depending on the size and types of porch screening materials.
A screened-in porch is an excellent way to enjoy the fresh air without battling insects. Building a screened-in porch requires screens (obviously) and your choice in screening material and will affect porch costs. Types of screening material can vary, including screening made from copper to aluminum to PVC and more, each with its own benefits. You can estimate your porch screen costs to range from $4.50-$7.00 per square foot.
How Much Does it Cost to Build a Sunroom?
Sometimes known as a sunroom, a Florida room is usually enclosed entirely in windows. Florida rooms or sunrooms can provide excellent indoor space for plants to get ample amounts of sunlight. The average cost for building an enclosed sun porch is $30,000.
How Much Does a Concrete Porch Cost?
In some cases, you may opt to add a concrete slab and build your porch on it. This can be a very cost-effective option at around $8-$12/sq. foot and can work well if your house is already low to the ground. You can still add a roof for shade and, if you want to dress up the concrete, you can consider stamped concrete for a decorative flooring option.
How Much Does it Cost to Build a Sleeping Porch?
The cost to build a sleeping porch can range between $15,000 and $30,000, with costs varying depending on the types of materials used and desired features added.
In the days before central air, many older homes had sleeping porches on the side or back of the home for airier sleeping quarters. These sleeping porches often have a simple bed or couch for resting and typically were screened in to protect sleepers from insects. Some more modern sleeping porches incorporate screened-in windows and insulation, as opposed to just screening to keep bugs at bay.
How Much Does a Prefabricated Porch Cost?
A prefabricated (or "prefab") porch is a kit. You simply choose your design and it arrives in pieces ready for assembly. Prefab porches start at $10,000 and can go upwards, depending on how simple or intricate the design.
| | |
| --- | --- |
| Covered Front Porch | The most traditional type of porch, a covered front porch can be simple or wrap-around. It's usually raised with railings. |
| Screened-In | Popular in areas with lots of insects, a screened-in porch is fully enclosed with screens. |
| Florida Room | Also called a sunroom, a Florida room is a porch enclosure with floor-to-ceiling windows on all sides. |
| Concrete | For low-to-the-ground homes, concrete porches sit close to the ground, like a deck or patio. They're usually open on all sides, although they may have a roof. |
| Sleeping | Often found on the side or back of the house, a sleeping porch is a screened-in enclosure with lounges and other areas to sleep. |
| Prefab | A prefab style of porch arrives in prefabricated sections that homeowners can install themselves or with the aid of a contractor. These portions include prefabricated railings and other sections. |
| Wraparound | As the name suggests, a wraparound porch wraps around the front and side of the house. |
Material Costs for Building a Porch
Many porch cost variables depend on the types of materials used and the size of your porch. Generally, you can budget based on square foot. For example:
What is the cost of using wood? Costs for inexpensive pressure-treated wood can start at $4, while redwood can run up to $30 per square foot, showcasing the wide spectrum of costs for choosing wood to construct your front porch.
What about composite? Professionally installed composite decking, railing and porch materials can range between $50 and $80 and upwards per square foot. One of the chief benefits of composite decking is that it is rot-resistant and requires less upkeep than traditional wood lumber.
Costs of Labor When Building a Porch
In addition to the building materials, another cost involved in building a porch is installation and labor cost. Experienced contractors will cost between $20-$40/per hour to build your porch. You may be wondering if there is a cost per square foot for labor? The average cost of labor is $67/square foot, but it can vary depending on your location and average rates for contractors in a given region or metropolitan area. You're also paying for the cumulative years of skilled carpentry factored into the cost of labor. While it may be expensive, it can be a weight off your mind knowing that your porch is being built by a professional with a deep understanding of complicated projects.
The time to build your porch span anywhere from a few days to several weeks, depending on the complexity of the design. A front porch with a lot of intricate design features -- such as screening, a roof, or even electricity -- will take longer to complete than a simple slab porch.
Ready to set the wheels in motion for the front porch of our dreams? Get in touch with a contractor near you to get a quote.
---
Explore Articles by Topic
Explore Articles by Topic