Cost To Build A Front Porch in 2021
Adding a front porch to your home adds value to your property and gives you a beautiful place to create memories. There's just something completely idyllic and relaxing about summer nights spent in a rocking chair on the porch. And while the thought of a beautiful, welcoming porch may bring a smile to your face, you're probably wondering more about the practical aspects of building one -- namely, how much it will cost to build a front porch.
While you can get a quote for building a front porch from a local contractor, you may want to do some research on your own to learn what is a fair expectation for pricing the front porch of your dreams. Here are some l tips to help you better determine the cost to build a front porch, and to start planning and budgeting.
Costs of Building a Porch
The average cost to build a porch can range between $4,600 - $22,000 for a 200 square foot porch. That is a wide range of costs and depends on what is necessary to build your porch and what's "nice to have" to make a porch more aesthetically pleasing.
The costs of building a front porch vary based on design elements, and material and labor costs. Every porch has a foundation, flooring, roof, and maybe even screens, windows, or walls. Raised porches will require steps and railings in order to be compliant with safety regulations and to ensure family and visiting friends are able to safely access your home and porch.
Additionally, one of the biggest variables in determining porch building costs is the type of materials you use and the complexity of your design, which will affect labor costs. For instance, an enclosed front porch or a front porch with a roof will cost much more than a simple slab foundation porch. Further, the cost of a porch with a slab foundation can increase exponentially if you want to add decorative elements, such as stone columns or other features.
All things considered, there are a variety of ways to build a front porch on a budget without compromising quality. Some ways to keep costs low can involve your building material choices and maybe even considering a prefab porch instead of hiring a contractor to build a custom porch.
Foundation
A good foundation provides structural integrity to your porch. The type of foundation your porch needs will depend on the type of porch you want. Contractors may recommend pier-style foundations that use beams to hold the weight of your porch or slab foundations made from concrete. When figuring your porch cost, consider that a pier-style foundation can often run between $5-$8 per square foot. Conversely, a slab foundation may cost between $3-$5 per square foot.
Porch Floor
Next, the porch floor is built on top of the foundation. Your porch decking will be a big part of your front porch cost. Wood or composite are common porch flooring materials, but in some cases, you may see concrete, stone, or brick flooring on low porches. Flooring costs can differ drastically depending upon the material. For example, wooden planks start at $7.50/square foot while bricks can be $6-10 per square foot.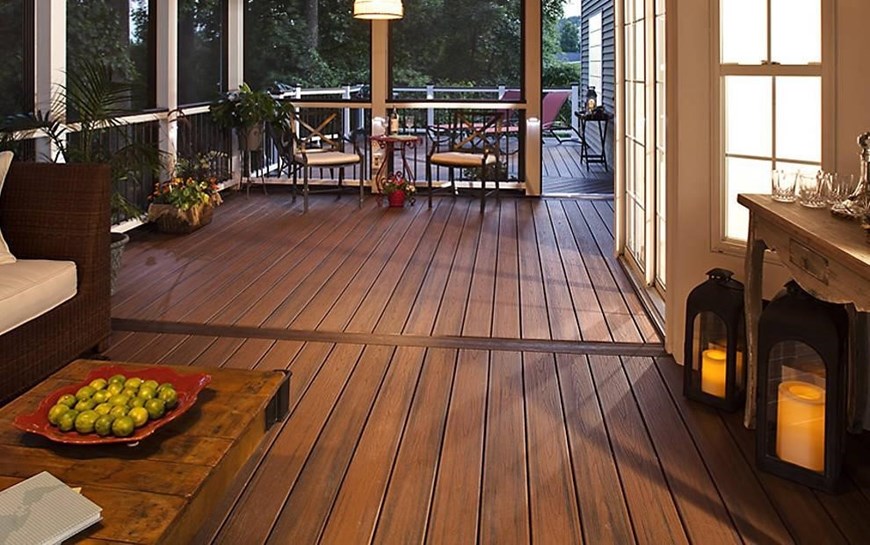 Roof
When considering the cost to build a porch, one of the considerations is its overall design, which may include a porch roof. A porch roof can be a traditional gable roof, a hip roof, or a shed-type roof. Each has their merits and your choice may be a personal preference or one that complements the existing architectural style of your home. For example, a gable roof works with many house styles, while a shed roof can work for narrow porches. The hip roof is the most complicated to build, as its unique structure has no gables or vertical sides and just slopes down toward the porch itself. As a result, a hip roof is the most expensive option for a porch roof.
Walls, Railings, or Screens
Some front porches have low walls or railings. Others are entirely screened in. These features add to your cost for a front porch, but can make it more convenient and usable for your family. For instance, porch screening can protect your family from glare or insects while enjoying your porch. Similarly, railings add an element of safety, as well as a more decorative element.