Ready to Start Your Project?
You'll be redirected to Trex.com, our composite decking website.
What Does it Cost to Enclose a Deck?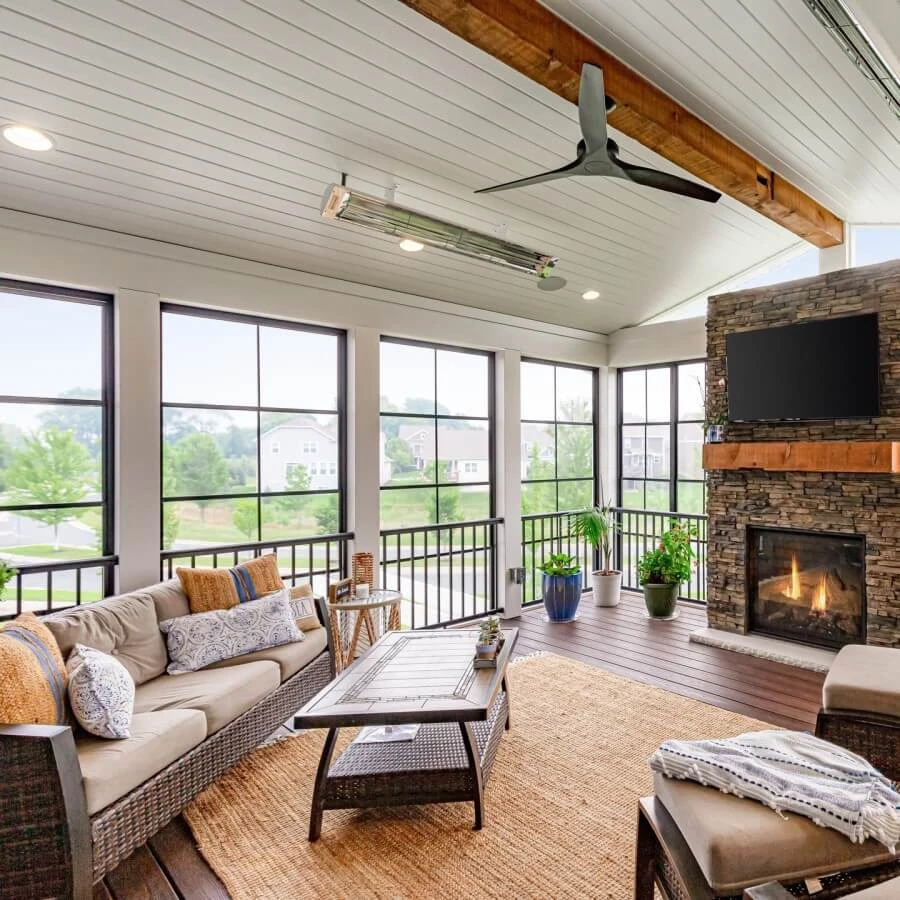 Photo credit: @psdecksmn
Ready to enhance your deck even more? Enclosing your deck can make it a year-round outdoor slice of paradise you can enjoy in all types of weather as your cozy retreat. Learn how much it could cost to enclose a deck.
We'll discuss how much you can expect to pay, the types of enclosures, and the considerations for enclosing your deck.
How Much Does It Cost to Enclose a Deck or Patio?
The cost to enclose a patio may range from as little as $600 to more than $3,500, with approximately $1,200 as the national average. Your costs will vary depending on the scope of the project, the materials involved, and whether or not you hire a contractor. The more details you provide about your project, the better an estimate you can receive for enclosing your deck.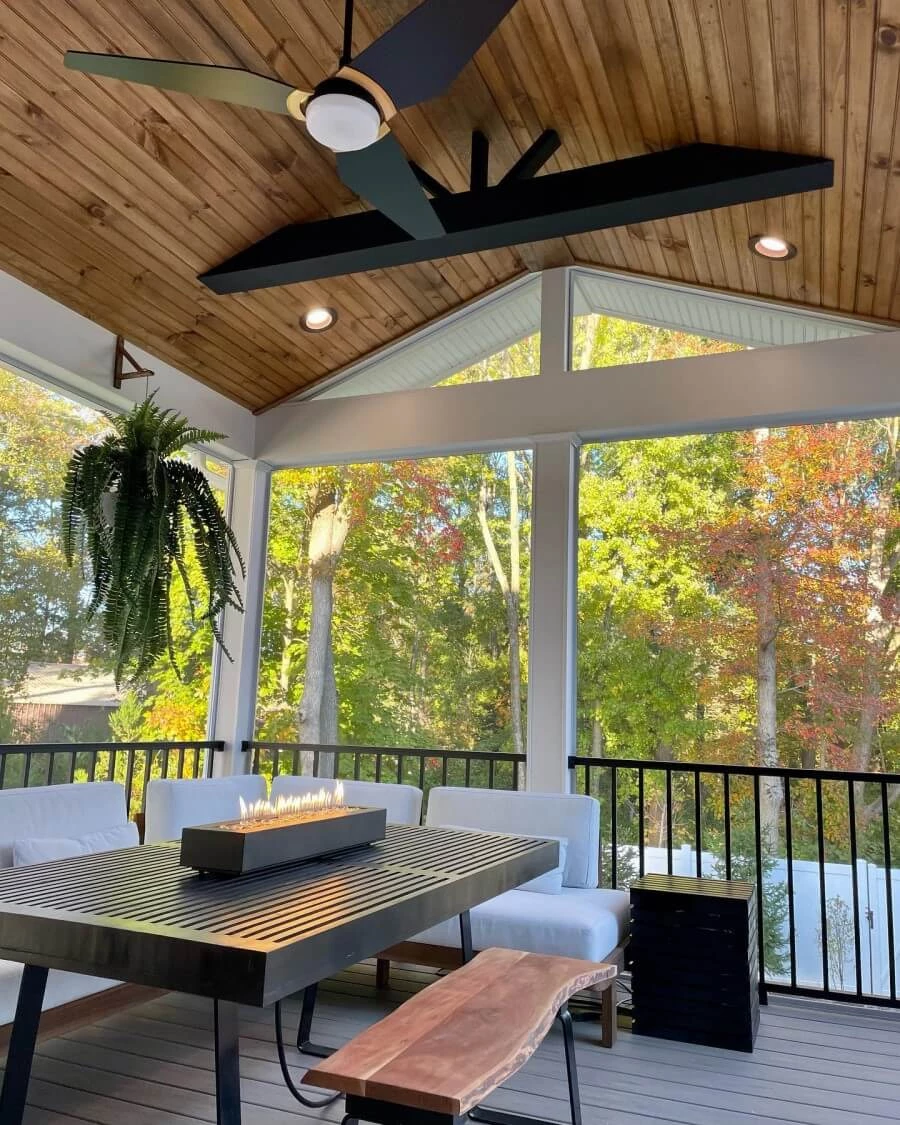 Photo credit: @southjerseycustomdecks
Are the costs worth it? A screened-in porch keeps away bugs, and you could use your deck in winter by surrounding it with windows, insulating it, and then heating it to keep chilly breezes at bay.
If you have a patio instead of a porch, expect similar average costs to enclose a patio, as the same basic construction principles apply. Depending on the complexity of the project, you might just want sturdy screens wrapped around some support poles. On the other hand, adding windows and a roof will raise your enclosed patio costs significantly. You have plenty of options out there, from a simple screened-in porch all the way to a full sunroom with heat and air conditioning.
Enclosed Deck Costs: Factors to Consider
Think about several factors when figuring out the costs to enclose a porch.
Type
The style of outdoor room you want will dictate a large portion of how much an enclosed porch costs. The cost to add a screened-in porch with just a few posts around the perimeter and an awning will likely be much lower than the cost of converting a deck into a sunroom with windows, utilities, and a sturdy roof.
How much does a patio enclosure cost? It will depend on the design you want and how often you want to use it.  Just screening in a porch won't make it warmer in the winter. If you want to keep the elements at bay year-round, you'll need more solid structures.
Size
The size of the area you want to surround will also play a role in the costs of an enclosed porch. However, size coupled with the materials you need gives you a more accurate estimate. A screened-in 50 x 50 patio may cost less to enclose compared to a 10 x 10 deck converted into a sunroom with a solid roof. Having a contractor do it for you, or having a complex project, will increase the costs. 
Existing Structure
What's the existing structure you want to enclose? A patio may have three or even four sides that aren't connected to your home except on the ground. A deck will have some connection to your home's main structure. If you have a roof already overhead, that will also determine what you can do with your patio or deck enclosure.
The existing structure may also determine what kinds of permits you need. If you'll be digging into the ground or attaching a structure to your home to enclose a deck or patio, you may need to pay for local permits based on current codes and zoning laws. Check with your local area for exact costs.
Materials
Your materials can raise or lower costs.  A simple screened-in porch with mesh and wood or fiberglass pillars are all you need to enclose a porch. It already has a roof over it.
On the other hand, a four-season room may require a roof, pane windows, and insulation.  Add in a heater or window air conditioning to go along with basic utilities, and your costs for an enclosed deck can rise quickly. But enjoying your room year-round is worth it.
Labor
Doing this project yourself, or with the help of some friends, keeps your costs much lower because you just need to buy the materials. How many tools (and skills) you have will determine how long it takes to complete the project.
Professional installers raise your costs considerably, depending on where you live. Areas with a higher cost of living will drive up the expenses of your project. The good news is that highly skilled professional installers can complete your project in a few days.
Add-Ons
What do you want to do with your enclosed deck? Do you plan to use it for entertaining well into the night during all seasons? Or do you just want to keep the mosquitoes from biting your kids?
Adding an electrical line or two can help you with an outdoor kitchen, lamps, or string lights. For climate control, you'll need an insulated porch to keep your utility costs more manageable. The more add-ons you have, the higher your costs will be.
Cost to Build an Enclosed Deck by Type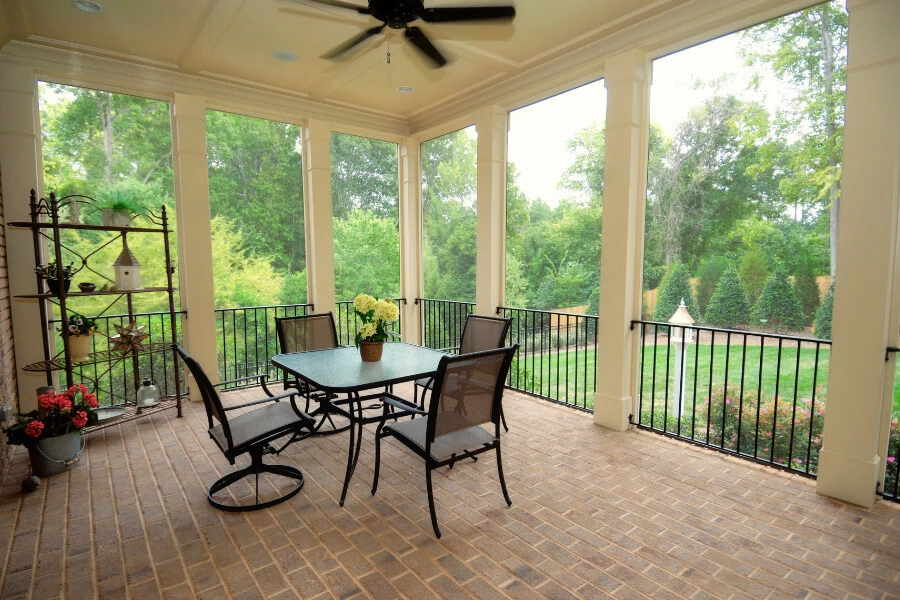 Now we'll go over the costs to build an enclosed patio, deck, or porch based on the four main types favored by homeowners.
Screened-In
A simple screened-in porch may run anywhere from $600 to $3,200, depending on the materials. Mesh screens are much less expensive than, say, fancy copper screens. Labor can make that $600 project turn into $1,200 for the cost to screen in a deck with a roof already over it.
3-Season
A three-season enclosed porch (every season but winter) averages between $10,000 and $40,000 total, with $5,000 to $30,000 for materials. You'll need framing materials of wood, aluminum, or fiberglass. The highest costs here come from the windows, which can run $150 each on the low end to $1,000 each on the high end.
4-Season
A four-season enclosed porch for year-round use averages $25,000 to $80,000. The additional costs here come from the insulation you use. Fiberglass batts range from 30 cents to $1.50 a square foot compared to spray or rigid cell foam at up to $2 per square foot to keep your enclosed porch cozy.
Solarium/Conservatory
A solarium or conservatory encloses everything in glass, giving you the ability to grow plants easily at any time of year. Think of this enclosed patio as a greenhouse connected to your real house. Kits for a solarium start at $2,650 to $3,850, without labor costs. Having a custom-built conservatory will cost much more.
Find a Deck Contractor to Help Create a Backyard Oasis
Have we piqued your interest, or have you already decided you just don't want to deal with those pesky biters every summer? Get started on your journey to enclosing your deck, porch, or patio today by Finding a Builder to help create your dream backyard. 
---
Explore Articles by Topic
Explore Articles by Topic