Ready to Start Your Project?
You'll be redirected to Trex.com, our composite decking website.
Aluminum vs Composite Decking
Outdoor structures, such as decks, must endure humidity, rain, ice, wind-chill, sun exposure, and other environmental hazards. Wood does not always withstand the elements very well, which is why alternatives that are more durable than wood, like composite and aluminum decking, are on the rise. But how does aluminum vs composite decking compare?
True to its name, aluminum decking is made from extruded aluminum with a coating on the top side. The extrusion process keeps the aluminum lightweight, while still being strong and durable. Composites are made from plastics mixed with wood, typically coextruded with a durable wear layer on the top that resists fading and staining. That makes composites favorable for people who need a decking option that is less expensive and more customizable. Installing composites is also similar to wood when compared to installing aluminum decking. However, in order to make the most informed decision and decide which is the right option for you, it's important to take a closer look at the differences between aluminum decking and composite decking.
Cost
Aluminum
You can expect to pay around $12-$15 per square foot for aluminum decking (before delivery). This limited pricing range reflects that material quality levels are fairly consistent from one manufacturer to the next.
The lifetime cost of aluminum decking is nearly the same as the upfront cost. The key to understanding the performance of the aluminum decking you're considering is researching the type of coating applied to the aluminum decking, which varies from manufacturer to manufacturer.
Composite Decking
On average, you can expect to pay between $4.50 to $13 per square foot for composite decking. An added benefit is that composites do not require sanding, staining, sealing, or painting.
With the right selection, the lifetime costs of a composite deck are quite similar to aluminum. You only need the same level of basic upkeep you would expect from any deck.
Maintenance and Upkeep
Aluminum
Because aluminum decking is usually given a protective coating, aluminum decks are essentially immune to the slow structural water damage that will eventually destroy all wooden decks.
However, keeping your deck clean can help prevent other problems from developing. Mold can grow on any surface that has organic material (like pollen) and the right light, temperature, and moisture conditions. To keep an aluminum deck in pristine condition, consider power washing at least every other year. You can increase the amount of time between power washing by keeping your deck swept and occasionally rinsing it with a soft brush.
Composite Decking
Composites are naturally resistant to splintering, cracking, warping, mold, and nearly every other problem that wood decking faces. Yet, like aluminum decking, it's still necessary to keep a composite deck clear of debris. Using soft bristle brushes and gentle soaps once a season can help keep composite decking clean and looking its best.
With both types of decking, make sure and check with the manufacturer on power washing nozzle types, max PSI and the proper distance between the nozzle and the surface of your decking. When you keep your deck clean on a regular basis, you'll end up power-washing less often.
Lifespan and Durability
Aluminum
Many aluminum decks have 20-year warranties, but it's not uncommon to find some brands that offer lifetime warranties. However, where aluminum can fall short is the limitation of coatings. For example, powder-coated aluminum decking will usually cite a certain level of American Architectural Manufacturers Association (AAMA) compliance. This is a rating that requires both the powder being used and the pretreat and powder application process to be certified through sampling and standardized testing.
Typically, you'll see claims of AAMA-2603 or AAMA-2604 for decking. Keep in mind that AAMA-2604 is only a 5-year threshold. That means that the product has to achieve a fade rating of 5 Delta E (delta e measures changes in color) or better in a 5-year exposure test. That does not necessarily mean the product will fade that much in 5 years, but it does normally result in aluminum decking manufacturers eliminating fade from their warranty. Be sure and read the fine print in your product's warranty. Whether you trust warranties or not, they speak volumes about the mode of failures the manufacturer is most concerned about.
Aluminum can suffer damage over time. However, the risks of wear-and-tear are considerably lower than with wood decking. With a little care, these decks can endure for decades without so much as a scratch.
Composite Decking
Composite decking is typically backed by an extended warranty that can be informative about its estimated lifespan, such as the 25-50 year Trex Warranties on the brand's composite materials. Warranties vary from brand to brand and material to material as composites can be constructed with varying degrees of protection against mold, mildew, stains, and other forms of environmental damage. It's also important to note that many composite manufacturers offer 25-50-year limited warranties for most products or for all decking and railing products. This can be more difficult to achieve with a costed metal decking product.
The lifespan of composite decking will depend on the quality of the material and how well it's maintained. Offering these long-lasting warranties means the manufacturer is confident their deck boards will not fall apart or structurally degrade over that time period.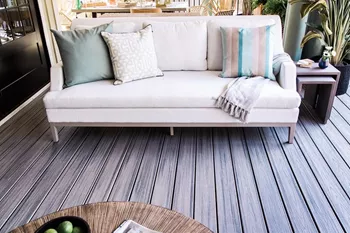 Color Options
Aluminum
It's not surprising, but aluminum decking is mostly available in a few color options. You can also find it in mill finishes, which is an interesting industrial aesthetic. However, there are fewer color options for aluminum decking than there are for wood or composite. Typically, these are solid colors, but there are exceptions.
Composite Decking
The most common colors for composite decking are shades of gray, brown, or red. However, you can find composites in a wide range of color options, allowing you to more precisely select the shades and tones most suitable for your project. You can also find composite options that have multiple color options in them, which can add to the realism of appearance when compared to wood. While it doesn't require great expertise, selecting the best Composite decking color is best done with some reflection.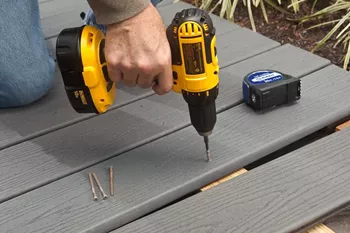 Installation
Aluminum
Working with metal isn't the same as working with wood. One major drawback of aluminum decking is that it can be more difficult to install. Many people will find that professional expertise is necessary for a safe installation of your aluminum decking that won't damage your materials or place you at risk. However, aluminum decking manufacturers often have products that have water management systems built-in. Compared to composite decking, where you have to install water management products separately, keeping an underdeck dry space can be easier with aluminum decking.
Composite Decking
While composites are often heavier than wood, they're generally just as easy to work with. This makes composites more suitable for a DIY Installation Project. But like with wood, you will need to learn a few things about How to Install Composite Decking.
Determining the type of material to use to build your deck depends on a variety of factors, including cost, cost-over-time, upkeep, and also aesthetics. When it's time to build your deck, take these factors into consideration and choose the best material to suit your lifestyle and project.
---
Explore Articles by Topic
Explore Articles by Topic