Deck and Patio Decorating Ideas
May 19, 2023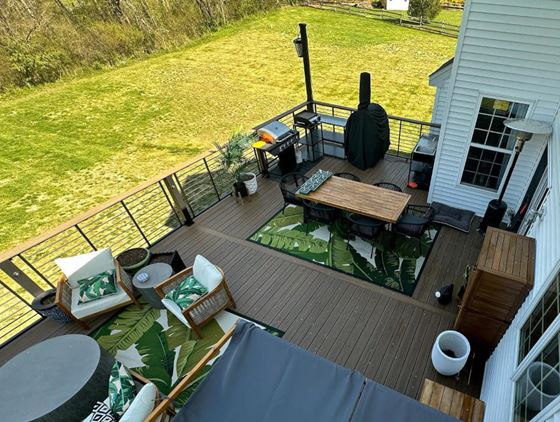 A deck or patio can be an ideal outdoor gathering place for friends and family. When creating a space to relax and entertain, it's important to choose the right décor to set the mood. There are a lot of options available and you can mix-and-match ideas to fit your space and chosen aesthetic. Here are a few inspirational ideas to get you started.
1. Explore Lighting Options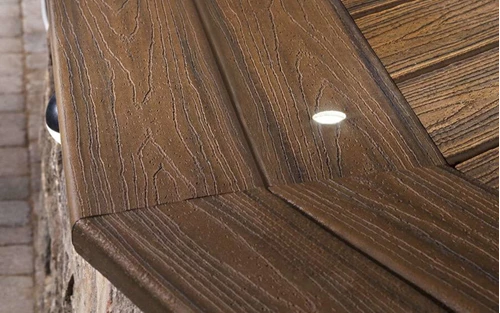 Choosing the right lighting for your deck or patio is essential, especially if you plan on enjoying it at night. Mood lighting can create a romantic retreat, a relaxing atmosphere, or even a party vibe! Globe lights or string lights will give the feel of a European café, a chandelier can add a bit of grandeur, and paper lanterns or colored lights are fun and playful. 
2. Add Patio Furniture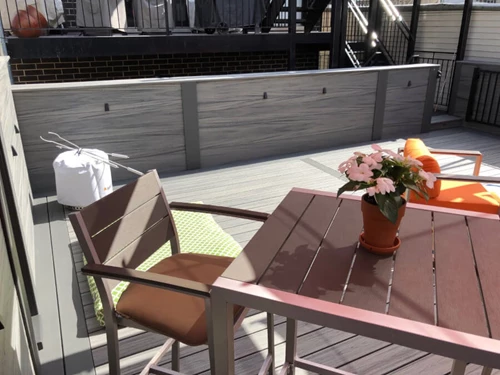 Furniture can set the tone for your entire outdoor space, and you have tons of options to choose from. Wrought iron, rattan, cast iron, wicker, or wood all have unique characteristics that can give your deck or patio completely different looks. Choose comfy cushions in a weather-resistant fabric to seal the deal. 
Check out the stylish and durable designs Trex Furniture has to offer.
3. Build an Outdoor Dining Area
If you have a lot of space to fill, or tend to do a lot of entertaining, add an outdoor dining space to your deck or patio. A dining table and chairs make a great centerpiece of your outdoor area and your guests will love gathering for a casual picnic or an intimate dinner. 
4. Find Colorful Potted Plants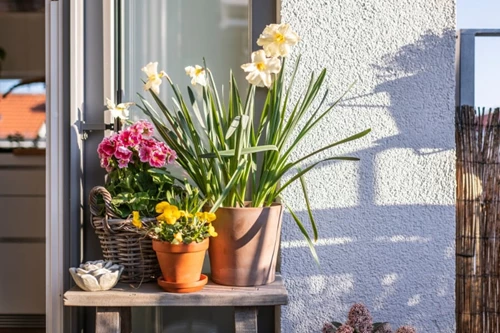 Colorful pots or bright flowers can add a pop of color to an otherwise plain deck or patio. Use this to your advantage and create visual contrast with white or light colored deck furniture and a few brightly colored potted plants. 
5. Decorate with a Weatherproof Rug
Outdoor rugs come in many different colors and designs and will dry quickly in the event of rain. A weatherproof rug can also be a practical addition if your deck or patio is built around a swimming pool and hot tub. Take advantage of the styles available to compliment the colors you're already using on your deck's furniture or other decorations. 
6. Keep Things Cozy with a Firepit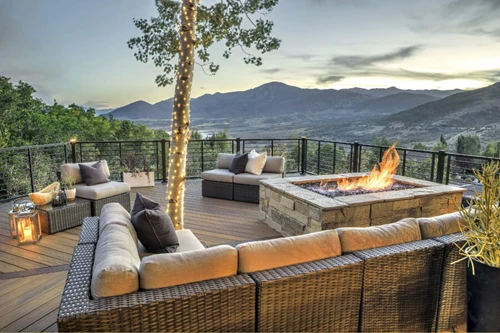 A firepit or fire bowl can add light, warmth, and ambiance to your deck or patio. Small firepits or fire bowls will generate a bit of heat to warm up on chilly nights. A chiminea is another decorative option, but it's always important to keep in mind that wood firepits don't mix with wooden or composite decks! A wayward spark can cause a big problem, so opt for an electric firepit or fire bowl for safety. 
7. Create a Shaded Area to Hide from the Sun
There are plenty of options when it comes to adding a shaded area to your deck, and each can create a different ambiance. Choose a pergola if you want a rustic look or opt for a canopy for a more traditional feel. You can even install a retractable awning so you can enjoy the sunshine when the weather is nice, and have shelter at your fingertips when you need a break from the hot, beating sun or drizzling rain.
Trex offers a wide range of pergola and canopy options that can help create a backyard oasis.
8. Treat Your Guests to a Lounge Area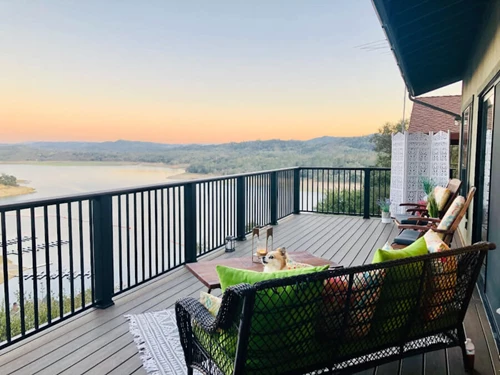 Decorate your patio with a relaxing lounge. Add couches and lounge chairs – or make use of built-in seating on your deck. Cover your lounge area with a canopy and hang some mood lighting to create a chill spot where you and your loved ones can spend a quiet evening and escape from the stress of the day!
9. A Fountain or Water Feature Adds Serenity
Imagine the gentle trickle of a fountain or water feature while you're relaxing on your deck after a long day. Many of these fountains are also quite beautiful to look at, which means you get both a stunning centerpiece and a tranquil spot to spend your time. Win win!
10. Use A Lattice for Privacy or Gardening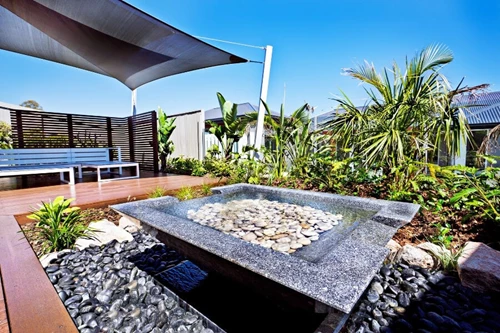 A lattice is a decorative and functional piece composed of crisscrossed strips of wood. Use a lattice to increase privacy on your patio or deck and add a charming touch. A lattice can also be used as a trellis for climbing plants. Choose climbing plants that flower, or you can even grow veggies that vine upwards. 
11. Level Up Your Comfort with Extra Pillows
You can never have too many pillows, right? Throw pillows come in all sorts of shapes, sizes, colors, and patterns. Your decor possibilities are endless. Toss them on a chair or couch to create a space where you can stretch out and even take a nap!
12. Hang Some Stunning Wall Art
Art isn't just for hanging up in your living room! Choose some eye-catching pieces to add visual appeal to your patio. It can also help bring a theme to life. If you've picked a theme that ties your outdoor décor together (think beach vibes, campground aesthetic, etc.), the right art can really seal the deal.
13. Create a Secluded Retreat with a Privacy Screen
If you want to spend time on your deck without worrying about the prying eyes of neighbors, a privacy screen can help. These partitions can block off areas of your deck where you may want increased privacy, such as your lounge area or your hot tub. Privacy screens can also be used as walls to create different areas or "rooms" on your patio. 
Learn how to build a privacy screen.
14. Combine Storage and Seating
If you're looking for a place to stash some of your outdoor gear, a deck box is a great choice. Many deck boxes can double as benches making them the perfect utilitarian solution for both storage and seating. They come in many different styles and colors, so they can definitely add a decorative element to your deck or patio. And if you throw a cushion or some pillows on top, no one will realize they're sitting on a storage box!
15. Bring the Party Outside with a Deck Bar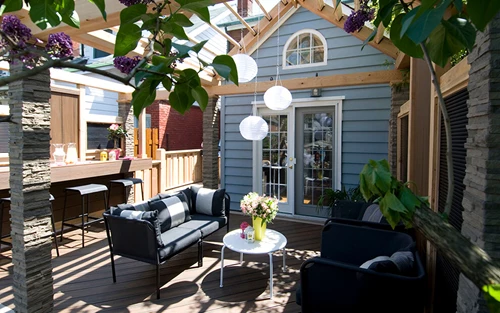 A deck bar is fun, functional, and decorative. Enjoy those long summer nights sipping your favorite cocktails at a bar that fits your style perfectly. Keep it simple with a DIY pallet bar, or go all out and create a wet bar with a sink, fridge, and all your favorite cocktail mixers.
Get Started with Decorating Your Deck and Patio Today
Now that you've had a chance to digest a few of our decorating tips, it's time to get started! If you're looking for more inspiration, these deck ideas are bound to help. 
Don't forget to check out all the deck products Trex has to offer: from pergolas to outdoor furniture, the brand can help add design elements to take your backyard space to the next level.