Ready to Start Your Project?
You'll be redirected to Trex.com, our composite decking website.
Best House and Deck Color Combinations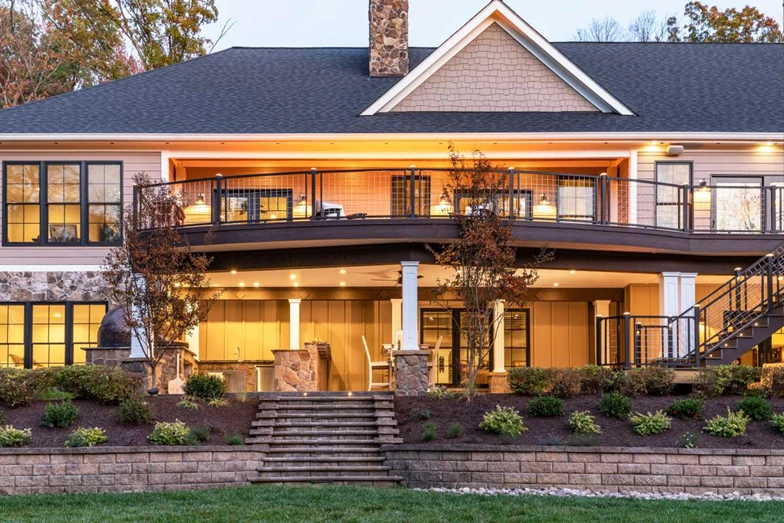 Adding a deck to your home doesn't just create a fun space for you and your loved ones to gather. It increases your property value and adds some serious curb appeal.
In order to reap the full benefits, you need to make sure your deck complements your home. If the styles don't match, your deck may stand out for all the wrong reasons and detract from the beauty of your home. A deck can really make or break your exterior, so don't rush into any decking projects without some careful thought.
Whether you're adding a deck to your home, repainting your deck, or refreshing the exterior of your home, it's important to consider all the different design choices you have available to you, so you can choose one that makes your neighbors do a double take (in a good way!)
Deck Color Trends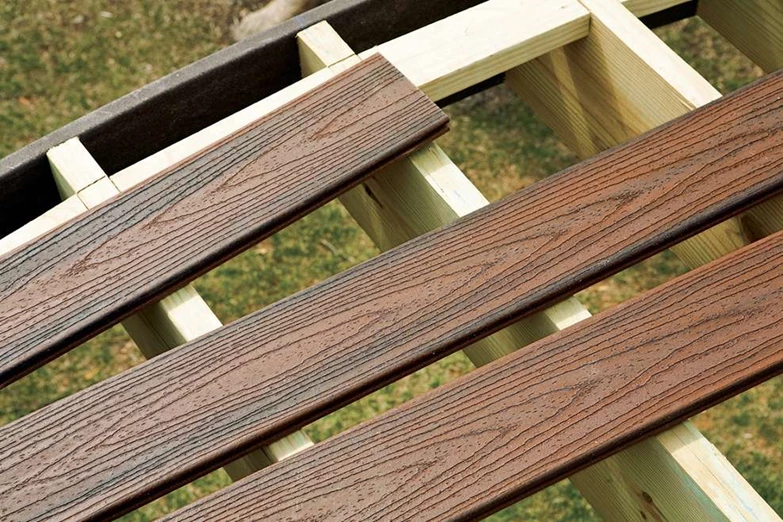 Before settling on the right color for your deck, let's look at a few of the deck color trends that are popular right now. Some of these trends are more modern and contemporary, while others are rustic and timeless. Despite trends, composite decking tends to come in three main color families: brown, red, and gray.
Be sure to consider the style of your home and the style of other homes in your neighborhood when choosing a color. Most importantly, think about your home's color and how the color of the deck will look against it. You don't want to pick tones that clash, but rather, opt for tones that harmonize with the exterior of your home and surrounding features.
Find the perfect deck color that speaks to you.
Deck Colors for a Tan House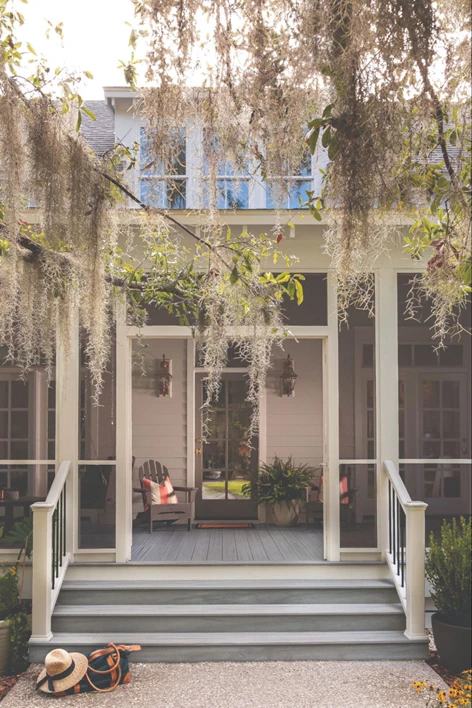 Tan is a neutral and classic color – and a popular siding choice in many parts of the country. Perhaps the main reason why tan is such a popular choice is that it matches with nearly anything! If you're looking for a deck color for your tan house, think about the style you're going for. Are you looking to stick with a classic approach, or do you want contemporary elegance?
For a more traditional look, you can choose darker colors like a rustic brown. If you want to add a modern flair, a lighter gray color will look great. Regardless of the color of decking you choose, be sure to look at the undertones – warm or cool – to help it work with the color of your home. For instance, if you have a cooler-toned tan home and have your heart set on a minimalistic gray deck, look for gray decking that also has cooler undertones to help harmonize the pairing.
Deck Colors for a Blue House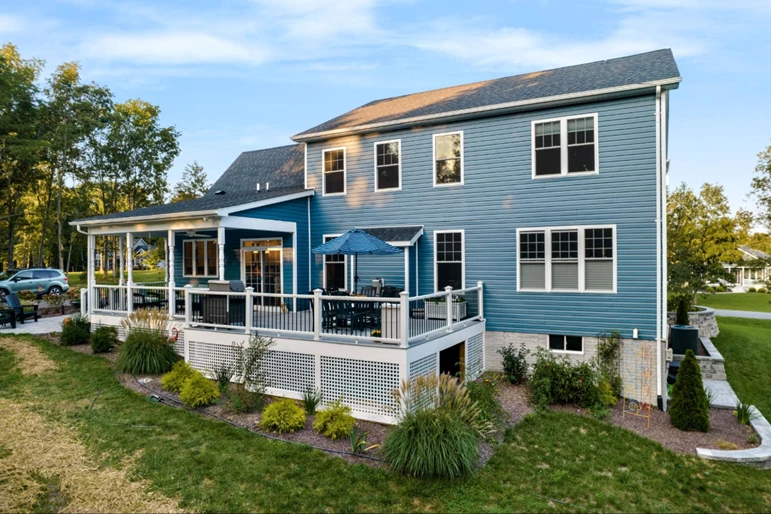 Whether you have blue siding on your home, or embrace azure hue for trims such as your door and shutters, there are a seemingly endless array of blues to choose from. Whether your choice is a soft powder blue or a bold cobalt, these splashy shades may be best complemented by sleek, modern decking. Think outside the box with a dark gray in cooler tones, or choose a warm brown to create an inviting space to entertain.
Featured Product: Foggy Wharf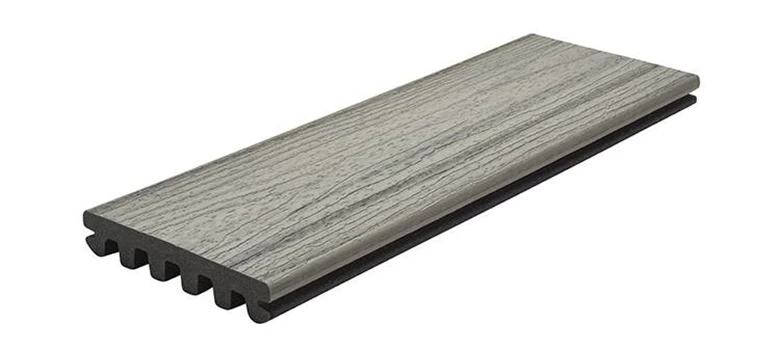 Deck Color Ideas for a White House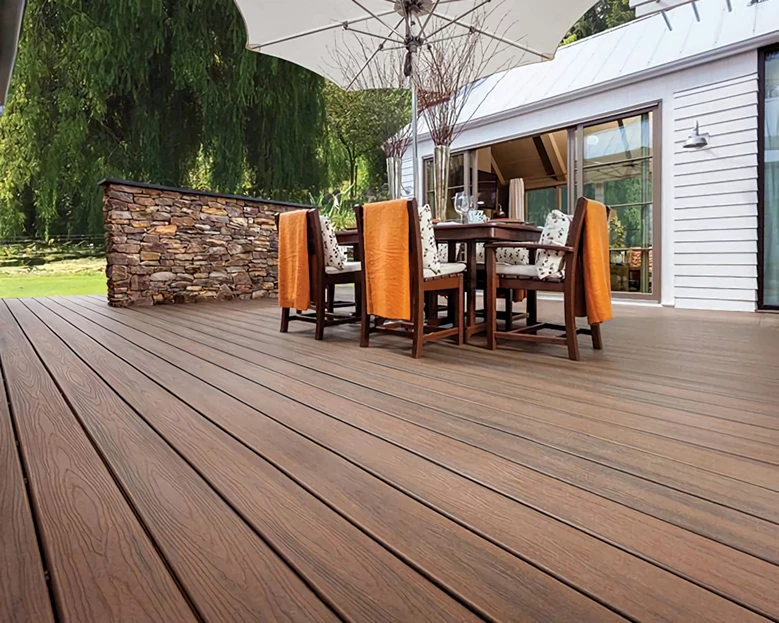 Chances are, you see a lot of white homes in your neighborhood. White has been an enduring favorite for decades, because of its versatility. Darker deck colors like chocolate brown or a deep redwood tone create an eye-catching contrast that is sure to impress.
Featured Product: Spice Rum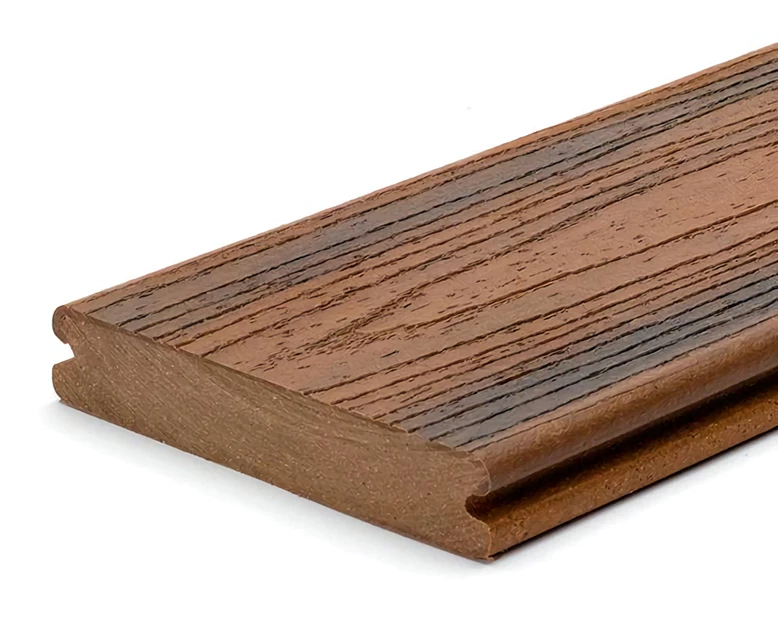 Deck Color Ideas for a Gray House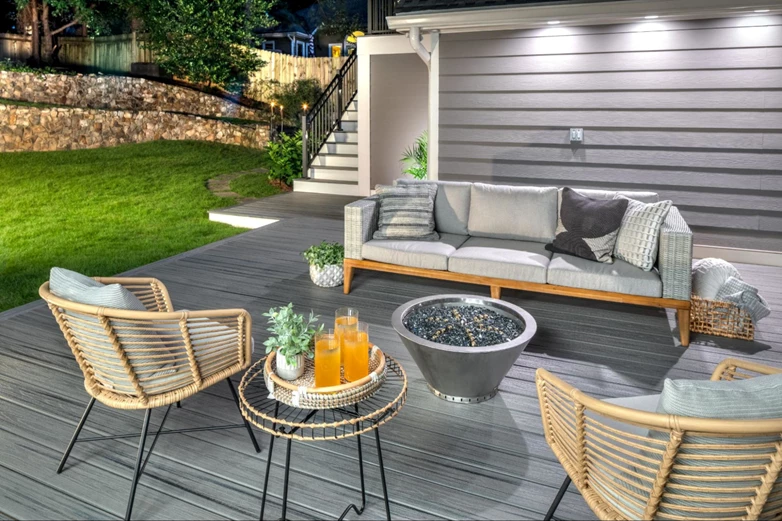 Gray houses aren't as common as some of the other colors on this list. However, if you have gray siding, you have the opportunity to create an interesting and visually striking deck. It's all about contrast! For homes dressed in a lighter gray, choose a darker gray for your deck. On the other hand, if your home is a dark gray, lighter wood tones like tan can be a wonderful choice.
Deck Color Ideas for a Yellow House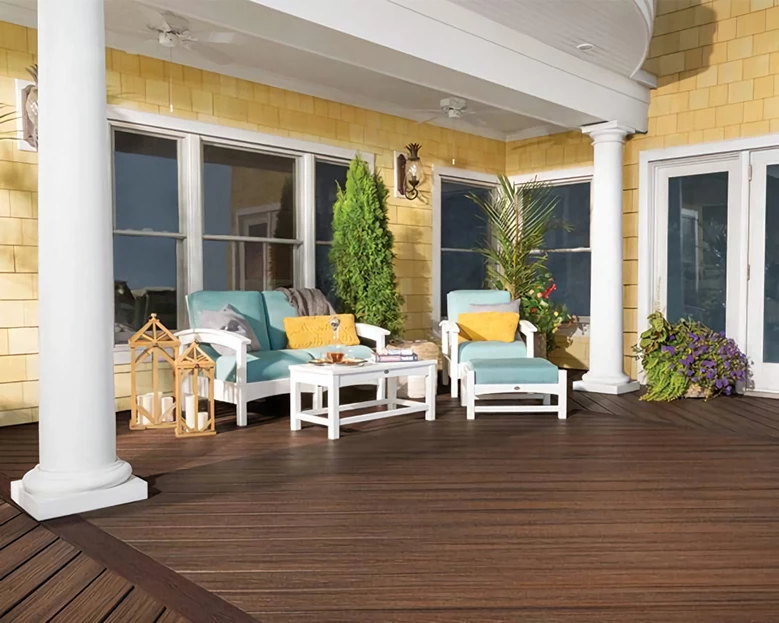 Yellow homes are uncommon, but beautiful nonetheless. If your home is a bolder shade of yellow, a dark brown deck will fit nicely. For lighter shades of yellow – such as a soft buttercup shade, a lighter, blonde-toned natural wood style looks great.
House and Deck Color Combinations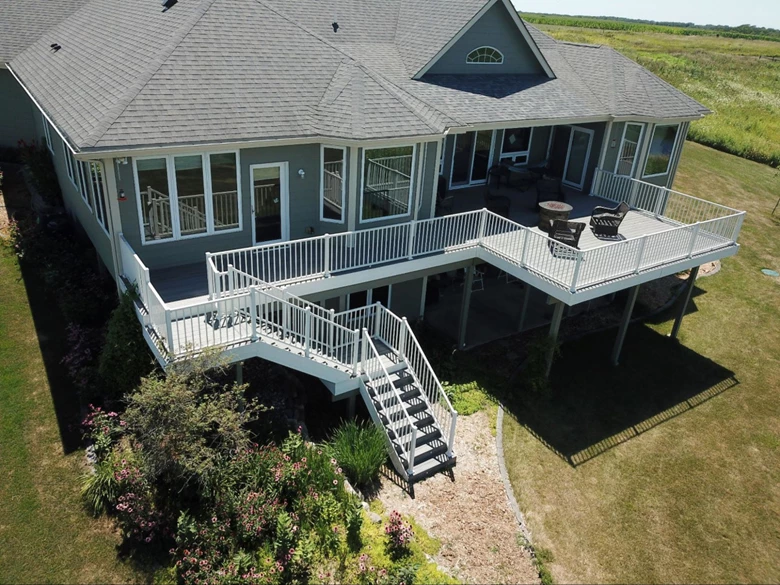 Choosing a deck color is a big decision and can be understandably intimidating. The best place to start is by choosing your personal style. Do you want something traditional, trendy, or totally unique? Here are a few more ideas to get you started.
Traditional designs are time-honored and won't go out of style anytime soon. For a traditional look, choose:
A light blue house with a rich brown deck
A white home with a dark gray deck
A tan home with a dark colored deck
Hip and trendy styles will give your home major curb appeal and can be a good choice if you're looking to sell soon. Here are some trends to look at:
A black-and-white home exterior with a natural-looking wood deck
A light gray home with a bold, dark gray or black deck
For a unique and stunning look, you can choose eye-catching styles like:
A lighter, pastel yellow home with a dark, rustic brown deck
A royal blue home with a light tan deck
Be sure to compare the colors side-to-side. If you're still in doubt, talk to an expert for more advice!
Get Started with Choosing your Deck Color Today!
With all the inspiration and information packed in this article, you're probably ready to get started on your deck project right away. Decks.com is a great place to find advice on selecting a decking color, choosing materials and so much more. In addition, you can find a retailer so you can jump right into designing your new deck. 
---
Explore Articles by Topic
Explore Articles by Topic