Ready to Start Your Project?
You'll be redirected to Trex.com, our composite decking website.
Best Deck Cleaner Options
As an Amazon Associate, Decks.com earns from qualifying purchases from the links in this post.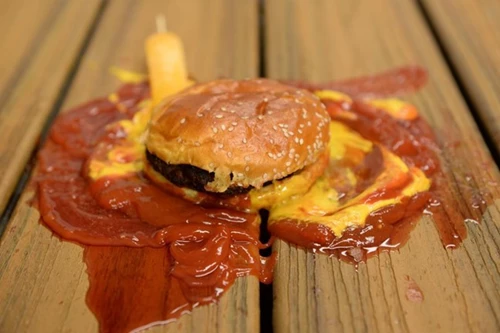 Spending a little time performing routine maintenance on your deck can prevent small problems from becoming big ones. It can also ensure your deck looks its best for years to come. But how often should you clean a deck, and what kind of cleaners should you use for decking? Those answers depend on both the material and the type of mess. That's why it's important to learn more about choosing the best deck cleaner for your particular circumstance.
What Should I Clean My Deck With?
Some cleaners are designed to remove grease; others are designed to remove stains. Some solutions are strong or are suitable for specific materials. Others are weak and can be applied almost universally. However, before choosing a cleaner, remember to check your deck's warranty to be sure the type of cleaning solution you plan to use will not damage your decking.
Learn more about the different types of methods for cleaning your deck based on a variety of scenarios:
Cleaning Dirty Wood Decks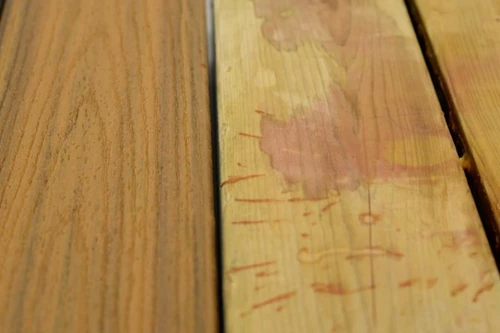 For lightly soiled wooden decks, a gentle all-purpose cleaner will be more than enough. Used alongside additional techniques for how to clean a wood deck, regularly applying an all-purpose cleaner can reduce the necessity for more corrosive cleaners later on. While not ideal for removing stains, these kinds of cleaners are sufficient for eliminating surface dirt, dissolving away grime, and reducing the amount of scrubbing necessary to clean your deck.
Sun Joe House and Deck All Purpose
Wood deck cleaner reviews often overlook the significance of ease of use, especially for products that are used in both an amateur and professional capacity. Sun Joe House is biodegradable, non-toxic, and contains no bleach. It's a concentrated solution that's easily diluted, easy to work with, and fairly cost-effective at roughly $15-16 per gallon. While some consumers have complained that Sun Joe is weak, gentle is precisely what you want from an all-purpose cleaner.
Pros:
- Versatile enough to use on brick, vinyl, aluminum, and wood.
- Excellent at breaking away layers of dirt and grease.
Cons:
- An all-purpose solution of this strength will not add much to a high-powered pressure washer, where more potent cleaners may be desirable.
- Not effective for removing stains.
Brightening Dull Wood
Weathered decks call for a restorative cleaner, which typically contains oxalic acid, bleach, or other corrosive chemicals. That makes these cleaners great for fading away stains and lightening the surface of the material. These solutions are typically sprayed on, scrubbed in, and then left for about ten to fifteen minutes before being rinsed away.
#1 Deck Wood Brightener
True to its name, many deck owners consider #1 Deck Wood Brightener to be among the best wood deck brighteners on the market. This Is partly because this cleaner makes use of oxalic acid instead of bleach, gently but effectively working to restore wood's natural coloration. Although it's still corrosive compared to some of its multi-purpose competitors, one gallon of the solution makes about five gallons of cleaner with a price point of roughly $28 per gallon.
Pros:
- Suitable for fences, decks, outdoor furniture, and other exterior surfaces that are weathered.
- Environmentally friendly compared to many alternatives, though plastic sheets may be necessary to shield sensitive plants.
Cons:
- Several applications may be necessary to remove a deep stain.
- While this solution has the strength that makes it one of the best deck cleaner brightener options on the market for wood decking, it's not advisable to use on materials such as composite.
Restore-A-Deck Wood Cleaner
Finding the best deck cleaner requires taking a closer look at the wood in question. Unfortunately, many deck cleaner reviews focus on highly brand-specific cleaner choices. However, for most wood decks, Restore-A-Deck Wood Cleaner is actually comparable or superior to several formulas made for wood decks. It's important to note that Restore-a-Deck Wood Cleaner offers three different products that can be used together as a three-part system. To use, just scrub the solution on, rinse it off after 15 minutes, and watch stains virtually wash away.
Pros:
- Usable on wood and most other surfaces around your deck.
- Biodegradable and bleach-free; fairly environmentally safe.
- Removes mild stains without repeated application.
Cons:
- Not as ready-made as a liquid solution.
- Shouldn't be allowed to dry on materials after they've been soaked.
- Cleaner needs to be used within 4-hours of being mixed.
Cleaning Deck Mold and Mildew
When considering cleaning methods to rid your deck of mold and mildew, it's important to keep your decking materials in mind, as wood and composite decking may require distinctly different methods of cleaning.
If you are cleaning composite decking, it's crucial to follow the manufacturer's instructions for general cleanings.
Depending on your brand of composite decking – or even the type of decking under a given brand family – cleaning approaches may vary. For instance Trex® decking only requires cleaning with soap and water or a pressure wash using a gentle setting. If you have a different brand of composite decking, check your manufacturer's website or contact a representative to follow their recommendations for removing mold, mildew, or general cleanings.
For wood decks you can use deck cleaners like Restore-A-Deck which are decently effective at removing small outbreaks of mold and mildew. The best deck cleaner for mildew will typically contain mildewcide. These formulas are usually left to soak for several minutes before being washed away and are typically far better at preventing future growth. Along with a few additional techniques, these types of solutions can also be used to remove moss & algae from your deck.
Mold Armor E-Z Deck, Fence & Patio Wash
In addition to Restore-A-Deck, Mold Armor E-Z Deck, Fence & Patio Wash is another option that is formulated for mild mold and mildew infestations of common decking and fencing materials. With a simple bottle that attaches to the end of a garden hose, the product's inclusion of bleach allows it to brighten as it cleans, provided you give it a moment to soak into your deck for about ten minutes before washing it away. Consult your decking's manufacturer to be sure this product is safe to use without damaging your deck. Mold Armor E-Z Deck cleaner retails for $10-11 per 64-ounce bottle. The size and square footage of your deck may determine how many uses you may get out of one bottle.
Pros:
- A highly specialized mild and mildew formula means you can see results in minutes.
- Suitable for several common decking materials
Cons:
- Contains bleach, so it's advisable to cover and rinse plant life in the area after cleaning.
- Won't remove all stains; not effective for water spots.
- Can't mix your own solution because the bottle directly connects with a garden hose.
Cleaning Painted Decks
In the interest of preserving paint, cleaning painted wood decks is usually best achieved with a gentle, all-purpose cleaner. You can use tougher cleaning agents for spot-cleaning, but avoid cleaners with ammonia in particular. Harsh chemicals might not strip paint overnight, but they can wear down the paint, leading to cracking and peeling.
Star Brite Non-Skid Deck Cleaner & Protectant
As with many of the best deck cleaners, Star Brite makes use of chelating agents that don't require heavy scrubbing, which is what makes it so good for preserving paint. Wet your deck, apply the cleaner, and lightly scrub it into the surface. Allow it to soak for three minutes, then rinse away the solution with water. The product comes in a variety of sizes, ranging from $13-21.
Pros:
- As an all-purpose cleaner, this solution is suitable for everything from fiberglass to rubber.
- Provides some protective residue that protects against future stains.
- Gentle application won't remove polish or wax.
Cons:
- Not effective against rust.
- You may need multiple applications for tough stains.
Cleaning Composite Decks
Wood cleaners are usually too harsh for composite decks. It's important to choose a formula that was specifically formulated for composites since the solution may leave behind a protective residue or even damage the composite decking. However, many brands provide deck cleaners with a multipurpose formula that can be used on virtually all kinds of decking, and several of the best are still marketed as though they were intended specifically for wood.
Cleaning Trex Decks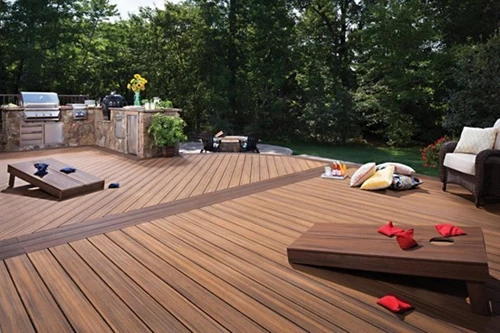 What is the Best Cleaner for a Trex deck?
For routine maintenance of a Trex® deck, it's just a simple cleaning with soap (ammonia-free) and water. A good rinse is generally all you really need. However, for a thorough detailed cleaning, the best cleaner for Trex decking is usually a gentle, all-purpose cleaner, or a natural cleansing vinegar. Additionally, most newer, high-performance Trex products can be cleaned below 3100 psi with a pressure washer.
Some older generations of Trex decking (including Trex Accents®, Trex Origins®, Trex Contours®, Trex Brasilia®, and Trex Profiles®) shouldn't be pressure-washed at all. The best composite deck cleaning solution for tougher messes will typically involve some kind of brightening agent that could threaten your warranty. That's why it's important to check your warranty before applying a new cleaning solution to your deck. Consult your manufacturer's website or speak with a knowledgeable representative to determine the best approach to cleaning your Trex decking.
Thompson's 3-in-1 Wood Cleaner
Although it works beautifully on wood, Thompson's 3-in-1 Wood Cleaner is one of the few cleaning products recommended by Trex® professionals if you have need of using something more than soap and water. The product does not contain bleach, which can be harsh and damaging on composite. This easy-to-use product requires no mixing and can be applied straight from the bottle. If you have wood fencing in your yard, this multi-purpose cleaner can help repel water and restore the wood's natural beauty in addition to working as a non-corrosive cleaning agent.
Pros:
- Does not contain bleach
- Removes rust stains
- Ready-to-use and does not require mixing
- Versatile and can be used to clean and restore wood fencing
Cons:
- Cost-per-gallon ($24.41) is more expensive than similar products
- Must be used before any waterproofing agents
Learn More About Cleaning Your Deck
Using the right cleaning products based on the type of material and conditions of your deck is critical to keeping it beautiful and structurally sound for years to come. If you'd like to learn more about maintaining your deck and preventing problems from developing, Decks.com has a variety of informative resources:
This page contains affiliate links. If you choose to purchase after clicking a link, Decks.com may receive a commission at no extra cost to you.
---
Explore Articles by Topic
Explore Articles by Topic