Ready to Start Your Project?
You'll be redirected to Trex.com, our composite decking website.
Best Pool Decking Options and Materials
You need to walk across your pool deck before you get in the water and more importantly you walk across it after getting out of the pool dripping wet. So, the pool deck material needs to be good looking, it needs to be slip resistant, and it needs to be cool on your feet on hot summer days. You're about to discover much of what you need to know to make an informed choice on excellent swimming pool deck surfaces and the types of pool decking that will require minimal maintenance while delivering maximum pleasure.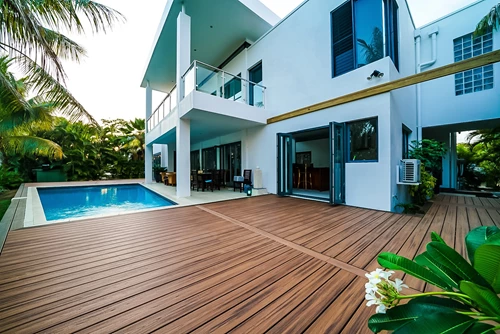 Considerations When Selecting Pool Deck Surfaces
You should consider all the following things when trying to choose the best pool decking for your home:
Aesthetics - You want your pool deck surface to look great, so follow your gut on this.
Comfort - Keep in mind bare feet and paws.
Heat Resistance - Whatever material you choose needs to be able to stand up to high temperatures. The sun's infrared rays can heat up some surfaces to over 150° F.
Slip Resistance - Pool decking gets wet by its very nature and needs to be safe so you or your loved ones don't fall.
Resistant to Mold & Mildew - Water from the pool will fuel mold and mildew growth. You want a decking surface that's easy to keep clean to prevent this.
Price - Everyone has a budget, so you'll likely need to prioritize features. Don't overlook safety!
Swimming Pool Deck Surface Options
Concrete
Concrete is often used as a pool deck surface. It's durable and can be finished using both color and texture to create just about any look you might like. Concrete is also very durable if installed correctly.
Pros:
Concrete can be colorized by adding dry-shake pigments to the wet concrete before finishing it. You can stamp patterns into the concrete or you can simply float it with a wood or magnesium tool to give it a very slip-resistant finish. It's also easy to slope concrete so the pool deck drains well.
Cons:
Concrete shrinks as it cures, which can cause tension within the slab. Cracks are likely, so the installer will need to add saw-cut control joints to avoid unsightly random cracks. Concrete can also settle if the fill around the pool is not compacted. It's best to install 1/2-inch diameter reinforcing steel in all slabs and pin them together so tripping hazards don't develop over time.
Wood
Wood is often the go-to choice for above ground pool decking. Most people have the required tools to work with wood and it's typically relatively affordable. If you're looking for an inexpensive pool deck material, give wood a serious look.
Pros:
Wood is very easy to cut and fasten. It requires minimal skills to achieve good results. Because it is so easy to work with, wood allows you to create a unique design for your deck, such as multiple levels or built-in seating and storage for pool toys and equipment.
Cons:
Wood requires annual maintenance. Splinters are a constant threat. You must use fasteners that are stainless steel or double-dipped hot galvanized because the chlorine in the pool water will accelerate corrosion of inferior steel fasteners. Wood can also get very hot in direct sunlight, especially if a dark sealer is used to protect the wood from water penetration.
Composite
Composite decking around a pool is another option, and works especially well for above-ground pools. It requires forward thinking as an undercarriage system needs to be installed around the pool to support the composite material. Most composites are made with at least some plastic content, which can make them slippery when wet. The best options are those that feature deep texturing for added slip resistance.
Pros:
Composite decking requires very little maintenance. Just an occasional soap-and-water cleaning will keep it looking like new for decades. There are a wide range of colors and looks available and it can be installed by a DIYer with basic tools and skills. If a piece gets damaged, a replacement piece can be installed with minimal effort.
Cons:
Composite decking can be more costly than wood - at least upfront. (This cost difference is tyically recouped, however, once seasonal maintenance costs are added to the equation.) Composite will also get hot underfoot on sunny days.
Pavers
Precast concrete pavers surround thousands of swimming pools. Many homeowners love the soft earth tones of the man-made stones and they can be quite durable. Pavers can be pricey, however, especially if you have them professionally installed.
Pros:
Pavers are very slip resistant. They also drain well as water can soak into the material and drain down in the seams between each paver. Pavers are DIY friendly if you've got the required skills and energy. Damaged pavers can be replaced with very little effort.
Cons:
Pavers do fade over time. The pigments used to color them are mixed with the cement resulting in a thin colored coating that can be eroded by normal weather. Pressure washing pavers also removes this colored pigment often exposing the stone aggregate within the pavers. A wet saw is required to cut pavers to exact sizes to fit up against the pool coping. This tool can be expensive to buy or rent.
Tile
Ceramic tile can be used as a pool decking material and offers lots of options with respect to color, size, and texture. It's very important to take into consideration the climate so you select a tile that will withstand the weather year round. Slip resistance is the most important consideration when thinking about using tile as a pool deck surface. Always test the material before you make a final decision.
Pros:
Tile can create a pool deck surface that is very aesthetically pleasing. You can use different colored tiles to create a mosaic look or even a themed design. The possibilities are virtually unlimited if you can find a tile that is slip-resistant and the right composition for your climate. Just look at the tile surrounding the swimming pools at the Hearst Castle in California to get your creative juices flowing.
Cons:
Tile is by no means a DIY installation. It requires professional skills for proper installation. The tile itself can be expensive depending on what you choose. Glazed tile can be extremely slippery.
Brick
Regular clay paving brick can create a stunning pool deck surface. Brick almost always has a deep color range and you can use different colored bricks to create borders or patterns that are truly one-of-a-kind. Brick will come in on the high end of the pricing scale, primarily because the labor required to install it is so expensive.
Pros:
Clay paving brick can be extremely durable. Many are naturally slip resistant. They conform to a sloped or concave shape with ease. The use of multiple colors allows you to create a distinctive look.
Cons:
Aside from being costly, brick requires professional installation skills. The best applications will have the brick mortared to a concrete slab that's reinforced with steel to keep cracks from developing over time.
Additional Resources
Chosen your decking material and looking for more resources for building a pool deck? Check out these posts:
Find contractors to help build your pool deck or shop for materials at a local retailer.
---
Explore Articles by Topic
Explore Articles by Topic