Patio Lighting Ideas: 16 Ways to Light Your Outdoor Patio
October 28, 2022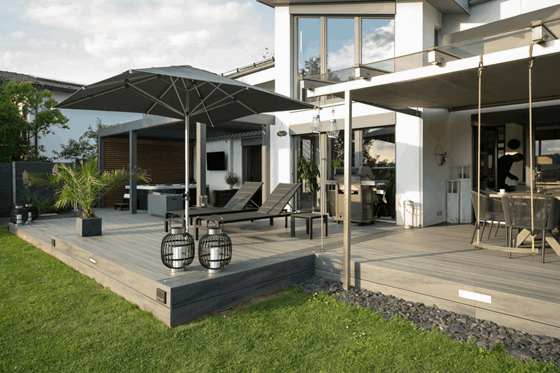 With the right lighting, you can transform your patio from a daytime sunbathing sanctuary to a nighttime oasis. Depending on your choices, lighting can create a fun party vibe or a relaxing ambience. With so many options available, it can be hard to narrow down your choices for matching your patio lighting to the mood.
Luckily, we've come up with a helpful list of 16 patio lighting ideas to give you a little inspiration and help you get started!
1. Gorgeous Globe Lights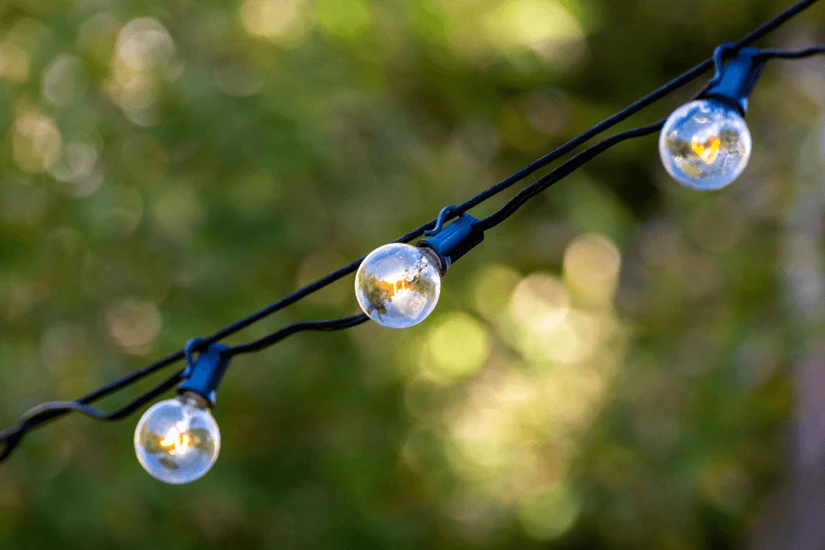 For a romantic, gently lit feel, drape a single string of these spherical lights from patio posts, or criss-cross several strands high above to make every night you spend on your patio feel like the perfect date night. Globe lights can give your patio the look and feel of a cozy European bistro. Enjoy a vacation without ever setting foot on a plane!
2. Candlelight – Real or Artificial!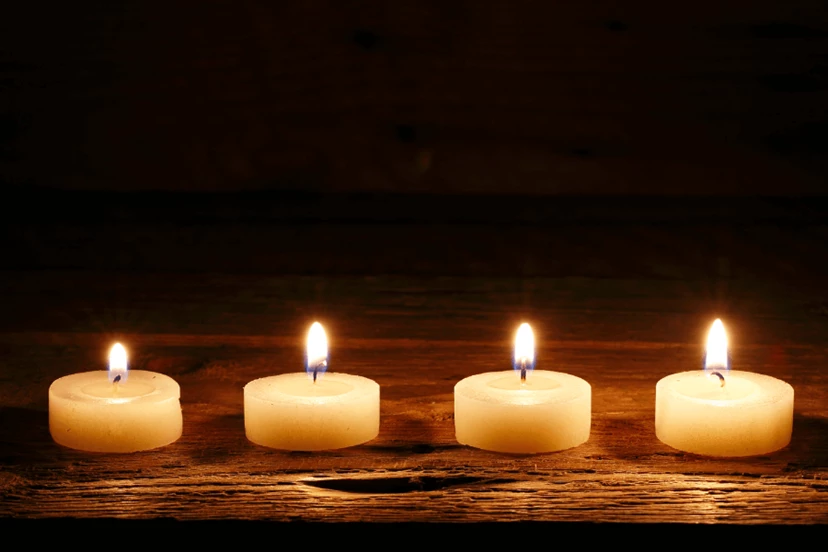 The flickering flame of candles can create a magical atmosphere and turn any patio into a spa-like retreat. While candlelight is universal, you can breathe some of your own aesthetic sensibilities into the space with your choice of container. Choose a pretty glass or ceramic jar or keep it simple with beautifully-appointed candlesticks for a vintage vibe. Candles fit well with any décor.
If you don't want the worry and potential fire hazard of a flame, battery powered candles can solve that issue. And if you have a problem with bugs – such as mosquitoes – munching on you while you're trying to relax, citronella candles keep them away while enticing your guests with a soft glow.
3. Paper Lanterns - Pretty and Affordable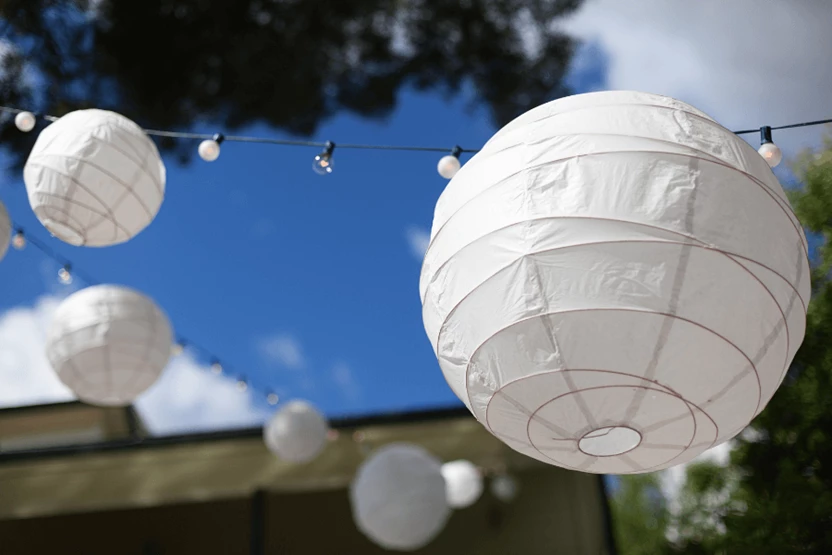 Paper lanterns come in all shapes, sizes, and colors, and lend a touch of DIY chic to your patio. Whether you're entertaining young children or a gaggle of adults, these whimsical lights are great for parties and they're incredibly affordable. You don't have to shell out a ton of money to add fun and style to your patio!
4. Ground-Level Lighting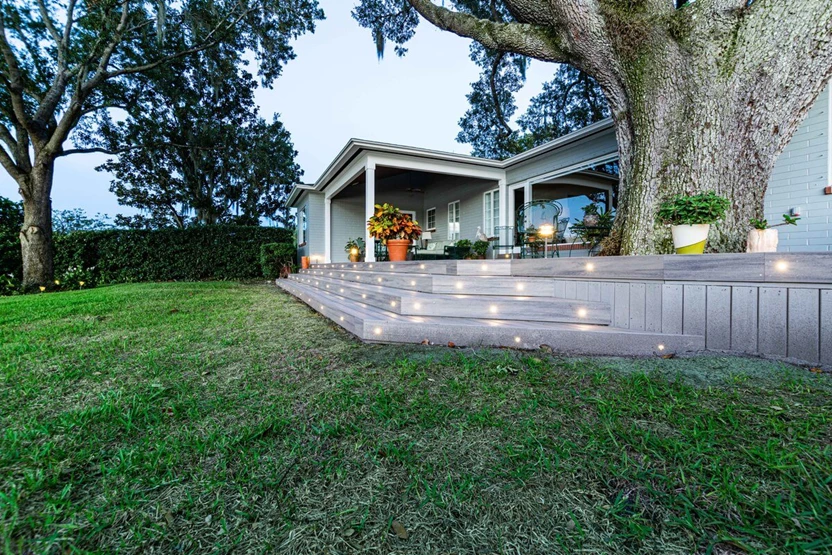 While we often think of stringing lights as a go-to choice for a patio, adding lighting at ground level – with landscape lights or pathway lights – is another option for illuminating your patio. Lighting on the ground adds an extra element of safety if your patio features a winding path or objects that may pose a tripping hazard. Stake-in-the-ground pathway lights are often motion activated, so they'll always be there to light the way when you need them the most.
5. Recessed Lighting Can Make Your Patio Safer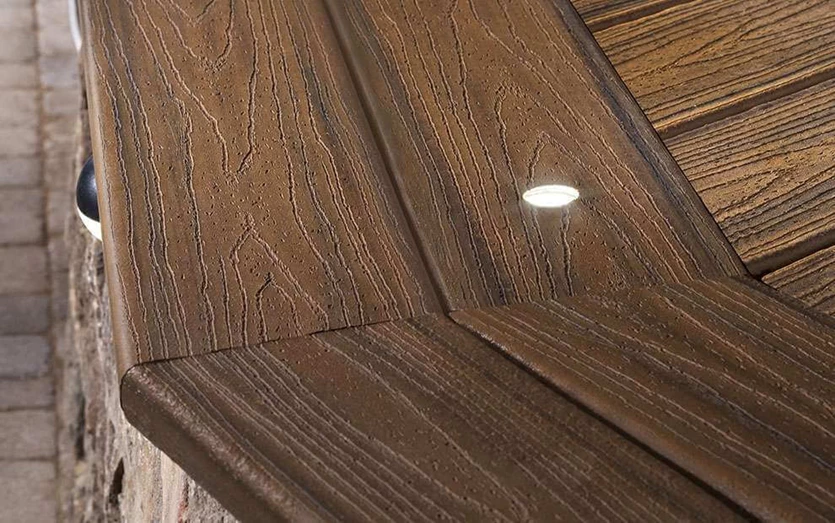 Similar to ground-level pathway lights, embedding LED lighting in your patio, decking, or stair treads can also be a fantastic way to illuminate your space and create greater visibility – and less risk of trips and falls. Recessed lighting can be installed in your patio's floor or stair treads, but don't limit yourself! It can also be installed on railings with light-up post caps or even embedded in any walls surrounding your patio.
6. Track Lighting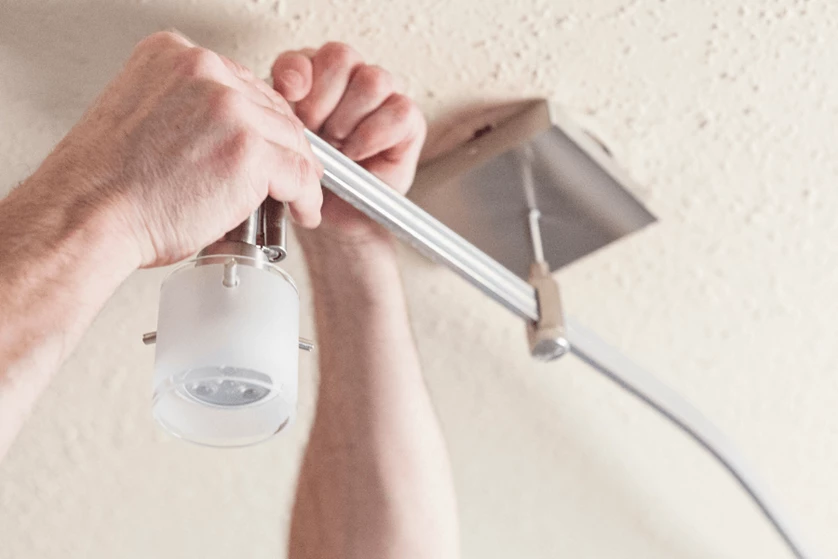 Track lighting is easy to install and comes in a variety of options that can fit any style of patio décor. Track lighting will need to be installed on a wall or along the ceiling of your patio, if it has a roof. If you're feeling handy, installing track lighting can be a fun DIY project.
7. Add Some Grandeur with A Chandelier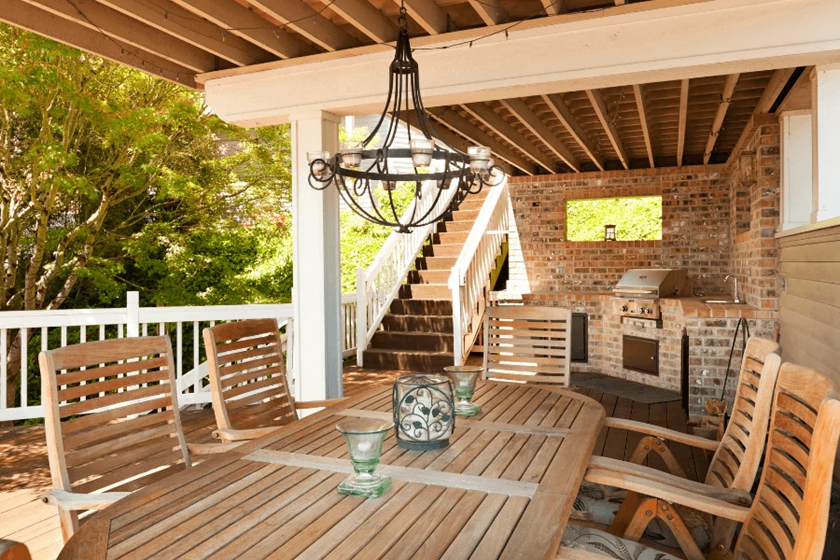 If your patio has a roof, think about adding a chandelier. This works especially well if you have a dining area on your patio. A chandelier is a real space-saver because it hangs from the ceiling and doesn't take up valuable real estate on the floor or walls of your patio. Chandeliers are a fantastic option because they can be simple or ornate, and can easily blend with the rest of your patio décor.
8. Mix Different Styles with Pendant Lights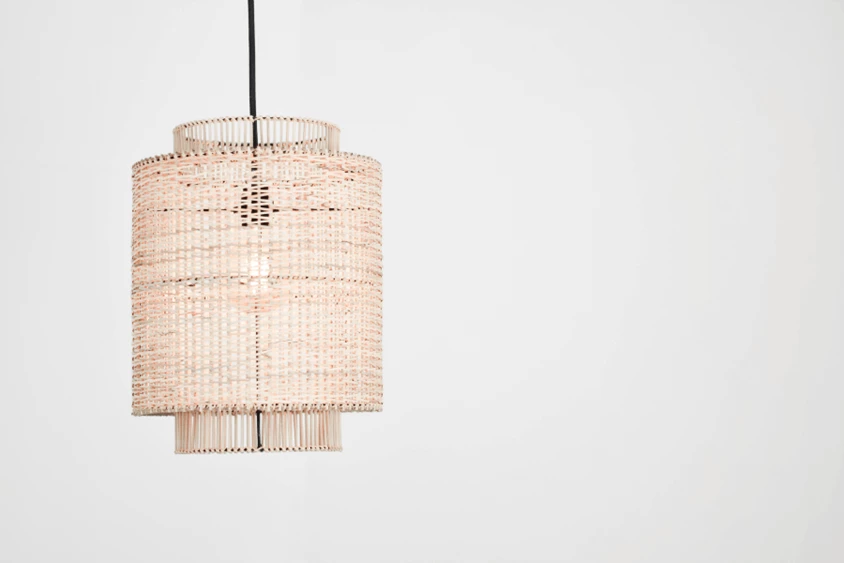 Pendant lights, like a chandelier, are suspended from your patio's ceiling. However, these lights are more simplistic and usually contain a single light bulb in decorative glass. If you prefer a more minimalistic look compared to the ornate feel that a chandelier may afford, pendant lights are an excellent choice. Best of all, pendant lights can be different shapes and colors and are often used in pairs or multiples. Mix and match different styles to create visual appeal and contrast.
9. Fire Pits to Add Heat and Light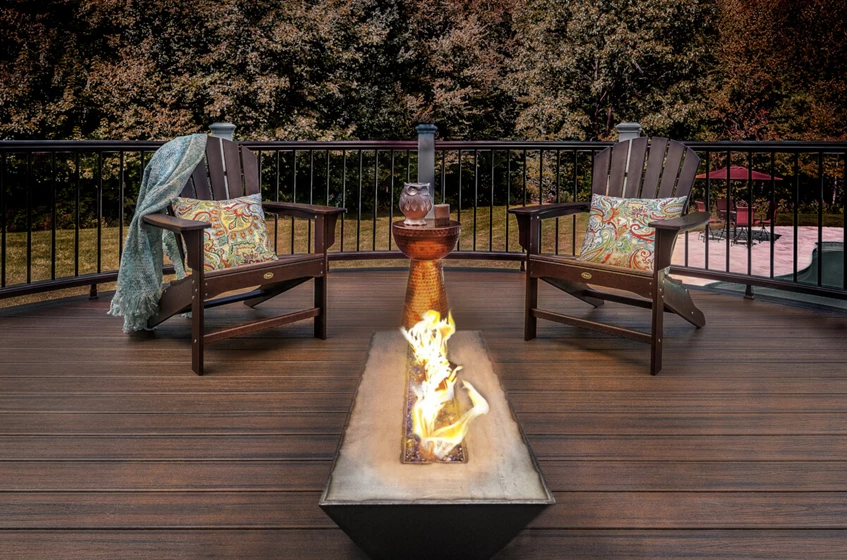 You don't have to stop enjoying your patio when the temperature starts to dip. A patio fire pit makes a beautiful centerpiece, and there's nothing quite like the natural glow of an open flame to illuminate your outdoor space. While all your friends are huddled under blankets indoors, you and your friends can enjoy some time under the stars, roasting marshmallows by a crackling fire on your patio! If you're putting a fire pit on your composite deck, make sure to always follow the manufacturer's recommendations when installing or placing it on the deck.
10. Sensational Sconces
Wall lights span the gamut of styles, ranging from simple and elegant, to modern or rustic. Sconces, picture lights, or hanging lanterns each add a unique decorative touch and can illuminate a large area of your patio. Wall lights are a great option to consider if your patio shares a wall with your home.
11. Wrap String Lights Around Structural Support
Beams, posts, or columns are the perfect spots to wrap string lights. Sometimes dubbed fairy lights, due to the ethereal twinkle they lend to a space, can be a fun decorative touch if you have a pergola or porch. Opt for soft white or colored holiday lights, or switch them out for seasonal décor (think: orange lights around Halloween). String lights come in so many varieties that you'll never get bored.
12. Portable Lamps and Lanterns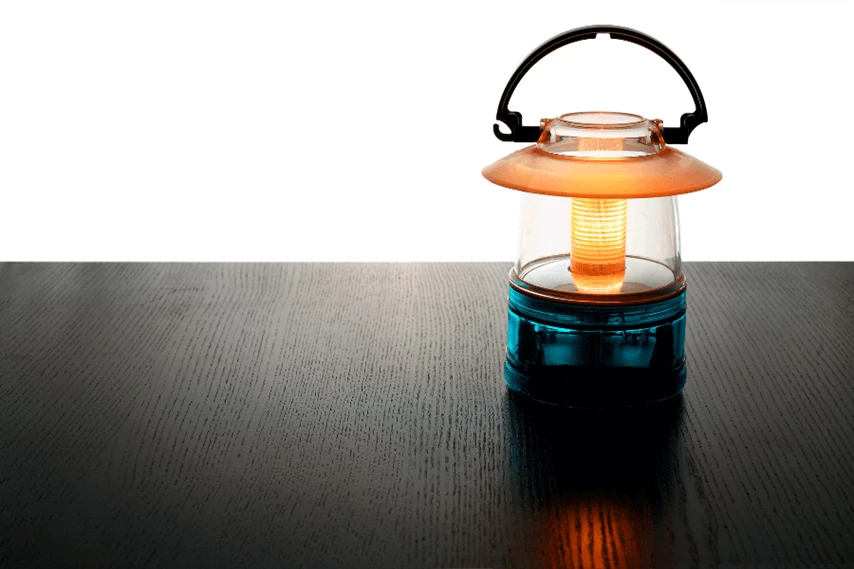 Bring a light source exactly where you need it with portable lamps or lanterns. Battery-powered or solar-powered options don't need to be plugged in and are a great choice if you have a large patio. This way, you don't have to spend money having multiple light fixtures installed. Simply grab the lantern and light up a given area of your patio with the appropriate amount of light to fit the occasion!
13. Combine Warmth and Light with a Patio Heater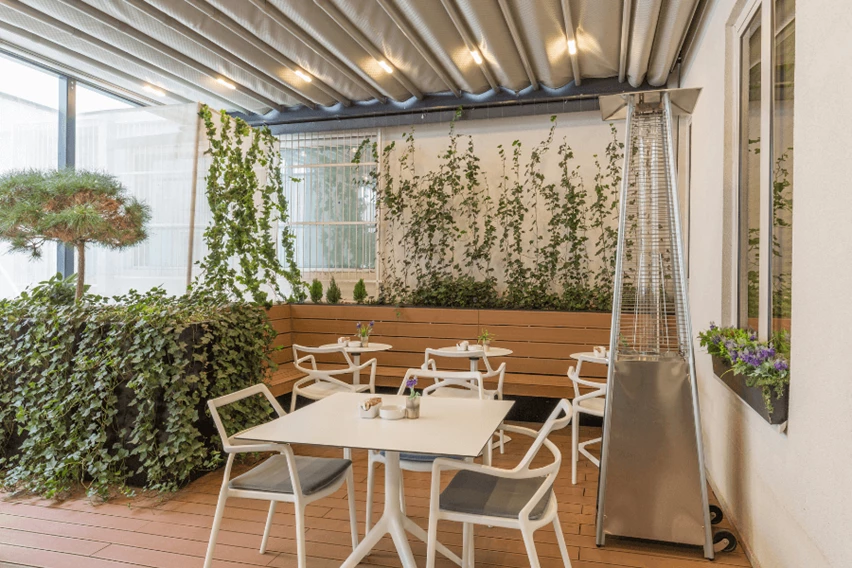 Tall patio heaters radiate a soft glow while providing warmth on chilly nights. If you want both light and heat, look specifically for infrared heaters, as some propane heaters don't offer any illumination. Either way, patio heaters don't cast a lot of light, so they may be best combined with other lighting options.
14. Install a Light in Your Ceiling Fan
Covering your patio with a roof creates both protection from the elements and shade on the hottest summer days. A ceiling fan can help circulate air when it's hot, but it is also the perfect spot to install a light. Ceiling fan lights can be ideal because they are centrally located, usually above a dining area or in the center of your patio.
15. Illuminate With Spotlights or Floodlights
Spotlights and floodlights provide a lot of light in a small package, which is perfect if you don't have much space to place a light but want a lot of illumination. These types of lights are often used as a safety element to deter intruders, but are also a fantastic way to highlight an outdoor element – such as placing a spotlight so it lights a water feature like a zen garden or backyard koi pond.
16. Torches Create a Festive Vibe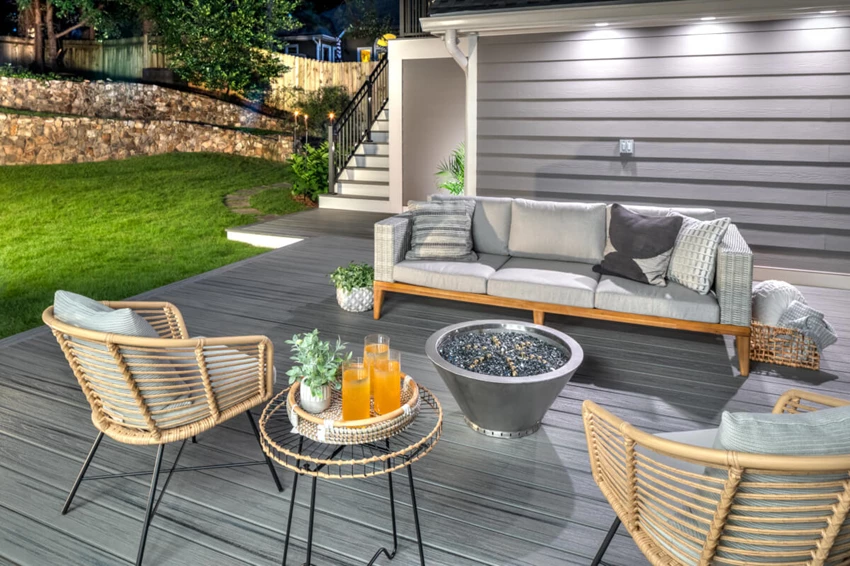 Torches, especially those of the tiki variety, can pave the way for a party-like atmosphere on your patio. Combine this with a tiki bar and bamboo furniture for an aesthetic reminiscent of a tropical getaway – right in your own backyard.
17. Add Soffit Lights to Your Under-Deck Patio Space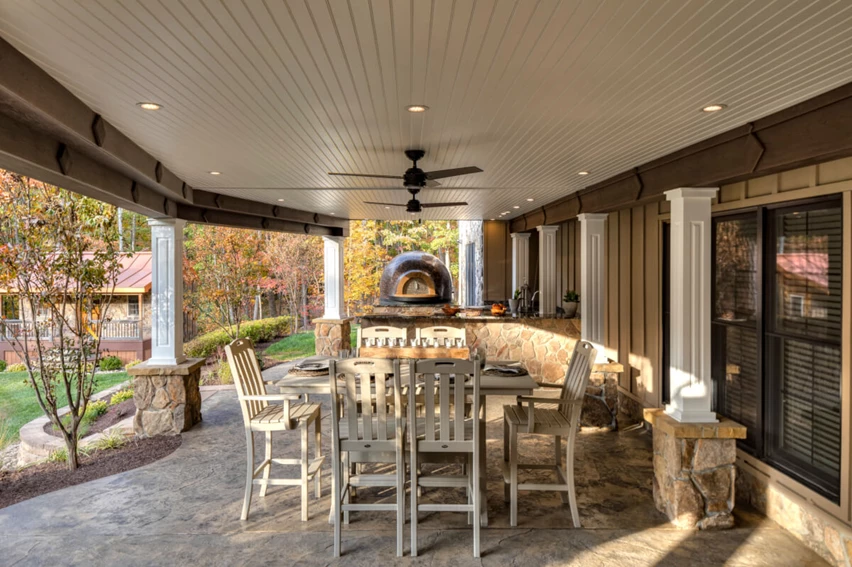 If your patio resides below a two-story deck, soffit lights like Trex RainEscape plug-and-play LED Soffit light are an easy way to add energy-efficient, long-lasting light to your outdoor space.
Light Your Patio Like a Pro
Hopefully, some of the designs above sparked your imagination, but don't stop there! All it takes is a little creativity to bring all your lighting ideas to life! Check out Decks.com for more inspiration. Learn more about lighting your deck and all of your other favorite outdoor spaces.