Best Deck Grill Mats
January 27, 2023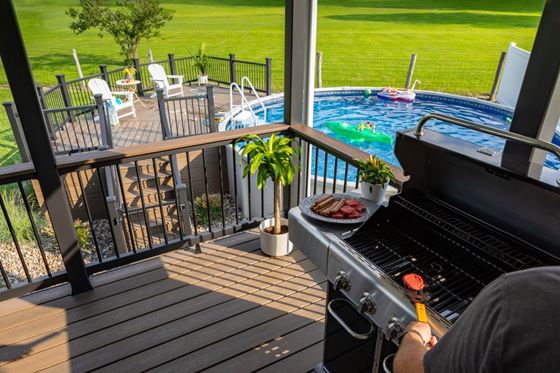 As an Amazon Associate, Decks.com earns from qualifying purchases from the links in this post.
As a homeowner, you undoubtedly take pride in the beauty of your deck. You try your hardest to protect it and keep it looking its best. If you regularly grill on your deck, you know it can be a bit of a messy undertaking. Grease will splatter, food will fall, and if you need to move your grill, it can leave unsightly scuff marks on the surface of your deck. However, a grill mat might help to alleviate some of these problems, allowing you to keep your deck looking good, while still enjoying a good BBQ!
Why Should I Put a Mat Under My Grill on a Deck?
Placing a mat under your grill is a good idea for casual grillers and professional pitmasters alike for a number of reasons. First, a mat will protect your deck from any grease or fallen food. It can also help keep your deck safe from getting scratched by the wheels or feet of your grill. From a safety perspective, a grill mat can also aid you in avoiding a fire caused by an errant spark or ember.
A grill mat can help keep your grill stable in windy conditions, and it creates a level surface for added stability. A well-made grill mat is also easy to clean. Simply hose it down to remove grease or debris.
What to Consider When Purchasing a Grill Mat for Your Deck
If you're thinking about purchasing an under-grill mat, there are a few different types to consider. To get a better idea of which grill mat is right for you, think first about what material your deck is made from. 
If you have a composite deck or concrete patio, you'll want to stay away from rubber-backed mats, as they can cause discoloration that isn't easy to fix. A grill mat can also block UV rays from the sun, meaning that the area beneath the mat may not fade at the same rate as the area around it. 
Another consideration is the type of grill you have. A gas grill, for example, is more prone to drips and splatters, so you'll need to look for a mat that can handle grease and oil. On the other hand, if you have a charcoal or wood grill, look for a heatproof mat that will help protect against burning hot embers making contact with the surface of your deck.
Of course, it's also important to consider the side and dimensions of your grill. Don't just buy any old mat, and find out too late that your grill is bigger than the mat you bought!
With those considerations in mind, here are some of our top picks for the best grill mats – tailored to specific scenarios and needs!
Best Overall Grill Mat: RESILIA - Large Under Grill Mat
The perfect grill mat should be durable, attractive, flame-retardant, and easy to clean. The RESILIA - Large Under Grill Mat is all of the above! It comes in a variety of colors to match your decor and is made from long-lasting PVC vinyl.
Size: 36" x 48"
Material: PVC Vinyl 
Best Grill Mat for Composite Decking: Fasmov 3 Feet x 4 Feet Grill Mat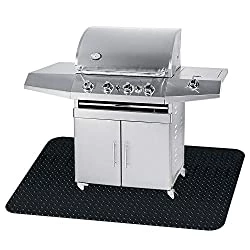 When shopping for a grill mat that will preserve the beauty of your composite deck, you'll want to avoid mats made from rubber. Under intense sun and high temperatures, rubber mats can stick to your deck and may discolor it. The Fasmov 3 Feet x 4 Feet Grill Mat is an outstanding choice for composite decks because it's made from PVC instead of rubber.
Size: 36" x 48"
Material: PVC Vinyl
Best Grill Mat for Round Grills: Huigu Fireproof Mat
Size: 39 inches
Material: Silicone
Best Grill Mat for Small Grills: Homenote Under Grill Mat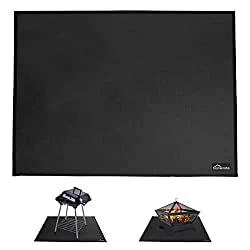 The Homenote Under Grill Mat is 36x48 inches, making it a perfect compact solution for smaller grills. It has a fiberglass coating that makes it extremely heat resistant, and it will repel oil and grease. The end result? Less cleanup work for you and more time to enjoy your grilled goodies on your pristinely preserved deck!
Size: 36" x 48"
Material: Silicone + Fiberglass
Best Grill Mats for Large Grills: AiBOB Under Grill Mat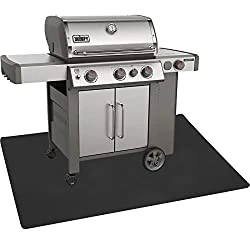 The AiBOB Under Grill Mat is 60x40 inches, making it a great option for even the largest grills. When narrowing the field, be sure you choose a mat that extends beyond the space your grill takes up to add extra protection from spills and splatters. The AiBOB Under Grill Mat is also available in a 65x40 fireproof model, which is ideal if you have a charcoal or wood grill.
Size: 40" x 60"
Material: Polyester + Rubber
Best Grill Mat for Portable Grills: XSONHOO Under Grill Mat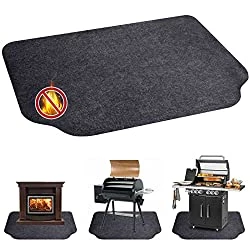 The XSONHOO Under Grill Mat is small and lightweight, clocking in at just over a pound. Its lightweight-yet-durable construction makes it easy to move right along with your portable grill. As an added bonus, it's heat resistant, easy to clean and store when it's time to pack away your grill for the season.
Size: 36" x 48"
Material: Silicone
Best Budget Grill Mat: Brinman Under Grill Mat
You don't have to spend a fortune to get a great grill mat. In fact, you can find many great options for under $20. Our top choice is the Brinman Under Grill Mat, which is priced at just over $15. If you would prefer the fireproof version of this mat, you'll need to shell out a few extra bucks. However, both are a bargain.
Size: 36" x 30"
Material: Fabric + Rubber
Best Premium Grill Mat: Cuisinart CGMT-300
If you're a cooking or grilling enthusiast, you know that Cuisinart is a popular and trusted brand among chefs, both amateur and professional. The Cuisinart CGMT-300 is a large, durable, and heavy-duty grill mat, so you know you're making a great investment when you purchase it. Beyond name recognition, the Cuisinart CGMT-300 is made from non-slip PVC and its extra large size gives you more coverage from spills and splashes that could discolor your deck.
Size: 65" x 35"
Material: PVC Vinyl
Get Started with Purchasing a Deck Grill Mat Today
Your deck is an investment and adds to the value of your home. If you love grilling outdoors, it's important to protect the space under your grill from grease, hot embers, and spilled food. A deck mat is an easy and cost-effective way to do just that! No matter what type of deck you have or the size of your grill, there is an under-grill mat that's bound to work for your needs. 
This page contains affiliate links. If you choose to purchase after clicking a link, Decks.com may receive a commission at no extra cost to you.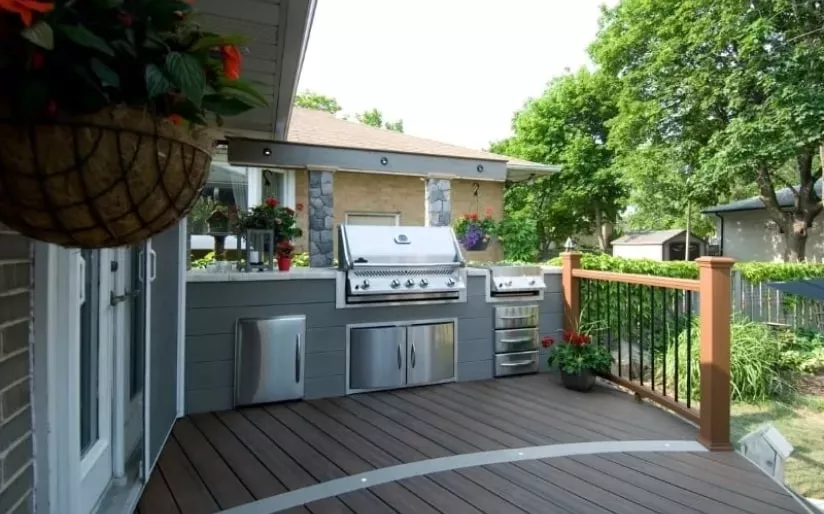 See More Outdoor Kitchen Ideas
If you take pride in being an outdoor chef, get some inspiration with more outdoor kitchen ideas.
GET INSPIRED