Building a Deck in an HOA or Regulated Community
July 21, 2022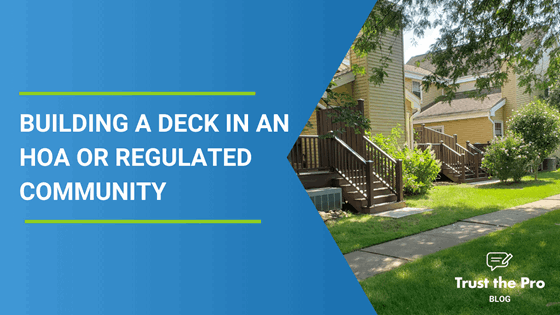 Tips for Building or Remodeling a Deck in an HOA or Regulated Community
Building hundreds of decks for HOA (Homeowner Association) homes is one of our specialties at NJ Decks and Railings. Building a deck in an HOA or getting an HOA approval for your deck can be challenging. There are a number of steps to take to ensure you build your deck up to code and in regulation of your HOA.
An HOA is a private association-like entity often formed for a building with multiple owner-occupancies, or by a real estate developer for the purpose of marketing, managing, and selling homes and lots in a residential subdivision. They can be challenging sometimes, but they also offer a number of benefits, such as ensuring that the neighborhood is maintained.
Each association works in its own way, imposing different levels of restrictions in an attempt to maintain consistency throughout the development. For instance, some associations may only allow certain types of materials for decks or require a certain style of guardrails to match neighboring decks. If your deck meets the requirements, the HOA will usually draft a short letter granting permission to build the project. You should include this letter with your application to the building department.
What to Consider When Building a Deck in an HOA or Condo Community
HOAs can be tedious with their restrictions on what you can build or not build on your property. One of the most important things to consider when building a deck in an HOA community is to involve the HOA as early as possible.
Some tips to keep in mind when working with an HOA to build your deck:
Every homeowners association is different and has different rules, so a good first step is to check the bylaws to see what is allowed in your particular community.
Speak with the managing agent or the HOA board of directors about your deck ideas.
Use Decks.com free deck designer to create your deck plan to make it easy to share with your HOA board for approval
HOA's will help you understand the rules or requirements in place governing what exactly is or isn't allowed in the community.
How to Get HOA Approval for Your Deck
Next, consider how to get HOA approval without numerous problems. Most HOA's have size restrictions and possibly color restrictions as well. They will most likely require a sketch of what you are proposing, which is typically passed on to the board of directors, a committee established to review designs, or a committee typically called something like the "design and review" committee.
The committee will review your sketch and possibly color choices and then make a recommendation to approve or reject your design.
Don't be too concerned if your first plan is rejected. You'll most likely get an explanation for the rejection and suggestions on how to revise your plan and gain approval.
What Happens If You Build a Deck or Patio Without HOA Approval?
You may be tempted to ask yourself, "Do I need approval to build a deck?" The answer is yes. Do not even consider building without HOA approval! At NJ Deck and Railings we have seen too many homeowners get fined and their decks torn back down at their own expense because they didn't have the HOA's approval.
You may also wonder if you need HOA approval to build a patio.  Again, the answer is yes.
Start Planning Your Deck Project Today
In summary, make sure to talk to your HOA board of directors or their managing agent before even calling a contractor or researching how to build a deck on your own. Knowing beforehand what is or isn't allowed by your HOA will make building your deck an enjoyable experience. Following these tips will help assure an HOA approval.
Need help planning your deck project? Use decks.com's Find A Builder tool to find expert deck contractors in your area or, if you're in New Jersey, give us a call. If you're planning to build a deck yourself, use decks.com's Find A Retailer tool to find material near you.
Trust the Pro contractors are independently owned and operated, and are neither affiliated with nor agents or representatives of Trex Company, Inc. Trex Company makes no representations or warranties as to, and is not responsible for, the content provided on Decks.com by such parties or any other acts or omissions of such parties. TREX COMPANY MAKES NO WARRANTY OR REPRESENTATION AS TO THE ACCURACY OR COMPLETENESS OF THE INFORMATION FURNISHED BY THE TRUST THE PRO CONTRACTORS ON DECKS.COM. The opinions expressed within the content on this blog are solely the author's and do not reflect the opinions and beliefs of Trex Company or its affiliates.