10 Deck & Patio Awning Ideas to Create a Shaded Outdoor Space
August 09, 2023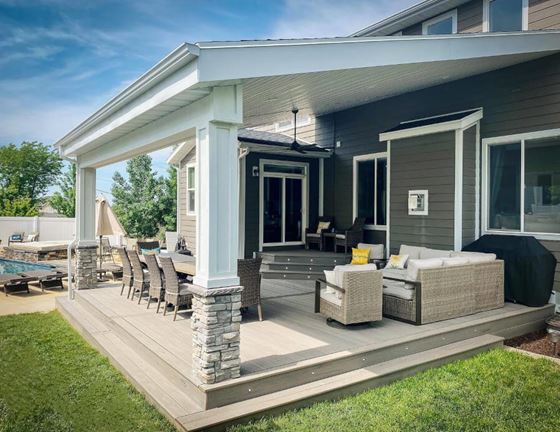 Do you love spending time on your deck or patio, but it's always cut short by bad weather? Don't let the elements dictate your outdoor plans any longer. With a deck awning, you can enjoy your outdoor space rain or shine. No more canceled barbecues or cramped indoor parties.
A deck awning provides the perfect solution to extend your outdoor living space and protect you and your guests from the sun, rain, and wind. Read on to learn more about the benefits of having a deck awning.
What is a Deck Awning?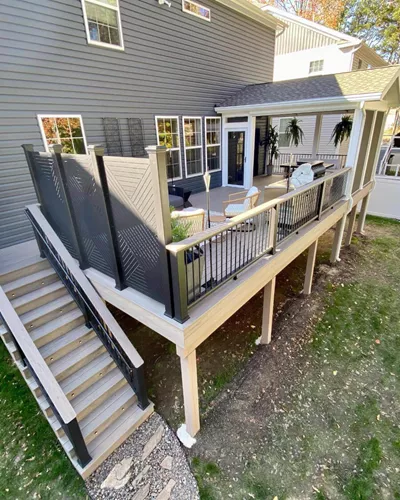 Deck awnings are outdoor coverings designed to offer protection from the weather. Both deck awnings and patio awnings are simple structures attached to an outdoor wall, supported by an internal frame.
If an awning is permanent, it may be further strengthened by pillars. Patio awnings can be retractable or fixed, with retractable options either hand-crank or mechanized. If you're using an awning for shade it can be a light, fabric structure, while a deck awning designed to withstand rain and wind might need to be more heavy duty.
Can You Put an Awning on a Deck?
Deck awnings are a popular addition to wooden, composite, and PVC decks. They make a deck usable in all weather, providing shade, protection from rain, and even an outdoor area where you can shelter from wind or colder weather. In order to be classified as an awning the covering must jut out from a wall, so completely freestanding decks or patios can have awning-style coverings but not awnings.
What is the Difference Between an Awning and a Canopy?
While all canopies are made of fabric, awnings can be made out of fabric, wood, metal, or even glass. Canopies are also freestanding, while awnings attach to a wall. Finally, most canopies are temporary, making them really useful for one-off events and a low-cost option for occasional use if you don't need protection from rain or sun very often. 
8 Best Deck Awning Ideas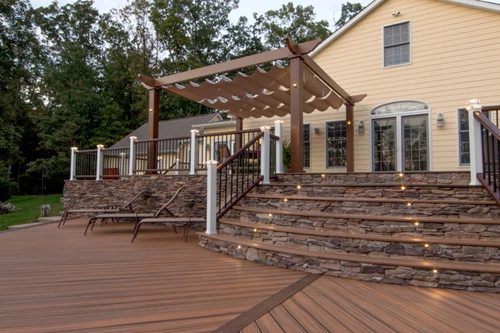 The possibilities for backyard awning ideas are pretty much endless! While that makes them an outdoor-design dream, it also presents issues when you actually have to make a choice for your own yard. To make things a little easier, here are ten of the best deck and patio awning ideas out there.
Retractable Fabric Awning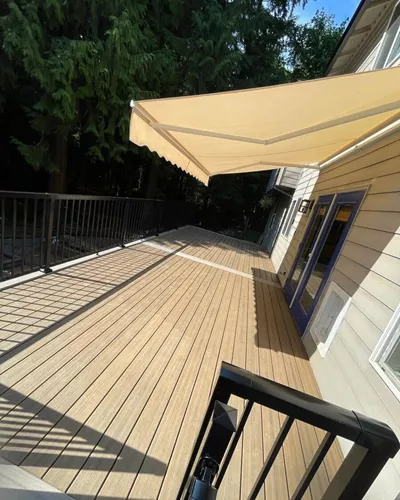 Retractable awnings are a great option if you live somewhere with a climate that's mostly moderate, as they can be rolled back or removed when not needed. As you don't need to build a permanent structure to install a retractable fabric awning, they're suitable for smaller spaces too. Choose cotton, vinyl, polyester, or canvas depending on whether you want shelter from rain, sun, or both. With a wide variety of fabrics out there, you can make a statement with a fabric awning, or keep things neutral to blend well with a natural-looking deck.
Pergola Style Awning
One of the most customizable patio awning ideas, a pergola can be topped with a cloth or solid covering or planted with climbing vines for more shade as your garden matures. Pergola-style awnings are available in wood, hardwearing cPVC that compliments wooden or composite decks, or stylish and long-lasting aluminum. Pergola-style awnings can be attached to exterior walls or simply built close to them, allowing a larger area of coverage with the strength of four supporting pillars. 
Sun Shade Awning
Protect yourself from the sun's rays with a sun shade. This is one of those backyard awning ideas designed for warm and dry climates, as they do let some water through. As sun shades are very easy to install, with metal D-rings that can be clipped to beams, hooks, banisters, or even the limbs of mature trees, they can be put up and taken down depending on the weather. They're also a great budget option, and with plenty of colors to choose from they can be used as decoration for outdoor events on summer days while also providing pools of shade. 
Motorized Deck Awning
If you choose a motorized deck awning, you can enjoy the convenience of adjusting your deck awning with minimal effort. Motorized awnings are a like a retractable awning, but instead of a hand crank, it uses a motor. Most awnings of this kind are made of fabric over a metal frame and designed to protect you from both rain and sun. They're one of the easier retractable patio awning ideas to use, and installation isn't usually difficult either as many motorized awnings come pre-assembled and ready for you or a handyman to affix to a solid wall. 
Metal Deck Awning
Metal deck awnings are known for their longevity. They hold up well to wind, rain, and snow, especially when they're installed as a semi-permanent structure and treated with a powder-coat finish. Usually made of aluminum, metal awnings are often attached to an exterior wall though they can also be freestanding, creating a practical area in the yard for anything from an outdoor kitchen to a storage area.
Striped Deck Awning
Evoking seasides and old-fashioned sweet shops, stripes work on a variety of deck awning ideas. Traditional yet stylish, striped fabric works particularly well when it's used for retractable awnings in either the front or back yard. Although they were once made of canvas, striped awnings in all sorts of colors now come in PVC to create a waterproof covering.
Wood Patio Awning
Create a natural atmosphere that complements a wooden deck and blends in with planting with a wood patio or deck awning. These coverings usually consist of a wooden frame and either a fabric or slatted wooden cover. Wood patio awnings require regular maintenance to protect them from weathering.
Glass Awning
Glass awnings are a stylish, modern option that provides protection from rain. They're one of the backyard awning ideas more usually used in commercial settings, but they also work in backyards if you have a more minimalist style home. Glass awnings tend to have a metal frame, and can be retractable. They cost more than some other patio awnings ideas due to the materials involved, and unless you're an extremely confident DIYer they require professional installation. That being said, they should last many years and offer a lot of protection from wind and rain. 
What to Consider When Choosing a Deck or Patio Awning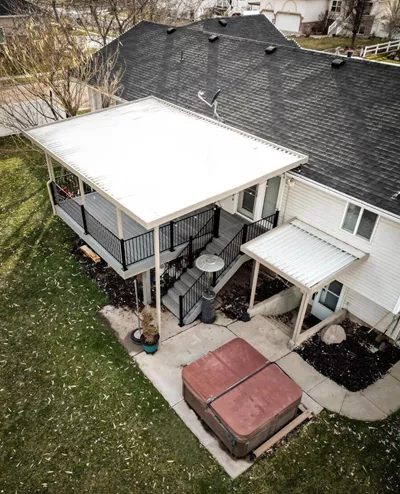 Now you know what your options are, you need to narrow them down. You'll need to think about weather, budget, how you'll use your outside space once you have an awning, and of course, style. 
Fixed or Retractable?
The first decision you should make is whether you want a fixed or retractable awning. Fixed deck and patio awnings offer options in terms of material, look, and size, while retractable awnings are practical and space-saving. 
Material
The materials you choose for your awning affect its durability as well as the kind of weather it will offer protection from. A light fabric, for example, doesn't help much in heavy rain, while a glass awning won't protect you from intense sun. Choosing frame materials is also important. Wood looks great with most wooden or composite decks, but it can't be used for retractable awnings and it requires upkeep, while metal is long-lasting both as an internal frame for retractable and permanent awnings and as a material for an awning itself.
Design & Color
An awning can be used as a design feature, no matter your style preferences. From classically designed white pergola-style awnings that evoke sun-drenched European summers to striped cloth awnings that'll make everyone who visits think of childhood beach vacations to stylish, modern glass or metal awnings that bring a touch of the industrial to a backyard, there are design options to suite all tastes and budgets. 
Function
There's no point in an awning that isn't doing its job. Consider both the weather conditions where you live and the ways you tend to use your yard. If you throw a lot of parties or have a big family who spends a lot of time outside, you might want a larger permanent awning. For people who have a small yard or anyone living in a generally mild climate, something smaller and retractable would probably be more appropriate. 
Get More Covered Deck & Shade Inspiration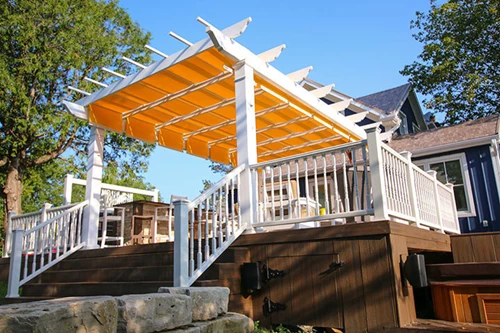 Not quite ready to pull the trigger on a deck awning yet? Decks.com can provide plenty more ideas for deck and patio coverings, as well as specifics on what a covered deck might cost you, in the articles below: