10 Best Outdoor Tables for Your Patio or Deck
December 27, 2022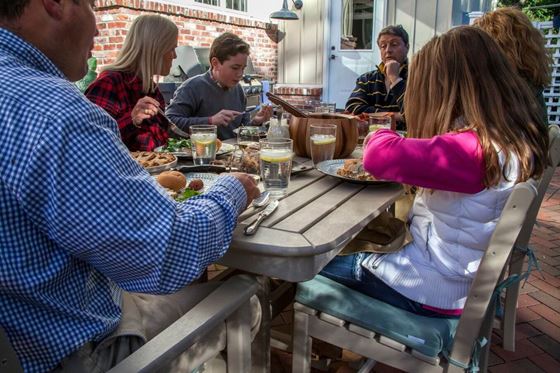 What's at the center of all good dinner conversations, a convenient sidekick to lounge seating, the hero of game night, and the stage for your outdoor decor? You guessed it—a patio table.
Now that you've completed your new deck, it's time to accessorize with stylish furniture that looks as good as your flooring. Trex® Outdoor Furniture™ creates beautiful, durable weatherproof furniture, and they know a thing or two about outdoor tables. They have a patio table to suit any porch, patio, or deck, in various sizes and styles that will elevate your outdoor experience. 
With so many choices available, shopping for the best patio table can feel overwhelming. We've compiled a list of the 10 best outdoor tables for any open-air occasion.
Top 10 Outdoor Patio Tables
Trex Outdoor Furniture builds patio tables from genuine POLYWOOD® lumber, a durable material created from sustainable materials, including landfill- and ocean-bound high-density polyethylene (HDPE) plastics. Combining the highest-quality materials with thoughtful designs and thorough craftsmanship ensures you get the best outdoor table that money can buy. 
Best Outdoor Dining, Counter, and Bar Tables
The foundation for alfresco meals, a high-quality dining table is a must for stress-free suppers and breezy brunches.
Yacht Club 37" x 72" Dining Table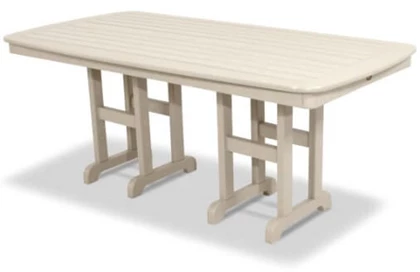 Got a large crew? Then look for a substantially sized table that will take you from breakfast to birthday parties. With a spacious tabletop hemmed in by slightly rounded edges and two sturdy pedestal bases, this is the best outdoor dining table for big groups and multi-course spreads. Plus, POLYWOOD lumber is quick and easy to clean, so you can get messy without stress.
Monterey Bay Round 48" Dining Table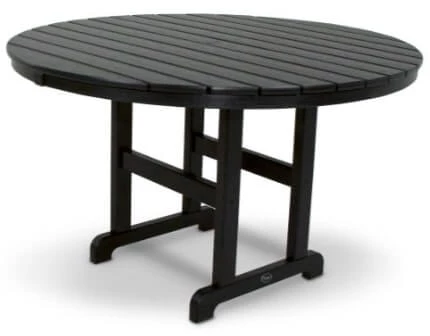 Complete the look of your open-air kitchen with a circular table. Offering plenty of room for four, this patio dining table features a sturdy pedestal-style base affixed to a spacious serving space that boasts smooth, edge-to-edge slats. Decorate with candles and colorful linen and you've got yourself an Instagram-worthy table setting.
Monterey Bay Round 36" Counter Table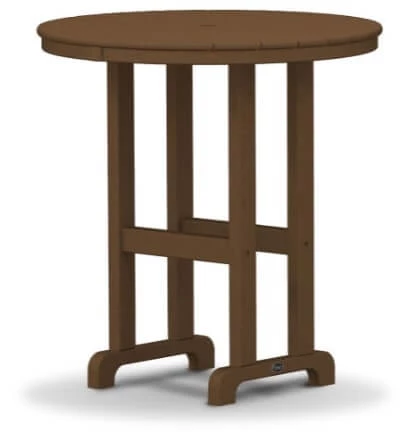 Sitting a little taller than its dining-height counterparts, this table is ideal for trim spaces like balcony decks. A round, full-slatted tabletop sits securely on a pedestal base, affording your family plenty of elbow room. This also makes a great additional table when hosting - drink station, anyone?
Farmhouse Trestle 37" Bar Table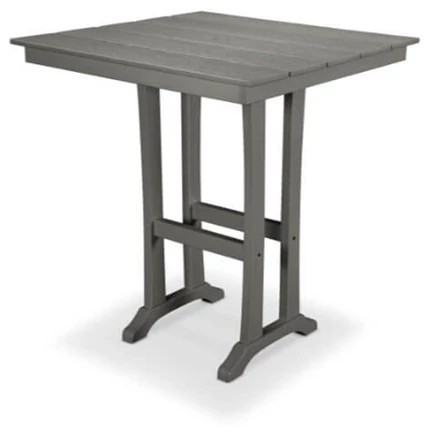 This bar table stands at a lofty 42-inches—perfect for tall folks, cozy decks, and apartment balconies. But its potential doesn't stop there. Use this table for an outdoor bar or as a place for guests to rest their hors d'oeuvres at your next happy hour.
Best Outdoor Coffee and Conversation Tables
Style, convenience, comfort—it's all on the table with these beautifully designed weatherproof pieces.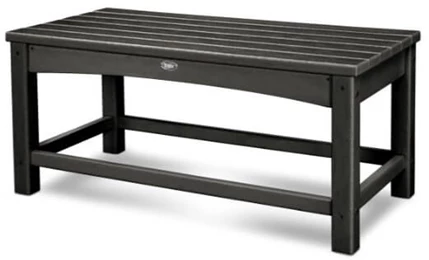 The final touch to any furnished lounge area, this customer-favorite coffee table brings indoor looks outside. Elegant without being over-the-top, it features a thin-slatted, rectangular surface and curved apron. It sits lower to the ground to accommodate the seat heights of the deep seating pieces from the Rockport Collection.
Cape Cod Round 48" Conversation Table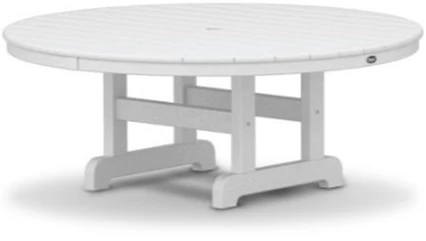 This is the best outdoor patio table for spacious sitting areas, designed to keep drinks, snacks, and devices within easy reach for anyone lounging nearby in an Adirondack chair. It's also our favorite for game night with the family. Sturdy, stylish, and offering seaside vibes, this table works well in circular and multi-angled areas like hexagonal poolside patios and rounded second-story decks.
Best Patio Side Tables
Let's all take a moment to recognize the unsung hero of outdoor spaces: the small-but-mighty side table. These tables can help your backyard feel like a true outdoor living space.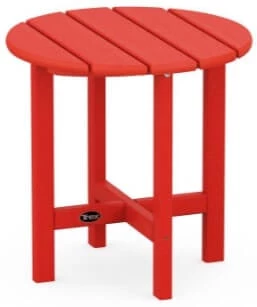 Inspired by laid-back New England style, this is a side table you'll enjoy season after season. Featuring a round, slatted tabletop, this piece affords plenty of room to rest a pitcher of lemonade and a plate of tasty apps.
Yacht Club 21" x 18" Side Table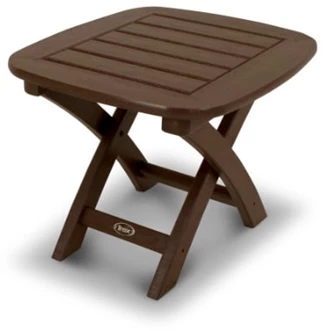 This accent table is a best seller, thanks to its multifunctionality, easy assembly, and shoreside vibes. Softened by slightly rounded edges, the square top fits everything from magazines to decor, and looks oh-so-stylish between a pair of Yacht Club chaise lounges or Adirondack chairs.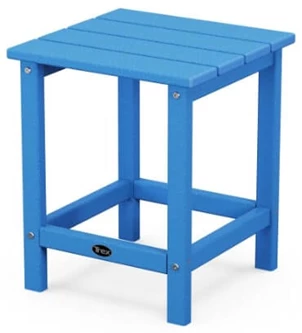 Keep cold drinks, snacks, and a good book close to hand with this essential side table that's available in a variety of colors. Pro tip: a side table in a vibrant hue can add an unexpected pop of color to your front porch or deck. Explore the entire Eastport Collection to see more sleek, symmetrical styles.
It might take up less space than a coffee table, but this side table offers no shortage of possibilities. It's a refined accent piece that will get quite the workout - whether you use it for decor like lanterns or flowers, or as a handy place to keep drinks and snacks within reach. In addition to great looks, customers love how easy this table is to assemble.
Frequently Asked Questions about Patio Tables
Are wood tables okay for outside?
Wood tables are okay for outside use; you'll just need to spend a little more time on upkeep to keep them in shape. The type of wood will determine the amount of maintenance. For example, a softwood table made from cypress and cedar needs more care and maintenance than a hardwood table. The best hardwood patio dining table is built from teak, ipe, or mahogany. 
What is the most durable material for an outdoor dining table?
HDPE plastic is the most durable material for an outdoor dining table. This low-maintenance, weatherproof plastic is used in various outdoor applications, from fencing and furniture to playground equipment. Teak is your best bet if you want to go the wood route for your outdoor table. It's a heavy, fine-grained hardwood that's resistant to warping and moisture. The best metal deck table option is stainless steel. Furniture made from this sturdy alloy resists rust and wind and requires very little upkeep.
How do you waterproof a wooden table for outdoor use?
The best options to waterproof a wooden table for outdoor use are exterior oils like tung and linseed, marine varnish, and epoxy sealers with marine varnish topcoats. Here are basic application instructions for each finish type.
Remember: Directions vary from brand to brand, so follow the instructions listed on your chosen product's label.
Exterior oils offer the quickest method but minimal protection. Use a natural-bristle paintbrush to apply the oil to the wood and let it soak in, then remove the excess with a clean cloth. 
Marine varnish takes longer to apply but offers more protection than exterior oil. Sand your table first, then paint on a thin layer of varnish with a natural-bristle brush. Once dry, lightly sand your table and apply another coat. Manufacturers recommend at least eight coats of varnish to create a suitable barrier.
Favored by boat builders, epoxy sealers with marine varnish topcoats have the longest application methods but offer the most protection. Apply epoxy in two to three thin layers using a foam roller, letting each coat fully cure. Then, brush on the varnish topcoat, sand it, and repeat until you've finished at least eight coats.
Safety first: always wear protective gear and complete your project in a well-ventilated area. Many finishes emit fumes that are harmful when inhaled and can irritate your skin.