Best Outdoor Patio Heaters
August 11, 2022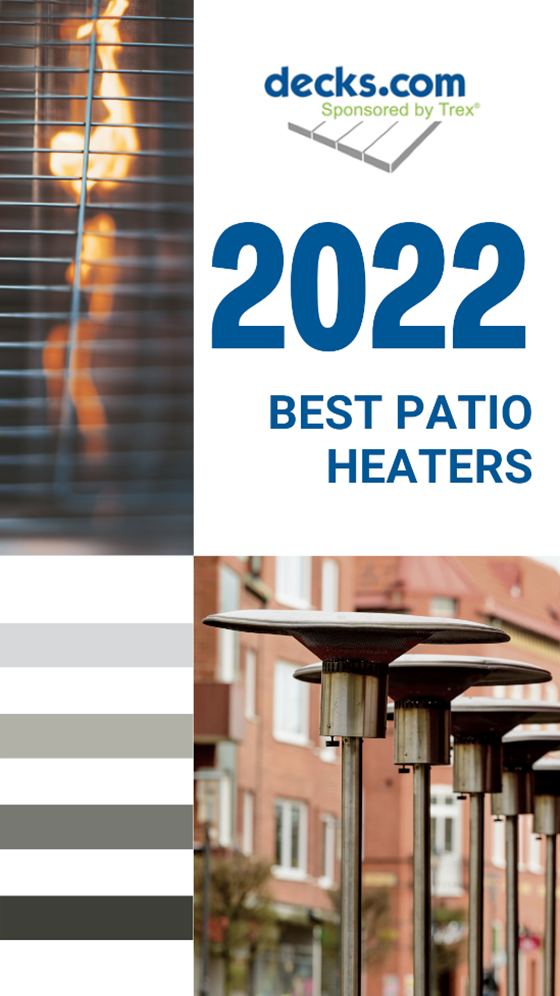 If you're lucky enough to have a patio, porch, or deck on your property, it's only natural to want to spend as much time there as you can. These outdoor areas are a great place to relax, entertain, and enjoy pleasant weather in comfort. 
However, as the temperature dips, most people pack up their outdoor furniture and say goodbye to this space until springtime. Don't let that happen to you. If you want to enjoy your patio all year round, it's a great idea to invest in a patio heater.
Before you drop your hard-earned cash on just any outdoor heater, it's important to do some research. Browse through the best patio heaters available on the market today below to ensure you're getting the most value for your money and purchase the best heater for your outdoor space.
Jump to:
How to Choose the Best Patio Heater for You
There is no single patio heater that's perfect for everybody, and it's important to consider your individual needs before you make a purchase. Think about these tips when shopping for a deck heater.
Power Source
The power source for your patio heater is very important. Electric heaters are safe and energy efficient, and their radiating heat isn't affected by wind. However, you'll need to have access to an electrical outlet to plug them in, though, which isn't always convenient.
Propane heaters, on the other hand, don't need to be plugged in, but you will need to make sure they are stocked with enough fuel. In addition, these heaters may require some assembly, and can be heavier than electric heaters, especially with a full tank of fuel. Look for models that may have wheels to make moving them easier.
Heater Type
When thinking about heater type, consider where you want your heater to be. There are many tabletop options available, and these lower-profile heaters are perfect for warming outdoor dining areas. But if you're looking to entertain in a large space, a freestanding option might be better.
Keep in mind there are also wall- and ceiling-mounted patio heaters. These are great for covered areas, and they will be out of your way while you entertain. 
Range Needed
Think about the space you'll need to heat. It's easy to warm a small, intimate area with an outdoor patio heater, but if you need to heat a larger area, you'll need to buy a more powerful heater. Another option is to buy multiple heaters to keep the entire area warm.
Heat Output
Heaters with a higher BTU or wattage will heat larger areas and deliver more powerful warmth. Heaters with higher heat output are great for areas that get extra chilly. The best part of having a deck is the ability to enjoy it during every season. Even the coldest winter is no match for a powerful deck heater.
Portability & Storage
A porch heater that's easy to transport and store is always a plus. Tabletop patio heaters are lightweight and can be stashed away when not in use. 
Many larger, free-standing patio heaters may come with an included cover. If not, you should be able to buy a cover for the heater to protect it from inclement weather.
Safety Considerations
Keep in mind that heaters shouldn't be placed near anything flammable, no matter what type of heater it is. Fuel like propane is extremely flammable and should always be stored in the proper container. 
In addition, carbon monoxide is always a consideration. These porch heaters shouldn't be used in enclosed spaces, as they may generate carbon monoxide, which poses a serious health risk. And of course, always supervise kids and pets while patio heaters are in use.
Best Overall Patio Heater: Hampton Bay 48000 Btu Stainless Steel Patio Heater
Total BTU: 48000
Fuel Type: Propane
Heating Area: Up to 200 square feet
Ranking the best overall patio heater isn't an easy job. They need to be efficient, durable, and easy to use, but the Hampton Bay 48000 Btu Stainless Steel Patio Heater checks off all the boxes.
Its sturdy, stainless steel construction can withstand heavy use, and can be assembled and up and running in about an hour. Best of all, it has adjustable controls so you can choose your desired temperature and stay comfortable, even in chilly temperatures.
Best Outdoor Propane Heater: Belleze 48,000 BTU Gas Outdoor Patio Heater
Total BTU: 48000
Fuel Type: Propane
Heating Area: 15 foot radius
Propane deck heaters are a great option for those who don't want to mess with the cords that come with an electric heater. The best outdoor propane heaters are portable and easy to ignite. With more than 400 positive reviews, the Belleze 48,000 BTU Gas Outdoor Patio Heater fits the bill. 
This powerful heater can provide warmth when temperatures are colder and features a Piezo ignition system. At just under 40 pounds, this propane heater really is portable (and includes wheels for easy transport), so you can move it right where it's needed.
Best Electric Patio Heater: Fire Sense Patio Heater
Fuel Type: Electric
Heating Area: 9 foot radius
Patio heaters can be powered by a variety of sources, from electric to propane and beyond. Electric heaters are one of the most widely preferred types of deck and patio heaters because they're easy to operate and are often equipped with a variety of safety features. Simply plug it into a wall outlet without having to worry about messy fuel or fire risk. 
The Fire Sense Patio Heater may be the best electric patio heater on the market. Operating it is cheaper than operating a propane heater, and it has a 12-foot-long retractable cord to help reach the nearest electrical outlet and convenient storage when your heater is not in use.
Best Infrared Patio Heater: Dr. Heater DR-238
Fuel Type: Electric
Heat Output: Three settings - 900W, 1200W, 1500W
Infrared patio heaters are extremely efficient, because they heat by radiating heat outward, as opposed to heating by convection (or heating the air around you). This means they aren't affected by wind, so you can enjoy the warmth of your heater even on blustery days. 
Looking for the best infrared patio heater? Check out the Dr. Heater DR-238. This heater can be mounted to the wall or ceiling, providing steady warmth without getting in the way. Made from weatherproof aluminum, this unit radiates heat at three different settings, so you can adjust based on your own personal comfort levels.
Best Budget Patio Heater: Amazon Basics 46,000 BTU Outdoor Propane Patio Heater
Fuel Type: Propane
Total BTU: 46000
Heating Area: 9 foot radius
If you're looking for a cheap, inexpensive patio heater, the Amazon Basics 46,000 BTU Outdoor Propane Patio Heater is the perfect choice. Available in six attractive colors, this propane heater is sure to keep you warm without breaking the bank.
This heater is equipped with a Piezo ignition system that ignites with just the touch of a button, as well as a safety auto shut-off tilt valve. It also has some added features like a chain to help secure the (not included) 20lb liquid propane gas tank, as well as a waterbox to help weight the base.
Best Designed Patio Heater: Lausaint Home Propane Patio Heater
Fuel Type: Propane
Total BTU: 42000
Heating Area: 10 foot radius
When it comes to deck heaters, style matters. Finding a stylish patio heater that fits in with the rest of your outdoor décor is a must. The Lausaint Home Propane Patio Heater's sleek pyramid-shaped design and silver finish is sure to wow your guests.
In addition to its attractive design, the Lausaint Home Propane Patio Heater is built for performance, too. It comes equipped with a variable heat setting and adjustable control valve so you can adjust temperatures to your liking, heating a 10 foot radius area comfortably. It uses a 20 lb propane tank (not included) and has an auto shut-off tilt valve to keep safety at the top of the priority list.
Best Patio Heater for Wind: Briza Infrared Patio Heater
Fuel Type: Electric
Heat Output: three settings - 900W, 1200W, 1500W.
Wind can sometimes put a chill on your outdoor activities with certain types of patio heating units. Because many patio heaters work by convection, all it takes is a little wind to blow warm air in the wrong direction. If you're worried about wind, you may want to consider an infrared heater, like the Briza Infrared Patio Heater.

This heater comes with a tripod, but can also be mounted to the wall or ceiling, so you can use it exactly where you need it. With the included remote, you can also control the heat output without getting up from your chair.
Best Portable Patio Heater: Fire Sense Portable Patio Heater
Fuel Type: Propane
Total BTU: 10000
If you have a large patio or multiple outdoor spaces you want to heat, you'll want to look for a heater that's lightweight and portable. The Fire Sense Portable Patio Heater fits right on your tabletop and weighs just over 14 pounds. 
Its one-pound propane tank provides three hours of heat, making it a stellar portable patio heater option that will fit your budget.
If you want to bring even more enjoyment to your deck, patio, or outdoor space, check out our other articles for inspiration.
Disclosure: As an Amazon Associate, Decks.com may earn from qualifying purchases from the links in this post.