10 Best Outdoor Dining Sets for Your Patio or Deck
September 19, 2022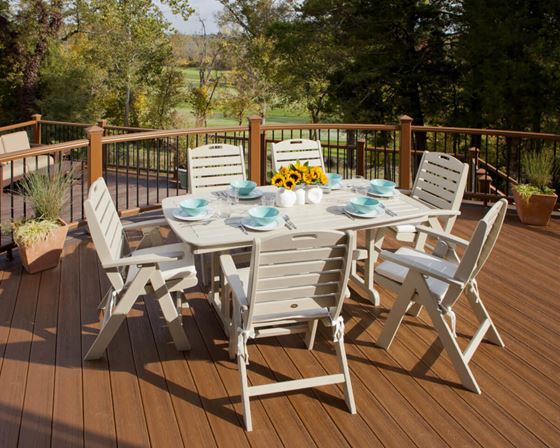 There's nothing like dining alfresco, especially when you don't have far to go. Creating an outdoor dining area is one of the best ways to spend time with friends and family, whether it's starting the day with a hot brew on the porch or catching up over leisurely dinners as the sun sets.
Once you've completed your deck, it's time to think about what kind of outdoor furniture will best suit your space and needs. Trex® Outdoor Furniture™ offers all-weather dining sets that perfectly complement your new Trex deck, so we've put together the 10 best outdoor patio dining sets that fit different budgets and spaces of all sizes, shapes, and styles.
Top 10 Outdoor Dining Sets
All Trex Outdoor Furniture dining sets are built from genuine POLYWOOD® lumber, a weatherproof material made using sustainable materials that includes landfill- and ocean-bound high-density polyethylene (HDPE) plastics. HDPE is very durable, making it the ideal material for creating the best quality patio dining sets you'll find on the market today.
Best Large Dining Sets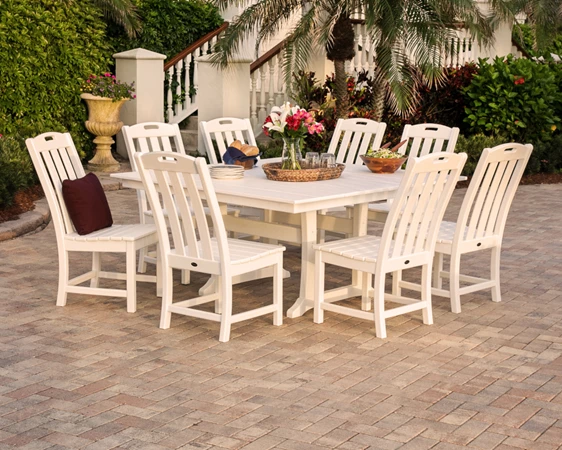 If you have a large family or love to host, your best bet is a 9-piece patio dining set. These dining sets are sizable, so we recommend measuring your alfresco space to ensure you have enough room.
Yacht Club 9-Piece Farmhouse Trestle Side Chair Dining Set
Big on both space and style, this rustic-yet-refined marina-inspired set easily seats up to eight—with room to spare. Using their convenient headrest handles, you can scoot the curved dining chairs together to accommodate a few plus-ones. The substantial dining table offers ample legroom and plenty of space to serve up hearty meals to hungry guests.
Monterey Bay 9-Piece Farmhouse Trestle Dining Set
Farmhouse style is still one of the hottest design trends, and this versatile dining set will smoothly transition you from upscale Sunday brunches to casual weeknight meals. Gently curved seats invite your guests to get comfortable, and a trestle-style base creates more legroom to sit back and stretch out. Perfect for larger decks and patios, this all-weather assemblage encourages loved ones to linger a little longer.
Best Large Outdoor Counter Sets
Looking for the best patio dining sets that offer casual vibes in any season? A Trex Outdoor Furniture counter set lets you reimagine your deck as the go-to social spot. Counter-height outdoor chairs and tables sit a few inches higher than dining-height furniture but still offer plenty of space to seat a crowd.
Yacht Club 9-Piece Farmhouse Trestle Side Chair Counter Set
Comfortable and casual, this is the best 9-piece outdoor dining set for decks and terraces, as it's tall enough to enjoy the view over the railing but doesn't sit as high as bar furniture. The side chairs' arched backs and symmetrical frames coordinate beautifully with the spacious square table—both constructed of durable, fade-proof lumber that can handle everything, including spills, stains, sun, and stormy weather.
Best Large Bar Sets for your Patio
Elevate your outdoor dining experience with a Trex Outdoor Furniture bar set. Bar-height sets sit higher than counter- and dining-height sets, making them the best outdoor dining furniture choice for taller folks.
Monterey Bay 7-Piece Farmhouse Arm Chair Bar Set
If you're looking for the best 7-piece patio dining set to fit your friends and family, you've found it. The modern farmhouse-style table sits high off the ground, giving everyone plenty of legroom around its double-pedestal base. Coordinating bar chairs with contoured seats, curved armrests, and perfectly placed footrests deliver head-to-toe comfort and extra room to relax.
Yacht Club 7-Piece Farmhouse Trestle Bar Set
Go big (and stay home) with this substantial bar set. Offering room for six, this farmhouse-inspired setup features bar chairs with arched backs and slatted seats that complement the plank-style table. This patio dining set fits best in spacious open-air kitchens, large decks, and other expansive spaces.
Best Small Patio Dining Sets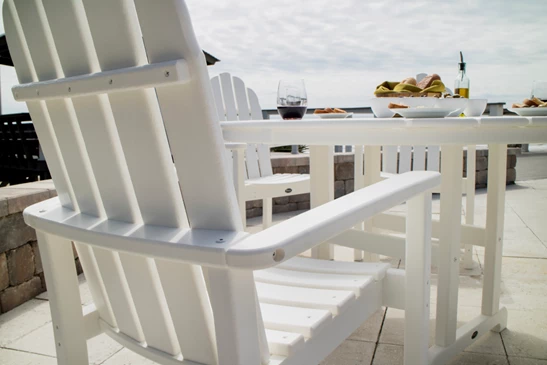 Your outdoor space may be limited, but you can still bring the indoors out and create your dream backyard dining room. The best outdoor dining sets for narrow porches, apartment balconies, and other scaled-down spaces should offer more than enough room to relax without overcrowding your floor plan.
Yacht Club Highback 5-Piece Farmhouse Trestle Dining Set
If your petite patio doubles as a dining and relaxation space, try this cozy set on for size. This is the best-value patio dining set for small spaces because the high-back patio chairs are foldable and have convenient headrest handles. When you need extra room, simply fold the chairs up and store them in your garage, shed, or even closet.
Escape to the Cape and give your cozy breakfast nook a new look with this outdoor dining set for four, combining charming style with five-course-worthy comfort. The round table and contoured outdoor chairs make the most of curved or hexagon-shaped spaces like gazebos and circular decks. It's easy to picture yourself lounging here with your morning coffee in hand, watching the sunrise with someone special by your side.
Best Small Counter Sets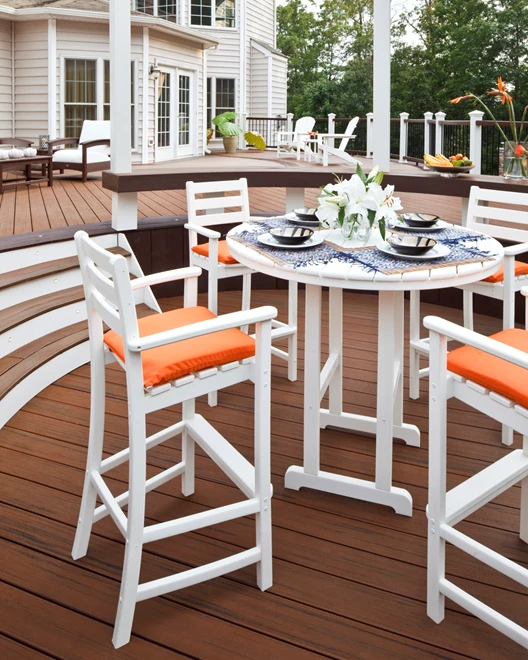 Enjoy the fresh air at breakfast, lunch, and dinner with an intimate counter set. These counter-height chairs and tables will add stay-all-day relaxation to your deck or cozy porch alcove for alfresco dining your family can enjoy season after season.  
Yacht Club 5-Piece Farmhouse Trestle Arm Chair Counter Set
This 5-piece patio dining set's best feature is its versatility. The reclined seating and square table's trestle base offer ample space for small gatherings, sitting at just the right height for game night or a quiet meal under the stars. Like all Trex Outdoor Furniture dining options, this set is fade-resistant and weatherproof so you can leave it out all year long with no stress.
Best Small Bar Sets
If you think your space is too small for outdoor furniture, you'll be pleasantly surprised to learn that cozy balcony decks and modest-sized backyards are the best spaces for small patio dining sets.
Set a table for two with this charming bar set. The tall round table and contoured chairs take up minimal space while maximizing comfort. This patio dining set fits nicely on small decks and back patios. Or, if you have a spacious outdoor kitchen with a bartop, another option is placing one or two of these sets nearby—extra seating means easy entertaining.
For comfort you can count on in any season, consider this four-person bar set—a creative combination of the Monterey Bay and Cape Cod collections. This inviting bar-height set seats four with comfortable Adirondack-style chairs that boast a classic look that never goes out of style.
Best Patio Accessories
Adding a few thoughtful accents can really make a space feel like home. From seat cushions to shade-casting umbrellas, these comfort-enhancing accessories bring in color, texture, UV protection, and extra support.
These bars, counter, and dining chairs are designed for maximum comfort, but if you want extra softness, tie all-weather cushions to your patio chairs. Trex Outdoor Furniture seat cushions come in all-weather performance fabric resistant to fading, moisture, mold, and mildew. Like the HDPE lumber options, the dining cushions are available in a variety of colors, so you can pick the hue that suits you.
9' Tilt Market Umbrella & Base
Make more opportunities to eat outside by outfitting your dining table with a large weather-resistant umbrella. Trex Outdoor Furniture umbrellas are available in a wide variety of canopy colors, letting you coordinate a shady setting that's ready for summer afternoons and poolside lounging.
Frequently Asked Questions about Outdoor Dining Sets
What type of outdoor furniture is the most durable?
The most durable outdoor seating is built from HDPE lumber. HDPE is a sturdy plastic used in various outdoor applications, from fencing to kid's play sets. It's resistant to many harsh outdoor elements such as freezing temperatures, salt spray, and humidity. Plus its heavy weight also stands up to strong winds.
What kind of furniture is best outside?
The best patio dining set for outside use should be durable and easy to keep clean. Look for dining sets made from long-lasting materials that can handle intense weather and years of repeat use.
What material lasts the longest for patio furniture?
HDPE lasts the longest, making it one of the best all-weather options for patio sets. This low-maintenance lumber is waterproof and resistant to fading, chipping, splintering, and peeling. It also doesn't need to be sanded, painted, or waterproofed to keep its good looks.
What is the easiest patio furniture to keep clean?
The easiest patio furniture to keep clean is made from either HDPE lumber or synthetic resin. These materials are resistant to mold and mildew and don't require protective coatings or wax to shield them against outdoor elements. Simply wipe down your patio furniture with soapy water and a damp cloth from time to time to keep it pristine and prepped for entertaining.