10 Best Outdoor Patio Chairs & Loungers
November 07, 2022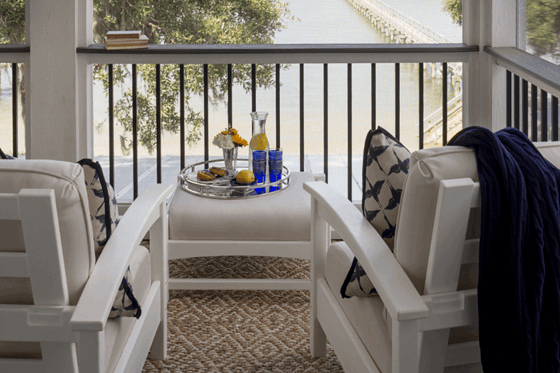 When it's time to decorate your deck, outdoor seating is one of the first items you add to your shopping list. The right patio chairs will enhance the look of your space, create the ideal setting for friends and family, and offer elevated comfort year after year (after year).
But what are the best outdoor patio chairs for you? So many great options are available, and narrowing your search might seem overwhelming. 
Not to worry. We've created a list of the 10 best deck chairs that fit any occasion—from catching up with the neighbors on the front porch to alfresco dinners with the family.
Top 10 Patio Outdoor Chairs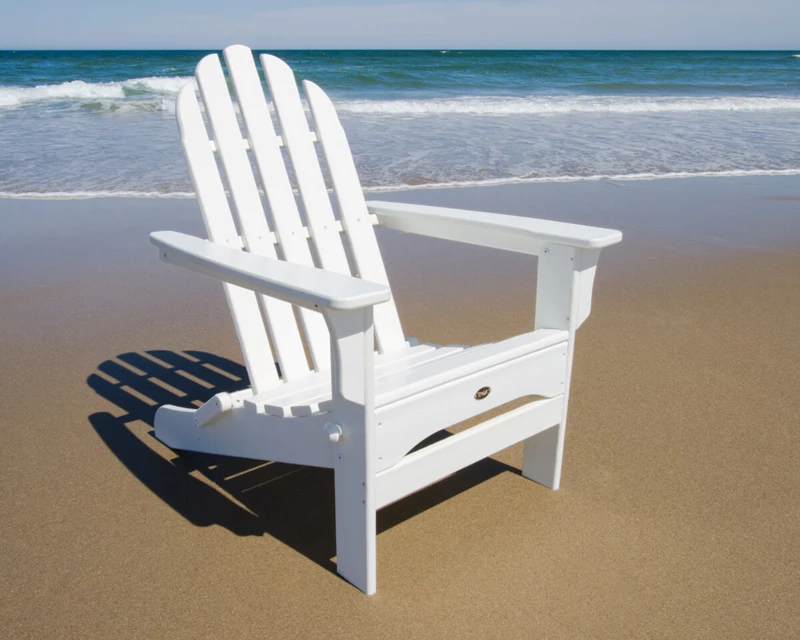 Trex® Outdoor Furniture™ uses genuine POLYWOOD® lumber to create beautiful outdoor furniture that lasts. This lumber is a blend of sustainable materials, including landfill- and ocean-bound high-density polyethylene (HDPE) plastics. HDPE is one of the best materials for outdoor chairs because it's naturally durable and weatherproof.
Consider these great outdoor patio chairs when designing and planning for your deck or outdoor space.
Best Patio Chairs For Lounging
Whether you need some alone time to recharge or if friends pop over unexpectedly, these outdoor patio chairs offer the best in comfort and convenience.
Cape Cod Folding Adirondack Chair
Our best-selling folding Adirondack is the go-to seat you can take to go. This outdoor chair features wide, rest-easy arms, a curved backrest, and a contoured seat—all posed in a reclined design. Fold and store away when not in use to keep your deck uncluttered. For extra comfort on your next beach trip, fold this Adirondack flat and stow it in your trunk before you hit the road.
If relaxation was a chair, it would be a rocking chair. This all-weather rocker features a contoured seat, a high backrest, and sloped runners that all work together to sway you into a state of bliss. The convenient cutout handle in the headrest lets you easily position (and reposition) your rocker into the spot "that just feels right" on your porch.
Yacht Club Chaise with Arms - Stackable
Stretch out and enjoy some me-time on this all-weather chaise. In addition to its convenient cutout handle and stackable design, variety is one of this outdoor lounge chair's best features. The wide backrest reclines to multiple positions so you can sit up and sip on a glass of lemonade, lean back to sunbathe, or lie flat for naps in the shade.
Incredibly comfortable, this deep seating chair's cloud-like cushions sit cozied between curved armrests. Like all Trex Outdoor Furniture deep seating, this patio chair's cushions are tailored with all-weather performance fabric that resists stains, fading, and moisture, just like its weatherproof frame, so you can enjoy a stress-free wine and cheese night.
Best Patio Chairs For Dining Together
These patio dining chairs give each guest the best seat in (or out of) the house. 
Great for brunch with your friends or starlit suppers, this seat is equally at home in your outdoor kitchen, rooftop bar, or the private alcove off your patio. This all-weather bar chair offers a leveled-up lounge experience with its contoured seat and arched backrest - happy hour just got even happier.
Cape Cod Adirondack Counter Chair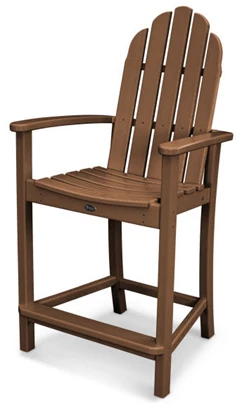 Alfresco entertaining is a (sea)breeze with this counter chair. Its durable design offers a cozy combination of body-hugging curves and fuss-free details. Long legs connect to a contoured seat and wide arms, with a scalloped headrest crowning the frame. This chair's low-key look and endless versatility are always ready for a good time, making it an outdoor entertainer's best friend.
Featuring a refined yet approachable style and folding capabilities, this sophisticated seat fits casual family dinners or intimate meals for two. But this is just the tip of the cabin cruiser. The outdoor dining chairs in our best-selling Yacht Club Collection offer a variety of options that will let your entire crew lounge in comfort.
Best Outdoor Seating For Companionable Comfort
Make room for one more with these multi-seat patio loungers—the best way to share nature-made moments.
Here's an outdoor sofa offering the best in comfort and four-season durability. Sink-in cushions sit snugly on its long, spacious frame, creating a casual look and endless versatility that invite your family to gather and catch up or you to stretch out and catch some Z's.
This bench is where ease and elegance come together. Built for serious R&R, its durable, contoured frame features a reclined backrest and wide arms that reach out and beckon you and a friend to sit and chat a while. From balconies with a view to family-friendly backyards, this all-weather bench is an ideal addition to any open-air space. 
Elegant style couples with all-weather durability in this three-person swing. It's a stylish sway-all-day seat that's perfect for quiet moments alone with your favorite magazine or catching up with old friends. Hang this swing on your porch or below your balcony deck to create a picture-perfect perch.
Frequently Asked Questions about Patio Chairs & Loungers
What type of outdoor furniture is the most durable?
The most durable outdoor furniture is made from HDPE plastic. HDPE is durable, weatherproof, and easy to maintain, making it the best material for outdoor patio chairs, tables, sectionals, and other furniture. Manufacturers often use HDPE to build fencing, playgrounds, decking, and related sturdy structures.
What kind of furniture is best outside?
Furniture built with durable, high-quality materials is best outside. HDPE, synthetic wicker, teak, and stainless steel, are all popular choices thanks to their specifically designed (or natural) resistance to harsh weather and outdoor elements.
What material lasts the longest for patio furniture?
A variety of patio furniture materials will last for a long time outside, but some fare better than others in certain climates. For example, a cedar outdoor lounge chair isn't the best choice for coastal homes because the increased humidity and sun can cause the wood to expand and warp. However, a teak patio chair will work much better in the same conditions as it's naturally resistant to moisture. Metal outdoor chairs aren't ideal for desert homes because they can get severely hot if left out in the sun, but seating made from HDPE or synthetic wicker stays at a comfortable temperature—even in arid conditions.
What is the easiest patio furniture to keep clean?
Patio furniture built from low-maintenance HDPE lumber is by far the easiest to keep clean. All you need to do to keep these outdoor patio chairs, couches, and tables clean is wipe them down with soapy water and a clean cloth, rinse them with fresh water, and let them air dry.