Best Outdoor Fans
February 10, 2023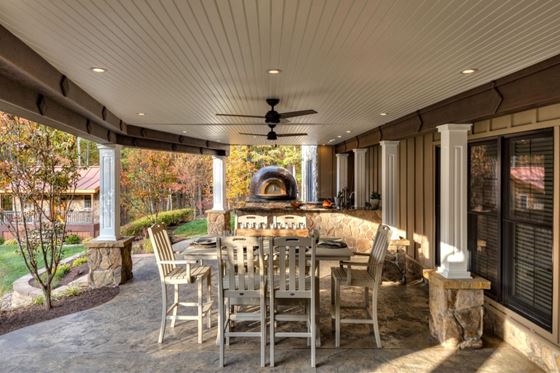 Adding a deck, porch, or patio to your home is a worthwhile investment. To be sure you're able to enjoy your deck, even on the muggiest summer days,, adding a patio fan can help better circulate air and make your outdoor space feel less hot and humid.
We'll walk you through some of our top picks for outdoor fans, as well as offer helpful tips for choosing the right fan for your space.
What to Consider When Purchasing an Outdoor Fan
With so many options to choose from, you'll want to keep several factors top-of-mind when deciding on an outdoor fan. First, think about the size of the space you want to cool. A fan's CFM (cubic feet per minute) rating determines how fast it cools the air. Because many decks are open (unless you have an enclosed patio or three-seasons room), you'll want to consider a fan with a higher CFM rating than you would for an enclosed room.
Since you'll be using the fan outdoors, look for a fan that is weatherproof so it can stand up to wind, rain, and moisture. Aesthetics also play a role, so choose a style that's both durable and matches with the rest of your decor. Some outdoor fans come equipped with lights, which add functionality and perform double duty, allowing you to better illuminate your deck and enjoy it at night.
Also, consider how the fan is operated. Some are remote controlled, which means you don't even have to get up to turn it on. Others are operated with a switch or pull string to turn it on and off.
Disclosure: As an Amazon Associate, Decks.com may earn from qualifying purchases from the links in this post.
Best Overall Outdoor Fan: Hunter Sea Wind Indoor / Outdoor Ceiling Fan
All the best outdoor fans have a few things in common. They're durable, stylish, and cost-effective. With more than 1,000 five-star ratings, the Hunter Sea Wind Indoor/Outdoor Ceiling Fan is our top choice. It's simple, classic design pairs well with any aesthetic. Plus, it's damp rated, making it ideal for use in humid climates.
Best Outdoor Ceiling Fan: BOJUE 52" Wood Ceiling Fan with Lights
If your porch, patio, or deck has a roof or pergola, you can easily tuck a fan into the ceiling. A ceiling fan provides great air circulation and can cool large areas quickly. The BOJUE 52" Wood Ceiling Fan with Lights has a modern 3-blade design and can be operated remotely, allowing you to turn your fan on without ever having to leave your hammock or lounge chair.
Best Wet Rated Outdoor Fan: Minka-Aire Java 54" Smart Ceiling Fan
The Minka-Aire Java 54" Smart Ceiling Fan is wet-rated, which means it can come into contact with water without sustaining damage, making it ideal for people who live in particularly rainy areas. This fan can easily be controlled using your smartphone thanks to a downloadable app, and has a stylish, contemporary design.
Best Outdoor Fan with Light: Honeywell Belmar Ceiling Fan
If you spend a lot of time on your patio at night, you know it's helpful to have extra light to brighten up the space. A fan with built-in lighting essentially takes care of two problems at once: you can cool your outdoor space and light the area at night with just one device. The Honeywell Belmar Ceiling Fan fits the bill for both of these tasks. It's equipped with a simple pull string for turning on the light and operating the fan.
Best Large Outdoor Fan: Monte Carlo Maverick Super Max Outdoor Fan
Go big or go home! The Monte Carlo Maverick Super Max Outdoor Fan is a whopping 88 inches in diameter, so you can cool large areas quickly. It comes in a number of different finishes to fit in with any outdoor decor and it provides optimal air circulation for any porch, patio, or deck.
Best Budget Outdoor Fan: Honeywell Palm Island 52-Inch Tropical Ceiling Fan
Even if you're on a budget, you can still get a stylish and functional fan for your outdoor space. The Honeywell Palm Island 52-Inch Tropical Ceiling Fan has an appealing palm leaf design and comes in white and bronze. It will work well in areas, circulating air up to 400 feet. This fan is also damp-rated, so it's safe to use in high-moisture outdoor areas away from direct contact with water. And the best part? It's under $150!
Best Modern Outdoor Fan: YOUKAIN 52 Inch Indoor/Outdoor Ceiling Fan
The YOUKAIN 52 Inch Indoor/Outdoor Ceiling Fan has a modern flair that will fit seamlessly with many contemporary design styles. It's feature-rich, with an included LED light, remote operation, and a super-quiet motor. Additionally, the motor is expertly sealed in waterproof housing, so you can use it in damp weather, as long as it's shielded from direct rain.
Best Outdoor Fan for Salt Air: Matthews Donaire Outdoor/Indoor Ceiling Fan
If you're lucky enough to have a beachfront patio, you'll want an outdoor fan that works in salt air. Salt is a corrosive mineral and tends to build up on surfaces, which can affect the function of delicate machinery. The Matthews Donaire Outdoor/Indoor Ceiling Fan is marine-grade wet-rated, which means it's suitable for coastal environments.
Purchase Your Outdoor Fan Today
When choosing a fan for your outdoor living area, your options are endless! Outdoor fans can keep you cool with a steady breeze, creating a more comfortable environment when enjoying your deck or patio – even on the most humid and sticky days. These fans can also be multi-functional if you choose one with a light. If you're looking to expand your decking experience, try some deck lighting options in our convenient guide to patio lighting ideas!