Ready to Start Your Project?
You'll be redirected to Trex.com, our composite decking website.
How to Restore & Refinish a Deck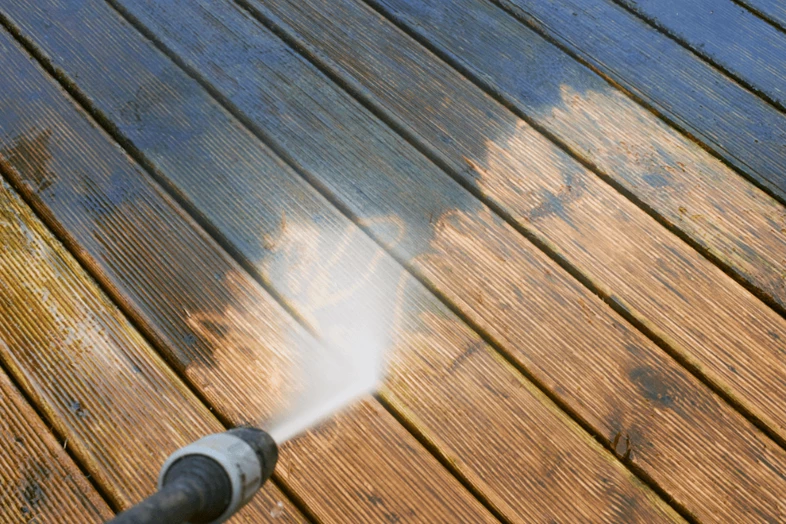 Decks need maintenance. A twice-yearly cleaning is needed at a minimum. But wood decks—even with good upkeep—can still warp, rot, or get termites. Plus, no stain or paint job lasts forever. Fortunately, you can reset the clock by restoring your deck and refinishing it. The work isn't expensive (especially compared to deck replacement) and requires no special skills. Read on to learn how to restore and refinish your wood or first-generation composite deck.
How Much Does It Cost to Refinish & Restore a Deck?
Deck refinishing cost depends on its size and the extent of deterioration. The choice of material—pressure-treated (PT) lumber, cedar, or composites—will also affect the cost.
After the worn sections are replaced, the entire deck will need refinishing. On a DIY job, that could entail renting a pressure washer and buying a chemical stripper, sandpaper, and a cleaner-brightener. Those materials, plus the paint or stain, can cost a DIYer $0.50 to $0.65 per sq ft. If you don't feel you possess the skills to do the job, consider hiring a professional to restore and refinish your deck completely. Labor costs will vary depending on your contractor.
Most composite deck boards only need occasional cleaning and should retain their appearance without much upkeep.
How to Restore a Wood Deck
Wood decks require a significant amount of maintenance, and when that's neglected it shows. To restore a weathered wood deck, inspect it for decay (rot, termites) and replace the bad boards. Next, remove the old finish. Scraping and sanding are the traditional methods, but chemical strippers are also available. After cleaning and rinsing the deck, apply the new stain or paint.
Step 1: Clear Off Debris & Furniture to Inspect the Deck
Remove furniture, planters, rugs, grills, etc., from the deck and sweep it clean. Note where the dirt accumulates and check the wood for moisture and decay by poking it with a screwdriver. Any area where the tool sinks in easily indicates rot. The closer the wood to the ground, the more likely it is to rot. Check where the deck meets the house, too. If you find severe decay in any part of the deck's structure, repair those areas before proceeding.
Step 2: Repair Any Damage
Replace broken or warped boards. Watch for dry rot, too. This is caused by a fungus that eats cellulose, the material that gives wood its strength and stiffness. Before replacing decayed or damaged boards, take some photos of the deck and close-ups of the board and share them with your decking supplier. They'll be able to identify which species of wood is currently on the deck so that any replacement boards are of the same species. If you find that the majority of the deck boards are bad, consider replacing all of them with composite decking. It requires much less maintenance than wood and doesn't rot.
Step 3: Remove Existing Stain or Paint
To ensure the new finish will adhere to your deck, scrape and sand away the old paint or stain until you reach bare wood. Prior to any sanding or scraping be sure to recess nail or screw heads below the surface of the wood. Replace any nails or screws that are showing signs of rust.
To minimize fatigue, use a scraper that you pull instead of push, and wear knee pads. Scrape parallel to the grain and beware of using high-speed power tools or coarse sandpaper. They might leave scratches that are difficult to conceal. Pressure-washers are fine for removing weakly adhered finishes but they can also damage the wood when misused.
Step 4: Use a Deck Cleaner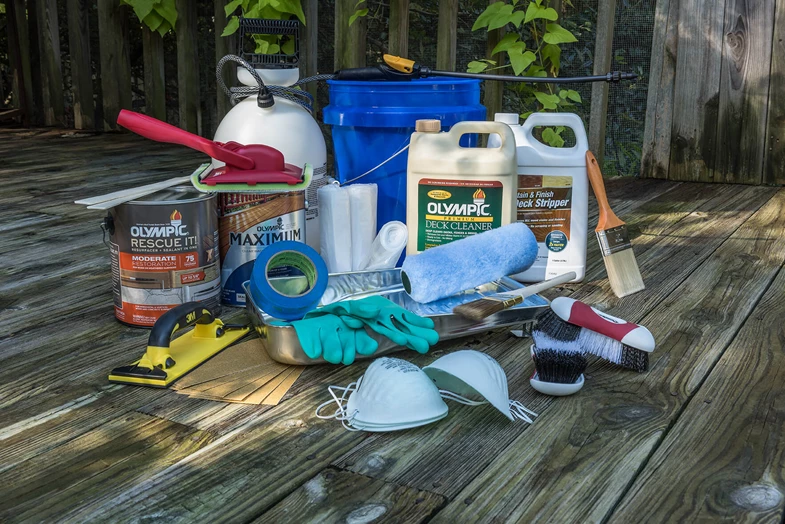 Deck cleaners, sometimes called cleaner-brighteners, are chemicals that you apply directly to the deck or mix with water and apply. Follow the manufacturer's instructions. In most cases, you wet the deck with a cleaner and then scrub the wood using a stiff plastic brush to dislodge dirt and debris. Some cleaner brighteners also neutralize chemical stripper residue. Rinse the deck and let it dry.
Step 5: Stain or Paint the Deck
Before applying the stain or paint to your deck, mask off the house with tape and plastic. Coat the deck, starting at a far corner and working your way across in parallel with the deck boards. While a sprayer or roller can apply the coating quickly, neither works it into the wood better than a brush. Work in sections of 50 sq ft or less, applying the coating as evenly as you can. Brush in drips and small spills as you go.
How to Restore a Composite Deck
Early-generation composite decks require more care and cleaning than currently capped composites. Refer to the manufacturer's care and cleaning instructions for specific details.
Clean your Composite Deck to Remove Dirt, Stains & Discoloration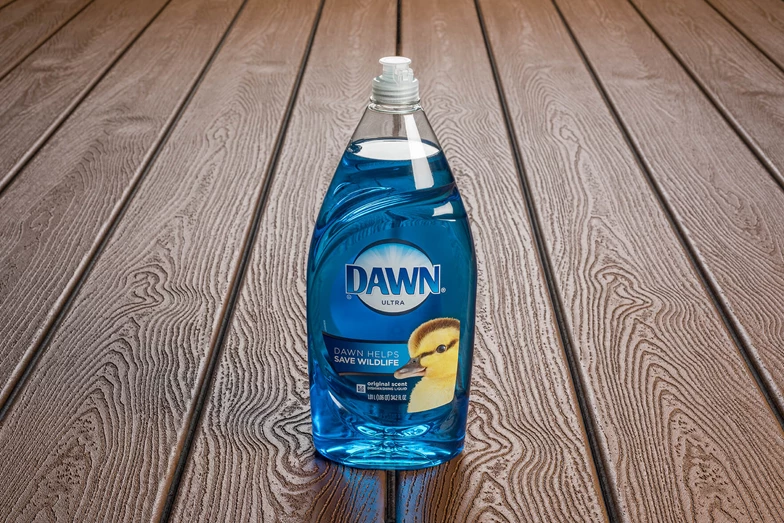 Modern composite decking has a PVC cap or shell that resists the elements and is easy to clean with a mild detergent and soft-bristle brush. Even moss and algae can be removed easily. If you use a pressure washer, set it no higher than 3,100 psi and use a fan-pattern nozzle. To remove tannin stains from decaying leaves and other common stains, use a deck brightener. Be sure to follow the manufacturer's instructions. You can also use white vinegar to remove hard-water spots.
Legacy or early-generation composite decking that has no cap requires different cleaning methods. Don't use a pressure washer. It's too aggressive. Nor should you use the chemical cleaners formulated for modern capped composite decking. They're too harsh. You can also contact the decking manufacturer with detailed questions in regards to cleaning recommendations as well.
Replace Damaged Composite Deck Boards
Composite boards don't deteriorate like wood, but if they break or get deep scuffs, scrapes, and stains, you might opt to replace them. Learn how to replace a composite deck board in our article on how to replace deck boards.
To find local retailers of composite decking and accessories, use our "Find a Retailer" tool.
---
Explore Articles by Topic
Explore Articles by Topic