Ready to Start Your Project?
You'll be redirected to Trex.com, our composite decking website.
Roof Top Deck Construction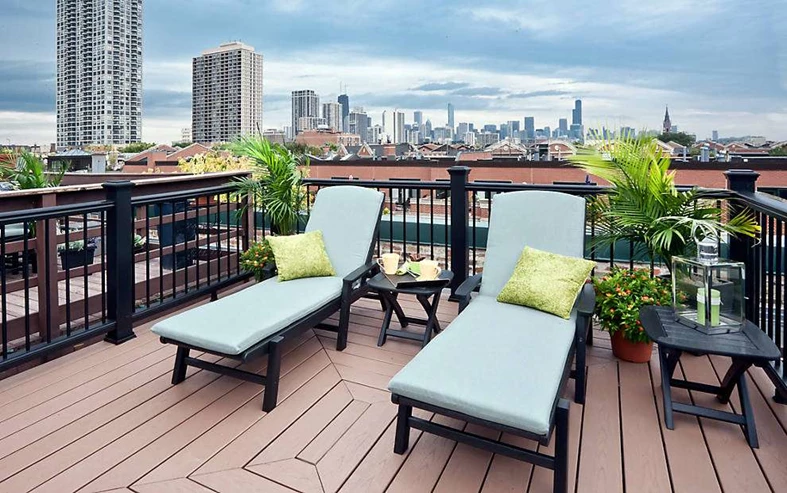 Rooftop decks transform otherwise wasted space into beautiful planes for entertaining, dining, relaxing and even gardening. The views will make your deck the talk of the neighborhood and draw frequent guests to your home or business.
To bring your rooftop deck ideas to life, you'll want to enlist an experienced contractor. Or if you have extensive building experience yourself, you can begin to make a plan for deck roofing that will serve you, your family and/or your business for years to come. Here are a few ideas to help you get started!
What to Consider Before Building a Roof Deck
As you might guess, building a roof deck requires a few different considerations than a ground-level structure. Known as "floating" decks, they are placed on top of (or float above) another structure.
One of the first considerations is whether your existing roof structure can support the additional weight of a deck. Consult a building code official to inquire about the load requirements. the additional weight is calculated by a licensed professional engineer before filing for a building permit.
The weight is especially crucial if you plan to add amenities such as a hot tub, pergola, stone fireplace or raised gardening beds. Be sure you calculate this added weight when assessing what your roof can bear.
Check Laws & HOA Regulations
The first and most important step in planning a deck on a roof is to check all local laws, zoning regulations, and homeowner association (HOA) rules. You or your contractor should consult with your local building department. Additionally, your municipality may have restrictions on decking depending on whether you're in a historic area. Your HOA may have rules in place that will dictate the size, style, and placement of the deck. Checking these regulations first can save you significant money and time.
Consider the Roof Type & Access
Additionally plan for how you will access the rooftop deck. Will stairways or sliding doors need to be added to ease entry and exit? With a flat roof deck, you not only have to think about how you'll get in and out, but how will the building crew access the space during construction. Some projects may need to use a crane, which means you'll need to take a look at any surrounding power lines, trees or other nearby buildings
Further, if your roof isn't completely flat, you need to assess how to build a rooftop deck on a sloped roof. Your contractor will have to plan how to square up the deck with its supports.
Choose the Right Materials for your Roof Deck
Next, you'll need to choose the right roof decking material. While this is similar to shopping for a typical deck build, you must also consider that the boards on the roof will face sometimes punishing weather. If there is low clearance over the deck, moisture may build up. If there is no shade, the deck boards will face long sun exposures and high heat.
Soft wood will not hold up well under these conditions. Similarly, a poor grade PVC decking product may experience warping and fading.
Choose a composite decking material or hardwood (such as ipe, garapa or cumaru) that can withstand the weather. Remember that a composite product will be virtually maintenance-free, while wood material will need to be consistently stained and sealed. Also, for the sake of the wood in the substructure, protect that wood and ensure proper ventilation to reduce the risk of wood rot.
Consider Waterproofing & Deck Drainage
One of the drawbacks of a flat roof is its tendency to leak. To waterproof your roof, add an under-deck drainage system to make sure all moisture is moved away from the structure.
Consult with a licensed roofing contractor regarding the current condition of your roof and advise you on options for under a rood deck. 
Plan Ahead for Deck Maintenance
When building the deck, you should think ahead to how you will maintain it, clean it and repair it for the future. Especially if you have built the deck under pine trees, you'll need to be able to clean out needles from the area beneath the boards. Using deck panels, you will be able to lift the boards with minimal effort. If you add an under-deck drainage system be sure you can access any clean out points.
Cost of Building a Rooftop Deck
As with any construction project, size and materials will dictate the roof top deck cost. Once you know the square footage, you can use an online calculator to get a cost estimate for materials. Remember to include railings, stairs, and fasteners in your estimate.
Next you'll want to assess labor costs. Depending on your area and the complexity of your build, the rooftop deck costs could be quite high. Rooftop deck costs can vary depending on the size and what extra features you decide to add.
Rooftops decks can range anywhere between $25,000 and $75,000 depending on materials, size, and amenities such as an outdoor kitchen, entertainment system, or bar. Consider the costs of creating covered areas throughout the deck so you'll be able to enjoy it no matter the weather.
You'll need to consider costs for:
Structural engineering
Building permit
Deck boards either composite, PVC, or wood (Remember a high-quality composite rooftop decking board is more durable and requires less maintenance.)
Railing
Fasteners
Extra features for deck, i.e. bar, heating, audio, or built-in add-ons
Outdoor kitchen
Lighting
Rooftop Deck Design Ideas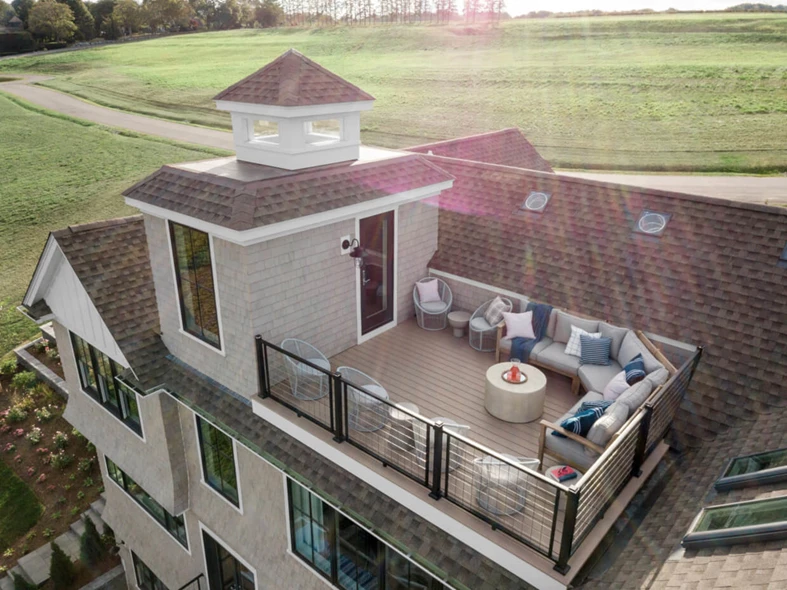 Next comes the fun part! Your dream rooftop deck design will be closely aligned with how you plan to use the space. Will you entertain and need space for tables and chairs or will it be more of a private sanctuary where you'll soak in a hot tub or lounge in a hammock? Will you want to add full-sun plants or more shady options? Talk through all of your needs with an experienced builder who can help you consider all the details.
Keep in mind that your deck design will need to incorporate any utility needs and amenities. A few options to consider: an outdoor kitchen, outdoor entertainment system, fireplace or fire table, hot tub and outdoor lighting. Get inspired with these designs.
Landscape Design
Just as you wouldn't plan a backyard deck without considering the landscaping, make sure you incorporate this same planning into your rooftop deck. This landscaping can be as simple as risers and drainage for annual garden boxes or as complex as including trees and shrubbery into your planning.
Choose plants that will be hardy enough to withstand prolonged direct sunlight. Or add some covering to take the heat off you and your plants. While it takes a little extra planning, incorporating landscaping into your rooftop deck can greatly expand your gardening options.
Deck Board Layout 
Be thoughtful about your deck board patterns and layout. A deck board layout might include a herringbone, diagonal or horizontal orientation. A thoughtful inlay can turn an ordinary deck into something more artistic. Add a picture frame edge to conceal edges and add contrast in color.
Rooftop Deck Railing
As you plan your deck design, don't neglect the railings. Consider a complementary material, such as metal or glass, or a contrasting color to add to the overall look and feel. Remember that the International Residential Code (IRC) requires any deck higher than 30 inches above the ground to have railings measuring at least 36 inches in height. Thus, roof decks always need railings.
Shade Options
As already mentioned, one of the challenges of a rooftop deck is that the constant sunlight can take a toll on you, your plants, and your deck boards. Thus, you'll want to consider some rooftop deck shade options. Beyond adding umbrellas, you might also build a pergola, plant some trees, incorporate awnings or construct a gazebo. A rooftop deck provides the perfect opportunity to enjoy fresh air. Consider shading part or all of the deck for protection from UV rays.
How to Build a Rooftop Deck
Once you've considered your options, checked out local regulations and enlisted a qualified builder (or determined you have the skills and equipment to do it yourself), you're ready to roll. Here are the main steps in how to build a rooftop deck.
Step 1: Prepare the Roof & Gather Materials
To start, you'll need to determine what supports the deck: sleepers, wood framing or an adjustable pedestal system. Gather these roof deck materials, along with rooftop decking, and tools for the job.
Step 2: Prep Sill Plates & Support Beams
Next, cut the support beams and sill plates. Your builder or architect can supply the specifications for these materials. Be sure to fasten in place with galvanized hardware, or stainless if you're near salt water.
Step 3: Join the Beams with the Sill Plates
Attach the beams to the sill plates. Label the hole on the hold down for each plate, then attach the beam.
Step 4: Install Joists & Framing
Be sure all the beams are secured, then install the joists, framework.
Step 5: Install Deck Boards
Finally, lay the deck boards. As mentioned earlier, be sure to work out the pattern for the boards before beginning work.
Get Started Building your Dream Rooftop Deck
Now that you've chosen a roof deck design, picked preferred materials and thought through the details, it's time to get started on your deck project. Use our find a builder tool to get quotes or our find a retailer tool to get your materials. Be sure to geta good quote before moving forward and talk through the process with the builder and set solid expectations. Soon your roof deck ideas will be a reality!
---
Explore Articles by Topic
Explore Articles by Topic