| | |
| --- | --- |
| Article Category: | |
Roof Top Deck Construction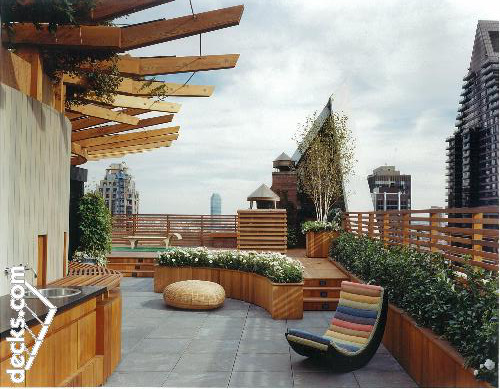 Building a deck over a flat roof is very similar to building a deck over a concrete patio. These decks are often referred to as "floating," as they are not secured in place as a stand-alone structure. They are merely "placed" on top of another structure.

First, you must make sure the roof is strong enough to support 55 lbs per square foot.

Next, you will need to install a watertight EPMD rubber membrane over the top of the roof deck for protection against water infiltration in place of roofing materials.

Then, you

will install "sleepers" or flat 2x6s laid flat every 16" on top of the roof surface.

This will provide the surface for you to attach the decking.
There are proprietary pedestal systems that provide a very stable, level and serviceable deck over a roof membrane, though, they are relatively expensive compared to conventional methods.
In whatever manner a deck is constructed over a roof, maintenance for cleaning and repairs of the membrane below is recommended. Deck "panels" should be constructed that can be lifted with minimal effort or damage. The roof below should be cleaned and inspected at whatever intervals is found necessary for each deck. A deck located under pine trees will need much more maintenance to clean out debris than a rooftop deck above a high-rise.
Flat roofs are prone to leaking even without decks because of design errors, improper materials and improper installation. Many times when roof decks are installed, they further damage roofs causing more severe leaking and drainage problems. Proper waterproofing for a roof deck involves installing an EPDM membrane and flashing around deck supports and rail penetrations. This is often accomplished using EPDM boots that fit over the openings. EPDM is a rubber like sheet used for waterproofing surfaces. Roofs should be sloped about 1/4" every 12" to shed water. Drainage is very important because pooling water can cause leaks.