Ready to Start Your Project?
You'll be redirected to Trex.com, our composite decking website.
Best Deck Stains for 2023
As an Amazon Associate, Decks.com earns from qualifying purchases from the links in this post.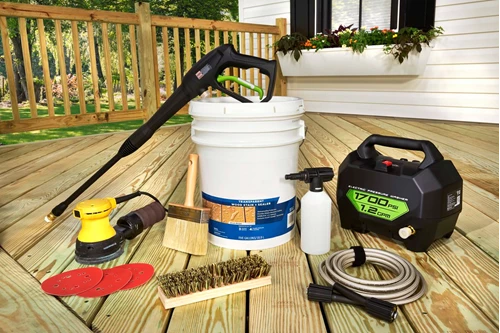 Even the toughest decking materials can be gradually worn down by elements. Sun exposure and UV rays can cause surfaces to fade, moisture can promote rot or infestation, and even changes in temperature can expand and contract organic materials, such as wood decking planks. Using a deck stain is one of the best ways to minimize these problems over time.
Finding a great deck stain can help keep new wood decks looking their best well into the future, or restore a weathered deck to its former glory. But there are significant differences between selections, and not all of it comes down to aesthetics.
Some options might require reapplication more often, be more vulnerable to cold weather, or provide less protection against UV rays. Between solid stains, transparent, and semi-transparent stains, determining the best deck stain for your project requires poring over a few deck stain reviews to understand what you need to create a gorgeous deck.
What to Consider When Choosing a Deck Stain
There are a few factors to weigh when considering choosing a deck stain.
If you're going to figure out the right formula for your project, you might want to learn first, how to stain a wood deck or how to seal a deck. Some stains last much longer between applications, can be challenging to apply, or may require less maintenance.
Oil-Based vs Water-Based
Water-based stains have better UV-resistance, and consequently, avoid fading better than oil-based stains. They're non-flammable, environmentally friendly, dry faster, have fewer odors, and their breathability prevents moisture from becoming trapped in the wood. However, they also take longer to apply.
An oil-based stain is very easy to apply, but will likely not last as long. While these stains provide an almost identical level of protection against moisture, they are more likely to trap moisture and tend to have less lasting power.
Opacity
Clear or transparent stains are often the best choice for newer wood, especially if it's a high-quality material, because these stains allow you to retain and highlight the wood's natural beauty. Solid stains are a good choice for decks that have some visible imperfections. They're also great for instances where you'd like to totally change the color scheme of your deck.
Semi-solid stains split the difference. They allow you to hide modest wear-and-tear, while still seeing a fair amount of wood grain, but they also fundamentally change the appearance of your deck. You can also find dozens of different shades of brown, as well as less traditional options like green or purple.
Stain vs Sealer
Sealers are transparent, allowing you to continue enjoying the natural coloration and grain of your material. And sealers are fantastic at repelling water, as well as protecting the wood from rot and infestation. There are also coating sealers, which provide a hard surface to add a scratch-resistance property to your wood, like varnish or lacquer.
Stain is essentially a sealer that has a pigment added to it. The pigment provides coloration as well as adding protection against UV, which can cause fading and cracking. However, stains will naturally fade over time, and most will need to be reapplied every two to five years. Generally speaking, darker colors and solid stains have the most lasting power.
Here are our top picks for the best stains for a variety of decking types.
Best Overall Deck Stain: Cabot's Australian Timber Oil
Many people consider Ipe oil the golden standard for deck stains, but if you're balancing quality against cost, Ipe is rarely your best choice. For that, you'll want Cabot's Australian Timber Oil. It's arguably the best deck stain for pressure-treated wood, as this darker Amberwood pigmentation provides both beauty and lasting power.
Color options are limited, however, the Amberwood shade can provide an attractive darker hue that is attractive on nearly any type of wood deck. If you're looking for a stain that can turn almost any material beautiful, the best deck stain for most jobs is often Cabots.
Best Deck Stain for Pressure Treated Wood: DEFY Semi-Transparent Exterior Wood Stain
DEFY Semi-Transparent Exterior Wood Stain is a water-based acrylic that provides a modest degree of protection against chipping. It's also formulated to provide a moderate degree of protection from the sun. Once applied to a surface, it can be cleaned with nothing more than soap and water. Each additional coat will add more coloration, while a single coat provides less UV protection than two.
DEFY is available in 1- and 5-gallon buckets. It's worth noting that you end up with good coverage so you don't use as much as you might with other brands of acrylic. Since you only need to apply enough to ensure that drops of water bead on the wood, a simple water test can reveal if a second coat is necessary.
Best Solid Deck Stain: Restore-A-Deck Solid Color Stain for Decks & Exterior Wood
Restore-A-Deck Solid Color Wood Stain is formulated with a special synthetic resin, making it both highly protective and easy-to-use. But what really makes this the best solid deck stain is the fact it's water-based, ensuring that cleanup is simple, there are minimal fumes, and you can stain and prepare the wood on the same day.
While the sticker price is a little higher than average compared to other stains, that's largely offset by the lasting power of these pigments. Application leaves behind a beautiful opaque matte finish that's available in five standard colors, gray, white, oak, cypress, taupe, and espresso.
Best Semi Transparent Deck Stain: Ready Seal 512
What makes the Ready Seal 512 the best semi transparent deck stain is basically a combination of selection and ease of application. It's available in 9 shades of brown, and that wide range of color selection makes it easier to find a shade to perfectly match your project. Like other types of Ready Seal, their formula is great at ensuring you don't have to worry about runs or streaks during application.
Applying this formula with a yard sprayer is efficient in terms of time, but it's not very cost-effective, resulting in a lot of wasted stain. It's much more effective to use a roller or brush, which brings the cost of wide coverage well within the average.
Best Water Based Deck Stain: Restore-A-Deck Wood Stain (Semi-Transparent)
Similar to their solid color stain, Restore-A-Deck's semi-transparent wood stain is formulated to maximize the penetrative potential of a water-based stain. That allows it to provide a highly protective and potentially long-lasting stain, along with a low-odor application, and a lifetime of easy cleanup. While you can opt for more opaque options, Restore-A-Deck also offers a variety of semi-transparent tones to match the natural beauty of several popular kinds of wood, including cedar, dark walnut, light walnut, as well as natural and cottage gray finishes that work well for a more lived-in effect.
But even the best water-based deck stain will require you carefully follow the application procedures, or you can end up with botched results. For a larger deck, the application can take as long as three days. Though this formula doesn't handle freezing temperatures well, if you don't live in arctic conditions, you'll be able to minimize the necessity of regular reapplication. If you apply it properly, it's a highly protective stain that dries with an outstanding natural finish.
Best Oil Based Deck Stain: Cabot Wood Toned Deck Siding Stain
By combining oil and resin, Cabot Wood Toned Deck Siding Stain provides everything you might expect of the best oil based deck stain. It's great at keeping out moisture, protecting from mildew and mold. It's resistant to cracking and peeling and dries after about an hour or two after application. The oil-based formula helps ensure its long-lasting, and the resulting matte finish speaks for itself.
Cabot's stain is only available in five wood tones, ranging from cooler gray to warmer browns. And in particularly harsh weather, or with an especially thick coat, you're at greater risk of suffering cracks, which can end up requiring more routine maintenance. But if you're going to use a shade of brown and want something that will need as few regular reapplications as possible, Cabot is a great choice.
Best Deck Stain for Old Decks: SEAL-ONCE Nano+Poly Ready Mix Penetrating Wood Sealer & Stain
The SEAL-ONCE Nano+Poly Ready Mix Penetrating Wood Sealer & Stain is a highly rated product in the industry. It provides great protection against the sun, it's mildew-resistant, and eliminates warping & cupping. It's also great for protecting materials against water damage and cold weather conditions, like rain, snow and ice. Additionally, the stain's proprietary nanotechnology penetrates deep into the wood's fibers to create a barrier, making it arguably the best stain for old decks.
Best Deck Stain for New Decks: Ready Seal 512
The best stain for new decks will largely depend on aesthetic preferences and the quality of the materials you're using. But in almost any case, Ready Seal 512 will be a serious contender. One of its most appealing features is that this stain is only slightly thicker than water. As a result, this formula doesn't require back-brushing, making the application particularly fool-proof. You don't have to worry about streaks or runs unless you're exceedingly sloppy when applying it.
From natural cedar to golden pine, from mission brown to burnt hickory, Ready Seal 512 is available in nine different shades. It's worth noting that the amount of UV protection you get will partially depend on your color selection as lighter colors tend to fade quicker.
Staining: An Important Part of Your Wood Deck Care Routine
Stain can be your wood deck's first line of defense against the elements. But there are many more things you can do to ensure the longevity of your deck. Taking a moment to learn more about routine deck care can save you enormous amounts of time, money, and effort.
If you don't want to stain your deck on a regular basis, you might want to consider switching to composite decking, which requires significantly less maintenance and will retain its color without yearly staining. Compare composite to wood decking to find what's right for you.
This page contains affiliate links. If you choose to purchase after clicking a link, Decks.com may receive a commission at no extra cost to you.
---
Explore Articles by Topic
Explore Articles by Topic