Ready to Start Your Project?
You'll be redirected to Trex.com, our composite decking website.
Redwood Decking: Cost, Maintenace & Types of Redwood
Redwood is a remarkable deck material in almost every way. It is very stable, straight and its heartwood is naturally resistant to wood boring insects and weathering without the use a preservative chemicals. Its fragrant, earthy reddish brown heartwood gives it its name. If left unfinished, redwood will initially turn black and then slowly turn into a silver gray. Its high-stability makes it less likely to cup and warp than treated wood. It is prized for its low shrinkage rate, so splitting is minimized. Redwood fastens and machines well but can be brittle - you may need to pre-drill holes at the ends of boards to prevent splitting. Its milled or sanded surfaces accept paint and stain easily. It is recommended that you use a protective finish with a water repellant, mildewcide and ultraviolet inhibitor.


Redwood can last up to about 30 years on a well-maintained deck under good circumstances. Redwood is the most fire-resistant decking material on the market. Its use as building cladding is credited with limiting the Great Fire following the 1906 earthquake in San Francisco. Historically, redwood has been the most popular deck material because of these properties. However, because of a limited supply and environmental concerns, it is now less available and usually the most expensive option. Also, Second Growth trees don't perform nearly as well as the Old Growth trees that established redwood's outstanding reputation because they do not possess as high of levels of decay resistance. Redwood decking material is widely available on the West Coast in various sizes and grades, but has very limited availability most everywhere else.
Grades Of Redwood Decking
There are over 30 grades of redwood, varying in appearance and durability. Redwood can be ordered in standard dimensional lumber sizes. Kiln-dried is more expensive, but is more stable. It may be helpful for tight jointery like for rail parts. There are two principle grades: Architectural and Garden Grade. Garden grade redwood should not be used for building decks because it contains sapwood.

Architectural – These grades contain only heartwood which exhibits all the best properties of the wood.

Clear Heart – This is a premium grade that offers knot-free surfaces. Because of its high expense, it is usually only used for rails and trim on decks. Clear Heart grade contains no grading defects. It is normally certified as Kiln-dried.

Select Heart – This is a step below Clear Heart and contains limited knots.

Construction Heart– Con Heart is less expensive than Clear Heart. A limited number of knots and some defects are present.

Deck Heart - Deck Heart has a similar appearance and use as Construction Heart, but is also graded for strength. Deck Heart is only available in 2x4 and 2x6.

Merchantable Heart – This grade is not recommended for decking. It is the cheapest heartwood grade and allows slightly larger knots than Con Heart grade and holes limited to the size of knots. You will find checks, some manufacturing flaws and some splits.

Garden – These grades may contain sapwood and are not recommended for decks. Garden grades are usually used for outdoor furniture, trellises, fences and planters.

Clear – Clear Garden exhibits the same general characteristics as Clear Heart except that sapwood is present. It is normally certified Kiln-dried. Garden grades should not be used for decks.

Construction Common – Exhibits the same general characteristics as Con Heart, but contains sapwood and heartwood. Garden grades should not be used for decks.
Trees And Environment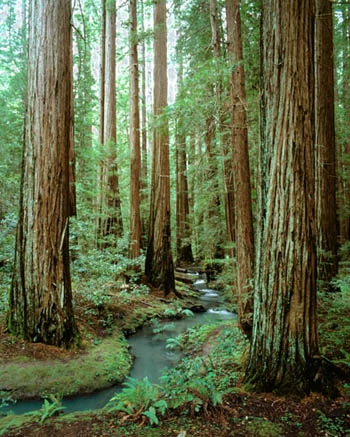 These trees are truly giants - averaging 8 feet in diameter and reaching as much as 20 feet in diameter, some are as tall as 375 feet. That is taller than the Statue of Liberty. Redwood trees are absolutely the largest living thing on Earth. Some old-growth redwood trees are over 1,000 years old. Native to the moist foggy coast of the Pacific Northwest, redwood trees are legendary for their size and the quality of softwood they provide. Because of past exploitation and abusive logging practices such as clear-cut forests, redwood building materials still carry the stigma of an environmental tragedy.

There are only 1.74 million acres of redwood forests left. Today, strict logging restrictions have been enacted to protect old-growth stands and specimen trees for scientific research. More than 95% of the remaining ancient redwood forests are protected from harvesting. There are over 250,000 acres of protected redwood forests in our state and national park system. Law now requires that companies owning more than 50,000 commercial acres of redwood forests are required to prepare a sustained yield plan. These plans must adhere for an equal balance of growth and harvest over a 100-year period to achieve sustainability. Many strides have been made to protect what is left. The Forest Stewardship Council (FSC) now independently certifies four out of every five acres of commercial redwood forest.
---
Explore Articles by Topic
Explore Articles by Topic