Ready to Start Your Project?
You'll be redirected to Trex.com, our composite decking website.
Our Favorite Porch Ideas & Designs for 2023
Porches can add an element of charm and relaxation to your home. Whether you're planning on building a porch of your own, or enhancing the porch you have, browse through our collection of imagery for some popular porch styles and find the inspiration you need for your project.
Not sure where to start? Think about the style of porch you have or want. Porches come in all types of architectural designs from Colonial to Victorian to modern. You'll want to choose a style that enhances your home and suits your lifestyle.
Popular porch ideas include the wrap-around porch, which is most common on older Victorian-style homes. Another option is a screened-in porch that allows you to enjoy the fresh air without getting bitten by insects. Other homeowners enjoy the functionality and privacy of a covered back porch that allows them to read, eat, or sunbathe in a more private setting.
Whether you are narrowing down your ideas for your porch or just getting started, our collection of images and ideas can serve as a springboard for your next project.
Ideas For All Types of Porches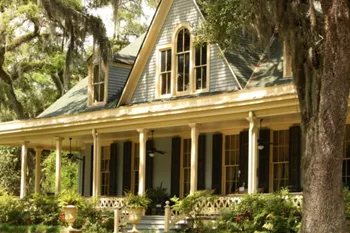 Traditional Wrap Around Porch Style
This elegant wrap-around porch with ceiling fans feels like a natural extension of the home. The contrasting color of the covered front porch beautifully offsets the dark shutters and unusual-yet-tasteful blue-gray exterior of the house. The slender columns and intricately carved railing frames the porch and offers a relaxing place to admire the lush landscaping with a glass of sweet tea.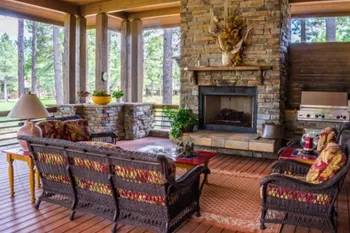 Enclosed Porch
Floor-to-ceiling windows, a rough-hewn stone fireplace, and the rattan furniture with ultra-thick cushions make this an enclosed porch suitable for all seasons. The light-colored wood ceiling draws the eye upward while floor-to-ceiling windows flood this porch with sunlight and offer a spectacular view. The built-in grill makes it easy to entertain and whip up a feast for guests!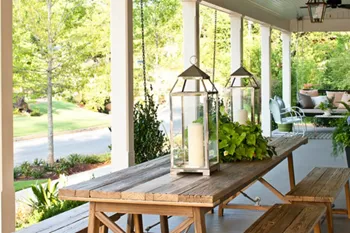 Farmhouse Style Front Porch
Spanning the front of the home, this low covered porch is outfitted with a rustic picnic table and vintage-style patio furniture. The lack of porch railings combined with the casual furniture and gravel walkway makes this porch an inviting spot to enjoy the natural beauty of your neighborhood surroundings.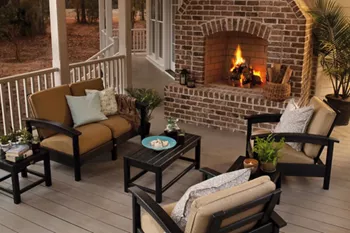 Modern Side Porch
A large, angled side or back porch, a sizeable brick fireplace, and black lacquer outdoor furniture make this a jaw-dropping outdoor living area. The tone-on-tone colors play off the natural beauty of the surrounding wooded area while the elegantly curved walkway makes it easy to access both the yard and interior of the home.
Back Porch Ideas
In the old days, back porches sometimes held the washing machine. These days, they're more likely to be a spot for a comfortable chair and some potted plants with a railing and steps leading into the backyard. Keep your porch simple or dress it up as an elegant outdoor living space, depending on the furnishings you choose.
Colonial Spindle Railing
It's all about the details! Look closely at this front porch and you'll notice that the quaint porch railing is modeled after those of early Colonial-style homes built on the East Coast in the early days of the U.S. The turned wood "spindles" provide support for the porch railing and serves up eye-catching details to complement the simplicity of this classic front porch.
If you already have a porch, there are countless ways to transform it into a beautiful outdoor living space that's just as much a part of your home as your living room or dining room. And if you've been dreaming about adding a porch to your home, consider customizing your look with separate components or look to pre-made porch kits that make assembly easier.
You can see more porch ideas and pictures here to create an inviting space you'll enjoy for years to come.
---
Explore Articles by Topic
Explore Articles by Topic