Ready to Start Your Project?
You'll be redirected to Trex.com, our composite decking website.
How to Nail a Deck Beam
When securing 2 or more dimensional wood boards together to form a beam you will need to use the proper number and size nails to create a solid member. A 2x10 Beam should use a minimum of (4) - 3" nails fastened in a vertical pattern from both sides of the beam every 16" on center. Be on the safe side when in doubt and use extra nails, having too few nails can result in diminished holding strength that might allow the beam to separate. Always verify that you are using nails that are compatible with pressure treated lumber because some nails will corrode or dissolve with exposure to the chemicals found within treated wood.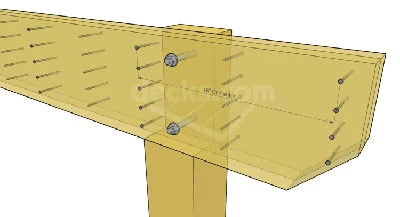 It is easier to combine the boards on the ground before setting the beam.
Try to use very straight and dry wood boards and build the beam on a flat surface or on top of saw horses to keep the corners aligned. When working with an extraordinarily heavy beam you may want to build it in sections to make lifting easier. If this is the case make sure the splices will fall over the top of support posts. You may also want to mark the beam with a construction pencil to indicate the locations of the joists to make your job easier once the beam is raised.
Make sure the tops of the boards are flush. Nail them at an angle so the point of the nails won't go through the beam. Reverse the angle of the nails at the ends of the beam to lock it into place for strength. Start at about 4" from the ends of the beam. Nail both sides of the beam. Do not use screws.
---
Explore Articles by Topic
Explore Articles by Topic