Ready to Start Your Project?
You'll be redirected to Trex.com, our composite decking website.
How to Clean Outdoor Patio Cushions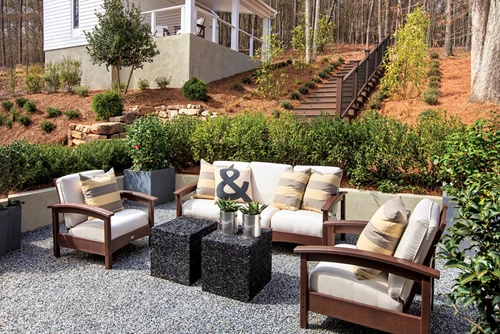 Adding the right elements, like outdoor furniture, can have a transformative effect on your deck. But that effect can be diminished if birds decide to come visit your deck, or moisture accumulates on your cushion fabric. That's When you find yourself trying to figure out how to clean outdoor cushions on the internet.
Removing stains can be tough, because no two are exactly alike, especially when it comes to cleaning outdoor cushions. Sometimes you're fighting something that happened in a matter of minutes; other times it's a battle against stains that developed over years. From oil to water stains, cleaning patio cushions is not always as simple as throwing them into the wash. Given the time-sensitive nature of some stains, it's worth learning how to clean patio cushions the right way.
Ways to Clean Outdoor Cushions
Outdoor patio cushions are made from an enormous range of fabric blends, stitching designs, and material quality. They might age, fade, or behave differently depending on temperature. Yet, familiarity with some of the basic methods and when to use them can be helpful in keeping your patio cushions as fresh and attractive as possible over time.
Hand Wash
For fabrics that require a gentler touch, or those treated with special UV-protecting chemicals, the best way to clean outdoor cushions is usually hand-washing. Most outdoor fabrics are intended to endure a hard-bristle brush, but you may want to check with the manufacturer or do a spot-test to see how the fabric holds up.
You'll need the following:
Hose
Hose Sprayer Nozzle
Brush
Water bucket
Soap / Cleaning Agent 
Start by hosing down the cushions to get them wet. Consider keeping them clear of grass and other potential sources of mud.
Spray down each cushion without trying to dampen the whole thing thoroughly if possible. Mix 2 Tbsp. of detergent or another cleaning agent into a gallon of water in your bucket.
Apply cleaning solution with brush, scrub on spots that require attention, then rinse each cushion.
Allow to dry in the sun.
Machine Wash
To minimize the amount of labor involved in cleaning outdoor furniture cushions, a machine wash may be your go-to choice. It's important to pay close attention to the instructions on the tag of your outdoor patio cushions to be sure they can handle a tumble in the washer and dryer.
Here's what you need (and need to know) in order to machine wash your patio cushions:
Washing machine
Liquid detergent
Clothes line or dryer 
Pre-treat stains with cleaning solution, if necessary.
Use lowest effective wash setting, which typically means set the wash to the "gentle" cycle.
Air dry or machine dry until the fabric is slightly damp. Keeping the fabric slightly damp allows it to restore its natural shape without incurring risk of shrinkage.
Power Wash
How do you clean outdoor furniture fabric when deep stains are involved?
If the fabric can withstand the pressure -- and when the mess calls for it -- a power wash can be one of the most effective ways to clean outdoor patio cushions. However, if this method is used carelessly, a pressure wash can break seams, pop stitches, or tear away buttons. To avoid damage to your cushions, follow any instructions on the fabric's care tag or visit the manufacturer's website to be sure a power wash won't do more harm than good.
You'll need:
Pressure Washer
Soap Spray Attachment
Fabric-appropriate bristle brush
Pressure washer cleaner (or alternative cleaning agent) 
Mix solution for your pressure washer and ensure the nozzle is attached securely.
Choose the lowest PSI setting and try and maintain a maximum effective distance from the target while spraying.
Avoid directly spraying the seams, if possible.
Once washed, turn cushions horizontally to help them dry; flip sides to dry evenly as needed.
How to Remove Specific Stains from Outdoor Cushions
It can't be emphasized enough -- not all stains are alike. Although mold and mildew often pose more of a problem in some climates compared to others, they can easily develop under improper care regardless of geographic locale. Bird droppings can also be a tough stain to remove. However, with the right solution, you can minimize the amount of time and elbow grease necessary to overcome specific stains.
Bird Droppings
When cleaning bird droppings from outdoor patio cushions, it's important to try not to spread the stain in the process of cleaning it. That process can be made easier by attempting to remove as much of the substrate from the cushion as possible, prior to washing, and then using small circular scrubbing motions instead of elongated strokes.
Spray down the stain with a liquid detergent using warm water, or hot water, if possible. Spray in spots where the stain is visible. Use a soft bristle brush or wash cloth to gently scrub the fabric. A specialist cleaning agent typically isn't necessary, but under those circumstances, a pet stain cleaner will generally work.
Mold & Mildew
Mildew and mold develop in damp, dark, warm environments. In addition to being unsanitary, unappealing, and giving cushions a strange smell, mildew can cause formidable discoloration. When permissible, the best way to clean patio cushions with mildew is usually bleach: however, it will depend on the stained substrate.
To clean fabric, dilute half a cup of bleach or Lysol into a gallon of water and spray the solution directly on the mildew. You'll need a brush to scrub and rinse, then let the cushion dry. Deeper mildew stains can require several rounds of spraying and scrubbing rather than a single pass. It's often better to do four gentle scrubbings than try and get the job done in two by being too hard on your fabric. Acrylic cushions follow the same process, but should use two extra cups of detergent in the cleaning solution.
Food & Oil Stains
It's unfortunate that food stains are almost an inevitable byproduct of creating a great outdoor dining area, but even these stains aren't invulnerable to the right methods.
If the stain is fresh, you can remove excess oil with a clean cloth. Otherwise, treat the stain as quickly as possible. Once it's dried, the oil stain will become more challenging to remove. In either case, you can try to apply baking soda to the fabric and allow it to set for one day. Brush the baking soda away and spray the cushion with a vinegar and water solution. Then, scrub and rinse.
Depending on the fabric, you may also have luck with chalk and dish soap. However, keep in mind that synthetic fibers tend to attract oils rather than repel them, which can make stains especially difficult to remove. Similar to dealing with bird droppings, you'll want to use small controlled motions to prevent the stain from spreading.
How to Keep your Outdoor Cushions Looking Great
Regularly caring for your outdoor furniture and patio cushions can save you a lot of hassle, and make for a much smaller cleanup in the future. When it comes to outdoor cushion maintenance, taking a few basic precautions can save you a lot of frustration. Here are a few things to keep in mind:
A wet climate can mean greater risk of mold; dry climate can mean greater risk of wind or dust. Plan accordingly.
Using protective spray applications like Scotch Guard can help protect against water damage, and make stains easier to deal with in the future.
Running a leaf blower at regular intervals can prevent the build-up of stubborn-to-remove debris, and prevent moisture from becoming trapped in fibers and creating water stains.
Covering furniture when it's not used can extend its longevity, while regularly rotating cushions can help them age and wear evenly in the sun.
Clean spills quickly whenever possible and you can avoid attracting bugs, growth of mold and mildew, and other setting of stains.
Maintaining an inviting deck area may take a little time, but the end results are worth it. For more tips on keeping your patio and deck a space you'll enjoy for years to come, browse through Decks.com's Design and Inspiration articles.
---
Explore Articles by Topic
Explore Articles by Topic