Ready to Start Your Project?
You'll be redirected to Trex.com, our composite decking website.
How to Build a Porch: Steps for Building a Front Porch Deck
A front porch can be a graceful addition to a home, giving you a place to enjoy your neighborhood and surroundings in the fresh air. While it serves a similar purpose as a deck, you may be wondering what is the difference between a porch and a deck when it comes to building. In general, building a porch can be a more involved process compared to building a deck.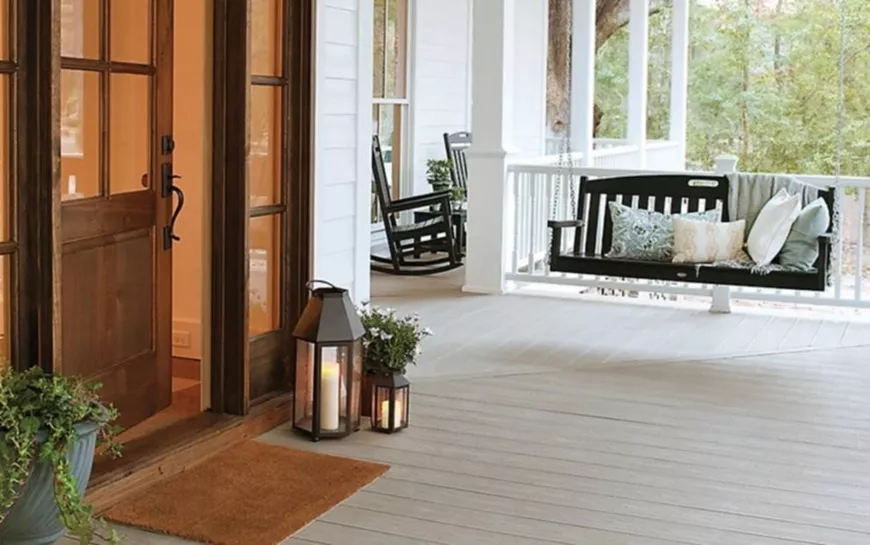 Building a porch can also be more expensive than building a deck, as well as more complicated. Porches need to be designed to support 80 lbs per square foot, compared to 55 lbs per square foot for decks. This extra 25 lbs per square foot is required to safely support the roof and snow loads. Footings are often required on the sides of porches that use a gable porch roof. Footing sizes are larger and need to be positioned so that support posts can directly transfer roof loads through sound framing to solid foundations.
Unlike a deck, a porch may require a roof. A deck is typically attached to a home or can be a free-standing structure that is open on all sides. A porch is typically enclosed on three of its four sides and, because it juts out from the front of a house, is often situated beneath a roof or overhang that is part of the house.
Adding a roof to a porch can be a complicated project and hard work. Typically, a porch will have a roof over it because it's already part of the house. However, if you're adding or expanding a porch to your house and your home does not have enough of an existing overhang to serve as a porch roof, building that roof over your porch can be complicated. You'll be handling heavy materials while standing on ladders at high elevations. You will need a couple of helpers to build a porch, as this project definitely demands more skill and physical conditioning than building a typical deck project.
However, don't let that deter you from making a porch your next home project. Knowing the steps involved can help you be prepared if you decide that a front porch will add value and enjoyment to your home. Let's get started and learn more.
Building A Front Porch: Steps for Adding a Porch to Your House
By building a front porch, you'll add a gracious welcome to your home -- an inviting spot that visitors first encounter and a cozy retreat to enjoy a cup of coffee. Maybe you'll add a porch swing and rocking chairs to while away the hours as you watch the world go by.
Imagining the enjoyment you'll get from a front porch can go a long way toward planning the type of space that you'll enjoy for years to come. However, there are a variety of practical matters to consider, such as how much it costs to build a porch and if you need permits. Below are step-by-step instructions for adding a porch to an existing house.
Step 1: Assess Your Location
Adding a front porch to your home can give you a new outdoor living room, it can also cut off the light inside your home. Do you have a sunny breakfast nook that you love? Consider its location before choosing to build a porch that will reduce the sunlight flooding in if you want the let the sunshine in.
Step 2: Consider Your Home's Architecture
A Victorian home calls for a very different sort of porch than a 1920s bungalow. If you live in a historic home or a historic district, you should definitely visit your city building and planning office to find out if there are regulations you need to follow. Historic homes may have limits as to the type of materials that can be used. For instance, if your home was built in the 1800s, some areas have laws that you cannot use certain materials (such as vinyl screening or composite decking) to craft a porch.
Even modern neighborhoods with newer homes may have certain restrictions, so check with your neighborhood association or township before you start building. You'll probably need a permit to build your porch, too! Getting all of your approvals up-front is one of the biggest steps toward building your porch.
Step 3: Plan Your Railings, Steps, and Porch Stair Railing
Before you start building, you want to evaluate the existing look, style, structure, and materials of your home. Make sure everything matches up. Some porches are a simple wooden raised porch with a plain railing and a roof - like you would find on a farmhouse. Other porches have turned balustrades. It all depends on what looks right on your home.
Once you have an idea of the style of porch that will work for your home, it's worth exploring your options with a knowledgeable friend or enlisting help from a local home supply store to get your porch design plans right.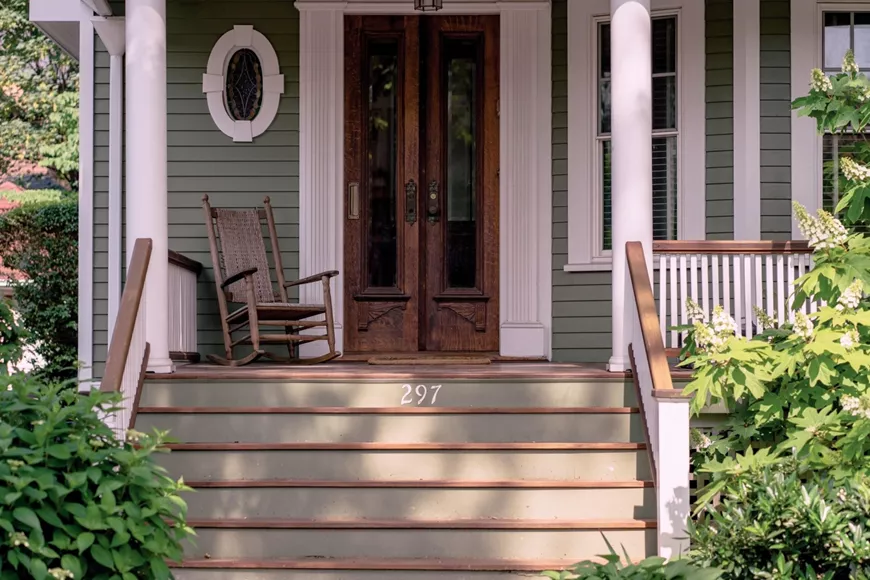 Step 4: Plan Your Porch Construction Materials
Now that you've got a rough design for your porch, you know how large it will be. You'll also know if you're building it completely out of wood, composite decking, or if your design will incorporate stone flooring or even tile or brick. As you get your construction materials together, you'll also need foundation materials.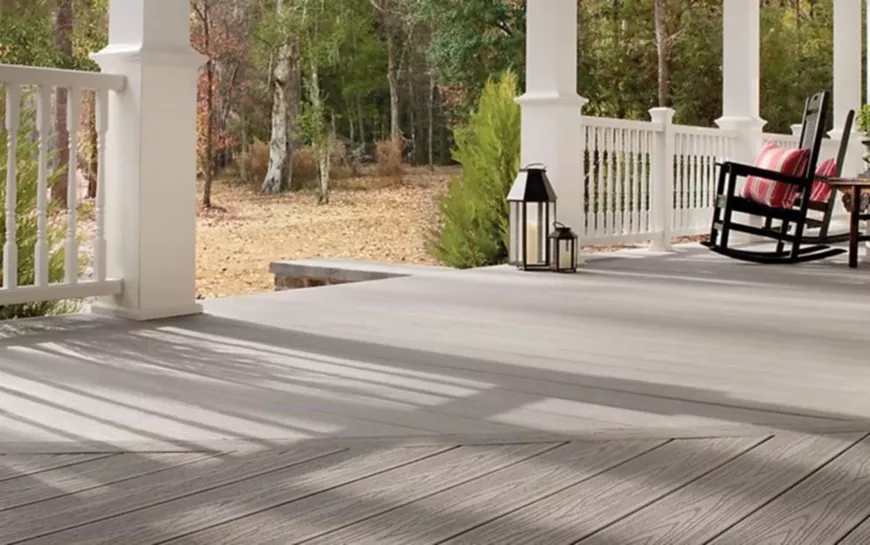 Step 5: Consider Your Porch Foundation
When building a porch foundation, assess your terrain, the porch size, and the climate where you live. The larger the porch, the more the foundation your footings will need to support. If you live in a snowy climate, the footings will need to sit below the frost line to remain stable and so your porch can accommodate snow without buckling. Research the frost line depth in your zip code for specific measurements. You may need to call the local utility company to find out if there are any cables buried under your future porch before you start laying your foundation.
Step 6: Build Your Porch Foundation
Install a ledger board on your house to support the porch. Then, use an auger or post digger to dig the holes for the footings. If you live in a colder region, you may need to dig down four feet to prevent frost heavings. You'll need foundation tubes, cement, rebar, posts, and post anchors. Place the foundation tube in the hole, pour in the cement, and secure with rebar. Next, you'll anchor the posts to the footings. Your porch framing will attach to these posts.
Step 7: Frame Your Porch
When framing your front porch, start with the perimeter beams. Lay them out on top of the porch foundation and nail the end beams together. Check that they're level.
Step 8: Install the Joists
The joists go on top of the foundation beams and support your front porch flooring. You'll need to place them at regular intervals to support the weight of the porch. The distance depends on the size of your porch, and the recommendations from the decking manufacturer on allowable joist spacing. Attach them to the framing with galvanized screws and check that they're level. When you're certain they're aligned, attach the joist fasteners to hold them in place.
Step 9: Add the Railing Posts
Use a pencil to mark where the railing posts will go around the porch edge. Prior to adding the decking (in the next step), you'll need to make notches in some of your posts to ensure they fit around the railings. With the railing posts in place, you'll be able to better measure and fit the decking to the space without leaving any gaps between your porch's decking and your posts.
Step 10: Add the Porch Floor or Decking
Attach the decking allowing for a small space in between each board. The decking will have a slight overhang from the edge. Later, you may want to sand your new front porch and clean up any stray pieces in preparation to paint or stain it, if that is part of your plans.
Step 11: Build the Railings
During the early planning stages of your porch, you decided on the style of front porch railings to give your porch a cohesive look that works with the facade of your home. Regardless of whether you choose clean and simple posts or more elegant ones, you'll want to install your railing posts and secure them to the porch for a stable structure. Then, you'll need to install the cleats that will support the railings all the way around the porch perimeter.
Step 12: Frame the Steps
Whether your porch needs two steps or 22, you'll need posts, stringers, treads, and risers to build your porch stairs. Start by adding a ledger board to the porch posts for stability. Next, add the stringers for the stairs. Make sure they're even as they'll support the steps. Then add the risers. Finally, you'll add the treads for your porch stairs. (Please note that in some instances, treads may sometimes need to be installed before the risers.)
Step 13: Build the Porch Roof
Porch roofs usually have a shallow slope that allows for ample headroom. Your home's ceiling height, window placement, and door frame will likely dictate your porch roof's height, but you may also want to consider an allowance for any ceiling fans or overhead lighting you may wish to install, too. Your porch roof covering - metal, asphalt shingles, or other roofing material, looks best when it matches your home roof, so certainly keep this in mind when developing a coherent aesthetic for your new porch.
Step 14: Finishing
Once you've completed building your new front porch, you'll want to sand the railings and floorboards and choose a paint or stain to tie your look together and give it a polished look if you've chosen wood decking materials. Proper finishing will help your porch stay fresh looking for years to come. If you've chosen vinyl, plastic, or composite decking materials, you'll be able to forgo painting or staining your materials.
You can see more pictures of porches here.
A front porch offers an elegant entry and beauty to your home. You can see porch plans and designs to choose your new front porch.
---
Explore Articles by Topic
Explore Articles by Topic