Ready to Start Your Project?
You'll be redirected to Trex.com, our composite decking website.
Can You Paint or Stain Composite Decking?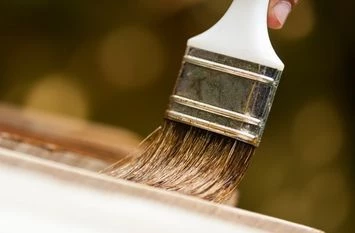 You love your composite deck, as you have for years, maybe even decades. But after years of use and exposure to the elements, your deck may have some blemishes and the original sheen has lost its luster. Is the love affair over? What about painting or staining to freshen things up? 
Can you paint composite decking?
The short answer is yes, but only if you're dealing with early generation composite material. Newer versions of composite decking are protected by a PVC cap or shell that encases the composite core. While the cap makes the decking low maintenance, it also prevents paint and stain from adhering. In fact, you'll likely void the warranty if you try to paint or stain modern composite decking.
Older composite decking—e.g. decking manufactured prior to 2010, for example— is a different story. It doesn't have a plastic cap or shell. Rather, the composite material is exposed and, if properly prepared, will hold a coat of paint or stain. In fact, this can be a great way to restore your deck's appeal and extend its already long lifespan.
To determine whether your decking is a candidate for painting or staining, look at the cut end of a deck board. Early generation decking will be the same color top to bottom. More current options will have a thin veneer or shell over the gray or brown composite core. The first type will accept paint or stain, and the second won't. 
In addition it's highly recommended to contact the composite decking manufacturer to ensure that painting is allowed, what is recommended, and will not cause issues with the warranty.
What to Consider when Prepping to Paint or Stain your Composite Deck
Once you've verified that your composite decking will accept paint or stain, clear away furniture and plants and clean the deck surface. Keep in mind that cleaning non-capped composite deck boards requires different methods and products than cleaning capped decking. For instance, you do not want to use a pressure washer on non-capped decking. It's too aggressive and can damage the surface. You should also avoid using harsh chemicals with older composites, including cleaners that are intended for use on capped composite decking. Look instead for products that are suitable for wood decks, such as Olympic Premium Deck cleaner.
Allow the decking to dry thoroughly after cleaning, which might take a few days, depending on conditions. To test for dryness, place a 1-foot square piece of transparent plastic sheeting over the deck and tape down all four sides. If, after a few hours, you see no condensation under the plastic, the deck is dry enough for painting or staining. 
When the forecast looks favorable (no rain), mask off the areas you don't want coated and apply a high-quality stain or exterior paint suitable for decks. These are widely available at major retailers. For a long-lasting finish, consider a more expensive two-part coating from Versacryl Restoration Solutions. It is made specifically for use on non-shelled composite decking.
Materials Needed to Paint or Stain Composite Decking
Here's what you'll need:
Hose with spray attachment
Soft bristle brush (cleaning)
Deck cleaner
Paint roller/brush/pad/sprayer
Primer, if required/desired
Deck stain or Exterior paint suitable for decks
How to Paint Composite Decking
Step 1: Remove or cover plants
If you've got a jungle either on or overhanging your deck, you'll need to remove pots and pull back and cover any foliage so that you have full access and no debris will fall onto the deck while you're coating it.
Step 2: Clean your composite deck
Remove debris and dirt using soapy water and a plastic-bristle brush. Avoid power washers. To remove stubborn stains, such as mildew and mold, use products that are suitable for wood decks, such as Olympic Premium Deck cleaner. Follow the label instructions. Do not use bleach or other harsh chemicals, including cleaners intended for capped composite decking. 
Allow the decking to dry. This might take a few days, depending on conditions. Test for dryness as described above before applying paint or stain. 
Step 3: Prime your deck
Many paints and stains don't require a primer coat. But when called for—or for better hiding power—use an acrylic latex exterior primer intended for decks. Apply it with a brush or a brush and roller, working along the length of the planks. A roller with an extension handle will save you some back pain.
Step 4: Paint your deck
Once the primer dries, apply the paint as you did the primer. If necessary, apply two coats, but make sure the first application is fully dry before adding a possible second coat. Dry times will vary, so be sure to consult the product label for recommended drying time. Avoid painting in direct sunlight, which can cause the paint to dry too quickly.
How to Stain Composite Decking
Staining your composite deck is much like painting it. Therefore, the steps are very similar. 
Step 1: Remove plants and other deck items
Remove any plants and furniture from the deck.
Step 2: Clean the deck surface
Just like painting, staining a deck requires it to be free of dirt, debris, mold, and mildew. See Step 2 of the painting walkthrough. Make sure to follow the instructions on cleaning product labels for best results. Rinse thoroughly and let dry.
Step 3: Apply the weatherproofing stain and sealer to the composite deck
Choose an appropriate stain and sealer (one that can fight against UV fading and discoloration), such as Rustoleum's Rock Solid Composite Deck Refresh.  Apply the stain using either a good quality pad applicator, brush, roller or sprayer. Again, follow the instructions on the product label for best results. If needed, apply a second coat of stain for a deeper, more saturated finish. Wait until the stain is completely dry before applying sealer.
Step 4: Keep the deck clean
To keep your freshly stained composite deck looking good, wash it at least twice a year and apply a maintenance coat of stain or paint when necessary.
How to Remove Stains and Paint from Composite Decking
Sometimes a full deck stain or paint job isn't necessary. After all, your composite deck was specifically made to prevent you from having to do such intense maintenance. But for smaller spot jobs, such as grease or rust stains, you may need to do some touching up.
So how do you remove stains from composite decking?
The best method for composite deck stain removal is the same as you would use to remove mildew and mold from a deck. Start with warm water and a mild soap. For tougher situations, apply a vinegar-water mix and sprinkle baking soda over the affected area to lift stubborn stains.
Ready to paint or stain your composite deck? Find a retailer near you to shop materials. 
---
Explore Articles by Topic
Explore Articles by Topic