When to Replace or Rebuild Your Deck
July 25, 2022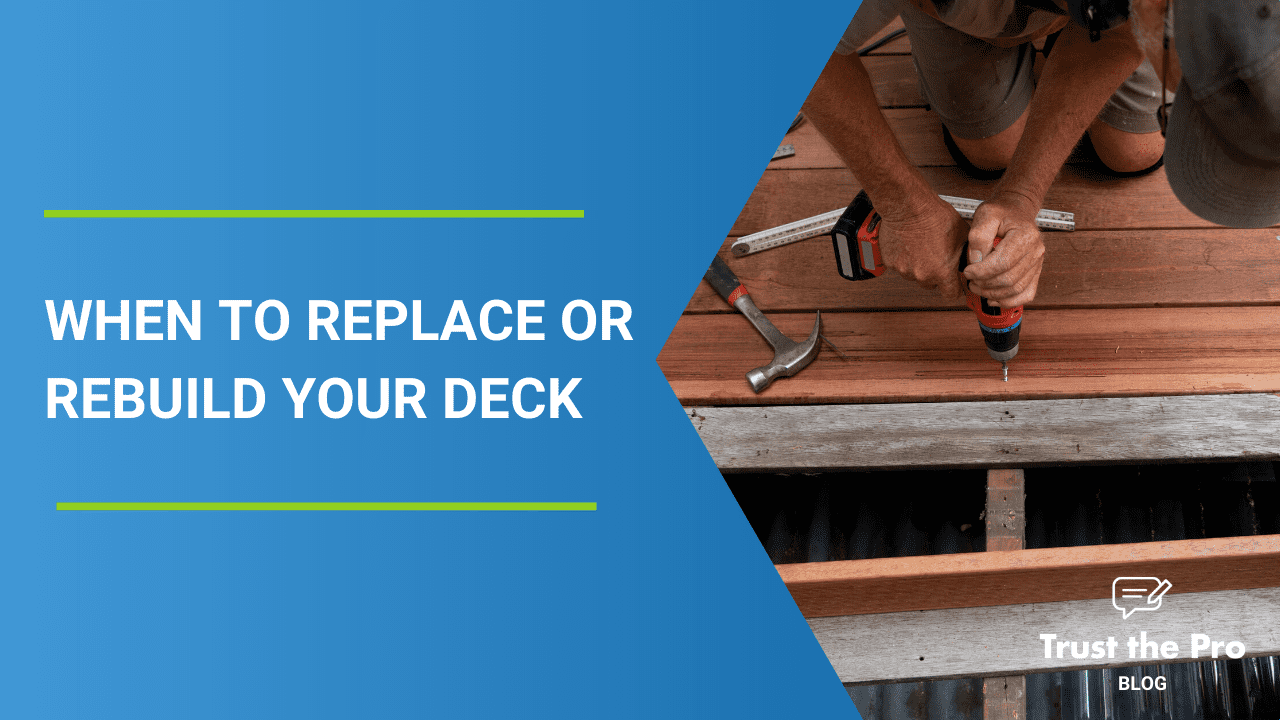 Deck Safety 101: When is It Time to Replace Your Deck?
Decks are designed to withstand harsh weather and bear a lot of weight. If your deck has seen its fair share of parties and paint jobs, it may be time to go a little further than a simple spruce-up.
If your wood deck is more than 10 years old and showing signs of deterioration, building a new deck might be a safer — and ultimately more economical — option.
Is your deck showing signs of cosmetic damage, like peeling paint or splintered edges? This might seem like an easy fix, but beware - some kinds of deterioration, if left unchecked, could eventually affect the deck's structure. That's why it's important to know what to look for. The North American Deck and Railing Association (NADRA) offers a deck safety checklist to guide you.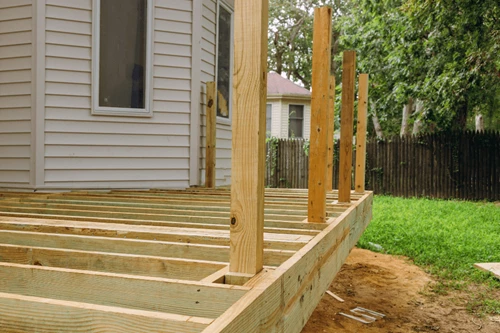 6 Signs that You Need to Replace Your Deck
Rusted Screws, Joists or Beams
Rusty screws, joists, or beams can pose a serious threat to the deck's structural integrity. One of the most common concerns homeowners have when considering replacing their deck is wood rot.
Damaged or Rotted Wood
Even though SelectDecks builds their decks with Trex material a majority of the time, there are always going to be certain parts of the deck that are made with wood, such as the framing. With those posts in the ground there will always be the chance of rot, so you'll want to keep an eye on those spots in particular. If you notice the wood becoming soft, that could likely be an indicator of decaying deck boards.
Using a screwdriver or chisel, penetrate ¼ - ½ inch of the wood surface. If it pierces easily, without splintering, or if the wood is soft and spongy, there is a good chance decay may be present. When deck boards made of wood show advanced signs of decay, it's likely that the rot or mildew has spread to other parts of the deck such as the joists, beams and support posts. Though not a major component to the structural integrity of the deck, a shaky railing — whether due to rot or loose screws — poses a serious safety risk.
Infested with Pests
Wood-loving bugs like termites or carpenter bees can also cause significant damage very quickly to deck boards or frames. Pro tip: Trex composite decking won't become food for these pests and can add decades to the life of your deck without having to paint, sand, or stain.
Cracked or Split Deck Boards
Wood deck boards tend to bow over time due to constant exposure to harsh weather conditions. Aside from being a tripping hazard or splinter risk, deck boards that are cracking or splitting could be a sign that your deck is losing its stability.
Deteriorated Ledger Board
If your deck is attached to your house, it should be held in place with the ledger board. As the most important structural connection, if you notice issues with your ledger board that point to deterioration of any kind, your entire deck could be compromised.
Weathered from Old Age
Even if you've meticulously maintained your deck for the last 20 years, no building material lasts forever. If your deck is more than 10-15 years old, it's a good time to consider rebuilding simply based on the toll time has taken on it.
Replacing Your Deck
If you've gone through the checklist and your deck comes back with a clean bill of health, that's great! Replacing the surface of your deck might be all you need to do for an updated look.

However, if your deck isn't up to building code or isn't structurally sound, rebuilding is the way to go and since the footings are under ground, it can be difficult to get a clear picture of the footings' condition. You never want to sacrifice the safety of your family and friends to save money.
How Much Does it Cost to Replace a Deck?
The cost of deck replacement will vary depending on your area, the existing structure, and the design, materials and finishes that you select for your new deck.

The upfront cost of a wood deck is going to be less than composite, but with it comes the annual sanding, staining, sealing, and years of maintenance to keep it up. Choosing durable composite building materials increases the lifetime value of your deck, which requires less maintenance over time.
Get Started with Replacing Your Deck Today
Looking to replace your deck or get an estimate of the costs? Use Decks.com's Find a builder tool to search for a qualified deck contractor in your area. If you're in the Pennsylvania area, contact SelectDecks to get an estimate today.
Trust the Pro contractors are independently owned and operated, and are neither affiliated with nor agents or representatives of Trex Company, Inc. Trex Company makes no representations or warranties as to, and is not responsible for, the content provided on Decks.com by such parties or any other acts or omissions of such parties. TREX COMPANY MAKES NO WARRANTY OR REPRESENTATION AS TO THE ACCURACY OR COMPLETENESS OF THE INFORMATION FURNISHED BY THE TRUST THE PRO CONTRACTORS ON DECKS.COM. The opinions expressed within the content on this blog are solely the author's and do not reflect the opinions and beliefs of Trex Company or its affiliates.